World's #1 on-line resource since 1989
-----
Automobile Clear Coating and Overspray
2002
I am in need of some expert advice. I have a 1999 Mercedes E-430 car, cobalt blue. A couple of weeks ago a contracted painting company for bridge work in San Antonio oversprayed my car. I have taken it to the dealership and they insist that the car must be repainted. I also took it to a detail shop and they stated the same thing. Both agreed that it was impossible to just take off the clear coat without damaging the paint. The contracted company is insisting that they have other Mercedes that they have paid to repair due to overspray(actually one car) and it was fine. I am of the standpoint that if the manufacturer does not recommend it it shouldn't be done.
Please help me.
Expert Advice Needed.
Romaine Reeves
- San Antonio, Texas
---
2002
Hi, Romaine. First, a legal technicality so you don't embarrass yourself in front of a judge or arbitrator: free advice over the internet is not "expert opinion" :-)
Maybe you should allow the bridge contractor to attempt a repair with the understanding that if it isn't satisfactory they are not off the hook. It is possible that neither the dealership nor the detailing shop is familiar with the bridge paint and the clear coat and is not in a position to say that there is no solvent that will remove it without damaging the original paint. You are probably right, but none of you actually know.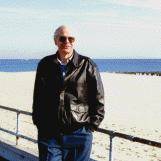 Ted Mooney
, P.E.
Striving to live Aloha
finishing.com - Pine Beach, New Jersey
---
2002
The overspray can probably be buffed off the factory finish but you may lose some of the depth of your clear coat in the process. The contracting company should be totally responsible for this problem--let them attempt to get the paint off--if it doesn't work to your satisfaction, then make them paint the car. You should always try to retain your factory paint finish if possible.
Good luck,
Bill Miller
- Shinnston, West Virginia, USA
---
2002
It's true that you cannot remove the clear topcoat without damaging the basecoat. Depending on the type of paint used on the bridge, it is possible to remove acrylic enamel overspray by using a solvent. Your urethane topcoat is a very hardy paint (clear) and can withstand many harsh chemicals if done correctly. After a "wet-rub" application of the solvent, the topcoat must be allowed to set and then the car can be buffed and polished. If the overspray is a urethane based paint, your options are limited. It is possible to wet-sand (also called color sanding) the overspray off, then finish. This "finish" can be an application of additional clear or just a buff and polish. It would depend on the thickness of the clear now. Many factory paint defects are handled this way. The last option is, of course, to refinish.
Ken Kopsky
- Lytle, Texas
---
October 8, 2008
Another option that hasn't been mentioned in this thread is the use of a "Clay Bar." Clay bars when used with the appropriate lubricant are usually very effective in removing harmful surface contaminants such as paint overspray, tree sap, bug residue, industrial fallout, and other stubborn dirt. They leave the finish smooth as glass.

The only time I have been disappointed when using a clay bar for removing overspray is when used for glass.
Mike McCabe
PBE Jobber - Dallas, Texas
---
February 3, 2011
Most likely the clear coat overspray from the bridge painting is a urethane, which in many cases is almost colorless.

We have removed this type of overspray from thousands of vehicles without any problem using a process similar to the clay bar.

I would first have a professional detail shop try a test section on your vehicle using the clay bar and if it is successful, have them complete the whole vehicle.

It is best to save the original paint if possible and you have nothing to lose by testing an area, for if the test fails then have the vehicle re-painted.

I highly suggest you take close up photos of the overspray if it is visible and a few other people witness the overspray on your vehicle. Documentation is very necessary in the event you need to take the contractor to court.

Also, you need to check with your insurance company, as they might cover this comprehensive claim and subrogate against the contractor if he refuses to pay for the overspray damage.

In my opinion I would not let the party responsible for the overspray clean your vehicle unless he has contracted a professional overspray removal company to do the work.

All work needs to be done by hand and all solvents, machines, razor blades, and compounds should never be used on your vehicle.

Last but not least, have the detail shop take a sample of the overspray from the glass on a razor blade and place the razor blade in wax paper. This would be required for a chemical analysis if you needed to support your case in court.

My opinion is based on the fact that we have removed industrial epoxy and urethane overspray from over 250,000 vehicles over forty-five years of business.
George Colliard
- Sarasota, Florida, USA
---
March 14, 2011
I agree with George. Overspray removal service when done by a professional service provider can successfully and safely remove the overspray.

Repainting is not the generally acceptable means of addressing claims of this sort. I would recommend giving the responsible party the opportunity to hire a professional overspray removal service provider.

Insist that the overspray be addressed by a company that specializes in the removal of bonded material from vehicles.

Body shops/detail shops rarely are skilled in this area and frequently will damage the finish and moldings.

Good luck.
Julie Dean
- Atlanta, Georgia USA
---
March 21, 2011
"Both agreed that it was impossible to just take off the clear coat without damaging the paint."
---------------------------
Absolutely right, but that is not the issue here. The question would be, can you remove the overspray without damaging the vehicles clear coating. The clear coat is the 3rd stage of a factory paint job.
#1 primer #2 color/paint #3 clear coat paint.

Speaking in very specific terms, the answer is yes in most cases, waterbase/oil base paints tend to sit on the surface ~ urethanes tend to become embedded into the clear coating, thus a simple clay bar treatment may not be sufficient to completely remove the overspray.

I would approach this vech with multiple light steps
#1 lightly clay bar with auto magic red bar (course)
#2 lightly clay bar with auto magic blue bar (fine)
#3 DA sand with 3M trizac pad 3000 grit pad (ultra fine)
#4 polish vech with 3M finesse & light compound (light mix)
#5 DA polish with finesse & light compound (light mix)
#6 polish vech with 3M Perfect-It Ultrafine Machine Polish
#7 DA polish with 3M perfect-it ultrafine & polymer mixture

When I say polish- that would be with a buffer using one of 3M's ultrafine black foam pads. DA would be with a random orbital polisher, also with a foam pad. all 7 steps are very gentle on the original clear coating..but more complex
that a regular run of the mill overspray.

after the vehicle is completed, using these exact steps 98% of the overspray should be removed from the finish. very slight, slight microscopic pock marks might remain in the clear coating where the urethane overspray once set. with a 1999 vehicle , this is an acceptable alternative to repainting your vech. a 'new paint job' is rarely as good as a factory original paint job over the long term.

even rarer ,is a painter who will pay for a new paint job simply for an overspray. expect a struggle for that check.
follow up: do not use any type of solvent to remove the overspray, run away from any detail shop or body shop that tries this method. you will only soften or damage your top-coat/clear coat. And it will have little or no effect on the urethane overspray. the goal here is to not violate the clear coat during the overspray removal process. And stronger solvents will do exactly that.
Good luck,
Jon Thomas
- orange, California