World's #1 on-line resource since 1989
-----
Reactivity of Aluminum and Cobalt
2002
I understand that Aluminum and Cobalt form a passive oxide layer when exposed to the atmosphere because they are highly reactive. If they are under another atmosphere, like a nitrogen blanket, will a nitride form?
Andy Mork
- Plymouth, Minnesota
---
2002
Under normal conditions (i.e., STP) aluminium and cobalt in nitrogen gas will not form nitrides, but I am not sure about at elevated temperatures. I question whether cobalt nitride exists; I know chromium nitride does and I know that nickel nitride doesn't; since cobalt is very similar to nickel in many ways, my money would be on it not doing so, even at high temperatures. I have no idea if aluminium nitride exists.

Trevor Crichton
R&D practical scientist
Chesham, Bucks, UK
---
2002
Aluminium nitride certainly exists, but (like the chromium nitride mentioned by Trevor) is formed only at high temperatures under certain specific conditions. Metallurgists involved in specialist steelmaking know these nitrides very well!
Since the atmosphere is near enough 80 percent nitrogen and 20 percent oxygen, it's not far removed from a nitrogen blanket itself, is it? And not much happens with the 80 percent nitrogen in the atmosphere at ambient temperature!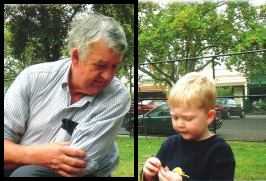 Bill Reynolds
[dec.]
consultant metallurgist - Ballarat, Victoria, Australia
We sadly relate the news that Bill passed away on Jan. 29, 2010.
---
2006
Treatment of cobalt powder (99%) pure of size nominally 50 microns in ammonia at 500 degrees C and 1 atm leads to a nitrogen content of 500 to 800 ppm m/m which is much more than a monolayer of nitrogen on the theoretical external surface of the particles. I would guess then that CoxN does exist but it is not as stable as FexN. Which goes up to 80000 ppm at the same conditions.
Joh Hansen
materials science - Joburg, Gauteng, South Africa