World's #1 on-line resource since 1989
-----
Procedure for mirror finish on stainless steel
2002
I have a small 5 man shop in which we fabricate stainless steel marine parts and finish them from a standard mill finish to mirror finish. Most parts are able to be hand held and taken to flap wheels and buffing wheels, etc....
My question is, what is the most effective procedure to use to get a mirror finish on stainless steel parts starting with a mill raw finish to a mirror finish. Please provide a good step by step procedure. I understand that non-woven wheels can be a great help in the process?
Thank you,
Eric S
[last name deleted for privacy by Editor]
- Sarver, Pennsylvania
---
2002
The least labor intensive system is to use mass finishing equipment; however, it also depends upon how much volume you have and what the surface finish is prior to processing. I believe, you said you were starting with mill spec metals, which means about a surface finish of 35 RMS. This is good for mass finishing equip. To get to a mirror finish or an almost buffed look, you do need at least a 2 or 3 step process. This is machine time and not direct labor. The raw material alloy determines what media to use. Non-ferrous you start with plastic media. Ferrous or stainless steel start with ceramic. There are abrasive grades to the preform shapes used in mass finishing equip. First step, rough cut, will get you down to about 22 to 25 RMS. A good mirror finish requires about a 12-18 RMS, but you can get a mirror finish at a rougher RMS. A buffed appearance is best accomplished using dry organic materials.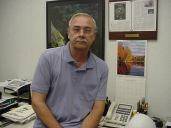 AF Kenton
Hatboro, Pennsylvania
---
April 1, 2009
I am working on a art piece that was water cut into a design and shipped to me but in shipping the paper slip sheet rubbed a couple of imperfections in a area. I used a 10x1/2 inch buffing wheel and some gray rush I had. I am happy with the scratches but I cannot seem to get the fine smoky grit lines from it. I have gently went in different directions and a used a few different cleaners/waxes but still there. It is about 4' x 6" area.
steve george
looking for answers - umatilla Oregon