World's #1 on-line resource since 1989
-----
Care of Chrome Headers
2002
I have recently installed nickel chrome plated headers on my truck. After getting hot they have discolored (looks like from oils from hands and motor oil). How can I best care for these?
Thank you for suggestions.
Eric Fitzgibbns
- Mesa, Arizona, USA
---
2002
Eric,
I may be wrong but would guess/assume that you cannot remove the 'blue' discolouration from your exhaust header where, obviously, you'd get a lot of heat generation.
If your truck (engine) is standard, you'd get a minimum amount (e.g., see some motor bike exhausts) but if it is hotted up, AH,Oh Dear! Then on idle the headers might turn red hot ... mine did ! Sorry, but I guess you'll have to live with it.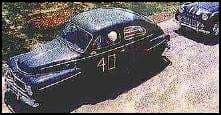 Freeman Newton
[dec]
(It is our sad duty to advise that Freeman passed away
April 21, 2012. R.I.P. old friend).