World's #1 on-line resource since 1989
-----
Painting options for 55-gallon polyethylene food barrels
2002
I've read an answer in your archives which was not too optimistic about the prospect of painting onto polyethylene.
We have several used 55 gallon food barrels made of blue plastic which I suppose is probably polyethylene. We'd like them to not be so blue.
Questions:
1. Are all these big blue plastic barrels made out out of polyethylene and if not, how can I tell what ours are?
2. Assuming they are polyethylene, wouldn't regular exterior spray paint stay on pretty well? Heaven knows it seems to stick pretty well to everything when used for graffiti!
Ande Guirard
- Plymouth, Minnesota, USA
---
2002
Hi Ande,
Re # 1 ... dead easy. Take off a scraping and put a light to it. If it burns, if it drips AND if it smells of candle wax it is definitely & absolutely Polyethylene.
Re # 2 ... ah, Pe doesn't take kindly to any good painting bond ... but as paint sticks to itself, then you could paint the barrels easily. I'd use a nice flexible paint and preclean, of course, the barrels beforehand. But if the barrels were scraped at all, the paint would come off. Further if you sandblasted the surface, the paint adhesion would be better. Lastly, if you sandblast, paint IMMEDIATELY and don't wait for the Pe to form a surface film.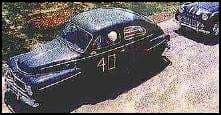 Freeman Newton
[dec]
(It is our sad duty to advise that Freeman passed away
April 21, 2012. R.I.P. old friend).

---
May 22, 2008
I have tested and found the Krylon Fusion will stick to my plastic rain barrel and in an earlier letter Mr. Newton stated "paint sticks to paint", so I assume this would be a good primer for my barrel (is this an accurate assumption?). I am not very good at spray painting or airbrushing artwork and I would like to use brush paints to complete artwork on my rain barrel and then seal it with something?

1. What type of paint would be best, oil, acrylic, or another type?

2. To seal the artwork should I used the Fusion clear, a spray clear for automobiles, or maybe a lacquer? I would like a strong sealer so that the artwork lasts outside in the elements.

Thank you for this forum, the advice I have found here, and for assistance with my questions.
Charlotte Magno
Hobbyist - Aubrey, Texas