World's #1 on-line resource since 1989
-----
Hand held grainer
2002
I have used brushed/grained aluminum to make a table, the bending process left lots of tooling marks does anyone have any suggestions for restoring the grained finish on a production scale, I've heard that there are hand held grainers but I have had no luck finding one.
Thanks,
Damien Mavis
- San Luis Obispo, California, USA
---
2002
It sounds as if you are talking about putting a finish on a fabricated or formed piece of metal. Also, it sounds as if you have a texture you want to match. Naturally if this is a flat 2 dimensional piece it can be run through a broad belt sander using a non-woven belt. For formed metal, I suggest you use a non-woven or flap type wheel to accomplish the same thing. There are different abrasive grades, but hand held pressure plays a very important part in the final finish.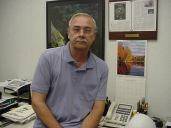 AF Kenton
Hatboro, Pennsylvania