World's #1 on-line resource since 1989
-----
Rusting on stainless steel welding
2002
I have recently had some tanks manufactured in stainless steel that have been tig/mig welded,which are to hold water,acid and chromate. The base of the tanks have been welded inside and outside and are fine. The ends of the tanks have only been welded on the outside. The manufacturer assured me it was fine and no weld was required on the inside. We have filled the tanks with water and are experiencing rusting on the ends of the tanks where the water is turning brown.
Question: Will this rusting go away, if not, what should be done to rectify it.
Robert Jones
- Brisbane, Australia
---
2002
Sounds like a classic case of crevice corrosion. Since the bottom of the tank doesn't seem to have the problem yet and has been welded inside and outside, this means the crevice from the joint set up has been eliminated. The ends of the tank however have a crevice for corrosion to start. Based of the current condition of the bottom, I think if you have them weld the inside and remove all color and scale after welding you might be fine. My reason for not being positive is I don't know the type of acid/strength or the type of stainless steel. If that was known I could be more specific for you.
All the best,
Bradford Maas
- Northfield, MN, USA
---
2002
I agree with Brad and want to add that once the corrosion has begun you will not get rid of it until you fix it. It will only get worse.


Lee Kremer
Stellar Solutions, Inc.

McHenry, Illinois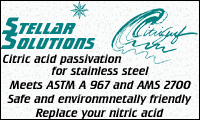 ---
2002
Remove rusting/clean the piece chemically or mecanically using sandpaper cloth, wire brush, etc and then passivate.
Amit Pabuwal
- Jaipur, Rajasthan, India
---
2002
G'day Robert,
When welding SS one should always protect the back of the weld from oxidation, i.e., use an argon gas shield. If there is no protection oxidation occurs, it is black spikey and hard to remove. Welding one side then cleaning and welding the other removes or covers the oxidation, and in your case there is not a problem with the bottom of the tank.
So I believe the main reason for the corrosion is that the tank manufacturer removed the oxidation from the inside of the tank with a steel contaminated grinding disk. This has left very small particles of steel which have oxidised and appear as rust.
The best advice I can offer is to contact the Nickel Development Institute and ask the question. They are based in Canada and I am sure if you searched for NIDI you will find them. They also have a base in Carlton in Melbourne. Hope the drought breaks soon.
Tony Johnston
- Melbourne, Australia