World's #1 on-line resource since 1989
-----
Brass sanding and sealing products & methods
2002
We have been asked to sand brass doors to remove lacquer and then apply lacquer to seal.
My questions are:
1.What grit should we use?
2.Should there be any additional prep after sanding and before lacquering?
3. Is there a special type of lacquer used? A. What is the best way to apply?
4. Are there any other options to seal not using lacquer, the customer stated that there were a number of complaints on smell for days after as these are the main doors to lobby?
5. Are there any guidelines for pricing that we might use?
I am meeting with the customer on Wed. next week if I could get some feed back before then it would be appreciated.
Thanks,
Bill MacKnight
- Cudahy, Wisconsin
---
2002
This is not an exact answer to your your questions as you phrased them; however, you requested some help prior to a short deadline. The first thing you should ask your customer is what kind of a surface finish he requires on the end product. Unless he requested a sand blasted or matte finish, this is not necessarily a mirror finish. Blasting will remove the lacquer, but it may also effect the existing appearance. There are products out there that will chemically strip the lacquer and will leave the finish as is. That will also leave the part ready for re-coating, if done properly. Naturally, that will match the look he is trying to achieve.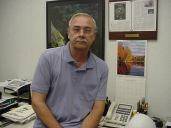 AF Kenton
Hatboro, Pennsylvania
---
December 13, 2009
I am a newbie to working with metals. I made a pen out of a 50 caliber brass bullet cartridge but am not satisfied with the results as I am a bit of a perfectionist. The bullet shell has deep scratches, crevices, and spots and I would like to have a store bought new finish. I would appreciate guidance to the steps involved to reach this goal....type of sandpaper if sanding is a good option.
Rob Robinson
- Severna Park, Maryland