World's #1 on-line resource since 1989
-----
Cleaning of Brass Plated Bed
2002
Q. I recently obtained a brass bed. It has not been taken care of for more than 40 years and is badly tarnished, pitted and has quite a bit on nicotine due to being in an area with a smoker. The bed is brass plated and I believe it to be over 70 years old. I have tried to clean the bed with lemon oil, ammonia, hot soapy water and vinegar. However, when I tried Brasso [affil. link to info/product on Amazon] it made the finish look great. I was told by someone that this product will damage the brass. Is this a concern and I might be causing damage or should I continue with this process? Is there another cleaning solution you might recommend?
Brenda W
[last name deleted for privacy by Editor]
- Westland, Michigan, USA
---
A. Hi Brenda. Any plated finish has a finite life because it's a coating rather than a solid material. So whether you leave it uncleaned or you clean it with anything, you are slowly wearing out the plating, and someday you'll need to send it to a plating shop for replating. But Brasso is designed for cleaning brass, and you've found it does a good job. There isn't much more to say :-)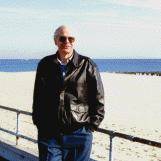 Ted Mooney
, P.E.
Striving to live Aloha
finishing.com - Pine Beach, New Jersey
---
2004
Q. I purchased a brass bed with an epoxy finish. Even though I had instructed my cleaning girl to wipe the bed with a clean cloth only, she wiped the bed with a cloth sprayed with Endust. I think the bed is brass plated. As a result, the bed tarnished very badly. I would like to know if and how it is possible to remove the tarnish and repolish it.
Dianne D
[last name deleted for privacy by Editor]
Hobbyist - Durham, North Carolina
Ed. note: Please try the Brasso recommended by Brenda.
---
2005
Q. I too have acquired a brass plated bed and would like to learn from others who have restored theirs what methods you may have used and their results.
Thanks for any advice or recommendations.
Bill Bivens
home owner - Parma, Michigan
---
2005
A. I have just completed the polishing of a 60 yr. old brass headboard using SimiChrome [affil. link to info/product on Amazon] polish. It was labor intensive(because I was also removing lacquer), but it did not need strength, just time. From what I have read, the Simichrome polish leaves some type of coating that will slow the return of tarnish. I loved the headboard before, but now it is truly spectacular.
Jim Fox
- Scottsdale, Arizona, USA
---
December 29, 2012
Q. I have an old iron bed that was brass plated. Most of the plating has come off. How can I remove the rest of it and either rebrass or paint it?
Fran Gladden
- Vancouver Washington USA
---
December 31, 2012
A. The simplest at easiest way is to let whoever is going to plate the bed do the stripping. They can use chemicals that you probably should not. Also the metal will be active and ready for plating.
James Watts
- Navarre, Florida
---
---
February 19, 2013
Q. I am buying a brass plated bed and actually want to age it so it is not shiny and looks antique. I have seen products to age solid brass, but not plated brass. Any suggestions? Thanks!
Katelyn Varhely
- Evanston, Illinois, USA
---
February 22, 2013
Hi, Katelyn
The issue is that plating is thin and the vendors of the darkening solution are concerned that their product will dissolve enough of the plating to eat all the way through to the underlying steel. You might try a wax rub, but check on a small area first to make sure it won't rub off onto sheets, etc.
Or you might contact a brass lacquer supplier like G.J. Nikolas [a finishing.com supporting advertiser] and inquire about a tinted brass lacquer which could offer the antique look that you seek. Good luck.
Regards,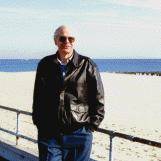 Ted Mooney
, P.E.
Striving to live Aloha
finishing.com - Pine Beach, New Jersey
---
February 22, 2013

Thanks so much for the response. I actually saw another post on this same subject and decided to try the Rub and Buff. I think it worked pretty well. It says that it is not for use on metal, but after a little practice, (as well as lowering my expectations of perfection,) it turned out pretty well. I suggest using your hands to apply and be careful not to "over rub" it. I have posted some pics: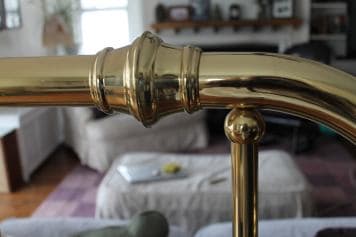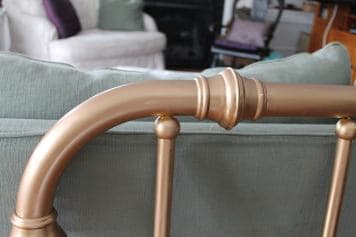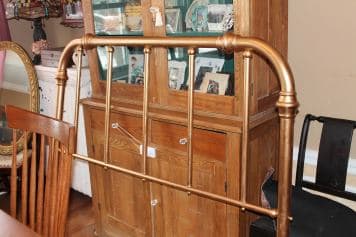 Thanks again.
katelyn varhely
- Evanston, Illinois, USA