World's #1 on-line resource since 1989
-----
Zinc plating process suggestion
2002
I am into a new project of identifying an effective zinc plating for MSERW base varying from 1.02 to 1.22 thickness.
The plating thickness of 15 micron
Should pass Natural Salt spray test for 15 hrs
Adhesion test
Finally aquaguard coating free from pitting, rust
Alkaline non cyanide zinc plating process is suitable for it. I found a process guide for Envirozin 120. Will that suit my need. Regarding Salt spray test, is it possible to design it ourself which is cost effective
Thanks in advance,
Sreenivasan
- Bangalore, Karnataka, India
---
2002
The salt spray test will pass 15 hours to white rust provided yr passivation is yellow. I have never heard of such a mild test for zinc plating. Please reconfirm.
Also the "aquaguard" coating on top is the proprietary trade name for a cocktail sold locally to enhance salt spray resistance on zinc plated parts. Does not give you pitting or rust free of charge..:-)
Self designing of salt spray chambers is not difficult and excellent results can be done. Don't attempt it if you have not used one before although.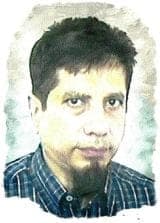 Khozem Vahaanwala
Saify Ind

Bengaluru, Karnataka, India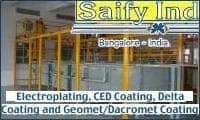 ---
2002
non cyanide alkaline zinc technology is available in india. I agree with vahanvala, the NSS test requirements seems to be on lower side. please check.
tushar patkar
- mumbai, India
---
June 18, 2008
I am in need of more details about this AQUAGUARD.

-Is there any alternatives available for this in Indian markets.

-Is it different from FINIGUARD?

Also,We are into electronic/ electrical assemblies housed in a zinc plated bule passivation sheet metal components,how does application of AQUAGUARD affect ESD (Electro Static Discharge) assemblies in my case?

Thanks in advance for the reply.
Regards,
Aravindan.S
- Bangalore, Karnataka, INDIA