World's #1 on-line resource since 1989
-----
Yellow Brass turns Green
An ongoing discussion from 2002 through 2015 . . .
2002
Q. Our Yellow Brass turns Green.
We rack plate steel parts with bright Nickel underplate, followed by Yellow Brass, and then a clear lacquer. We have been doing this for 20 years. Recently we have been having a strange problem: some parts turn from a yellow color to a light green color. We have seen red or pale color, but never a green color. We are blaming the lacquer since parts look good but after some time they become green, but we have tried several different lacquers (nitrocellulose, acrylic, epoxy) to no avail. Can there be something wrong with the brass plate solution that is causing this? We haven't changed any chemicals -- the solution is rather old, since it has never been changed, could the carbonates be to blame?
Thanks for your help,
Enrique Segovia
- Monterrey, Mexico
---
2002
A. I am a little confused by your question. Is the brass deposit green out of the tank? Green after lacquering but immediately after lacquer? Is it turning green in storage after lacquering? Each would be a different unique problem. If it is coming out of the tank green, lower the free cyanide, reduce the amount of ammonium hydroxide used and allow the pH to come to 9.5 to 10.2. Also check the ratio of zinc to copper. High carbonates will give you trouble controlling the brass color by "normal" chemical guidelines. All of the above should be checked by chemical titration using standard methods of analysis. If discoloring immediately after lacquering it would be a most definite reaction to the lacquer or the combination of the lacquer and the heat of drying. If in storage, the lacquer may not be formulated for cuprous alloys and may not have an appropriate "anti tarnish" incorporated in it.
When I mentioned high carbonates, I was talking of Sodium Carbonate in excess of 10 oz/gal.
Gene Packman
process supplier - Great Neck, New York
---
2002
A. Dear Mr Enrique,
The changing alloy compositions in your bath will affect how the brass behaves after lacquering. If exposed to anything above 80 °C, we have seen it change colour.
What you need is to apply an anti-tarnish after plating and before lacquering. 5-20 gms / lit of sodium dichromate followed by copious rinsing, will prevent greening and put healthy rosy red colour on your brass!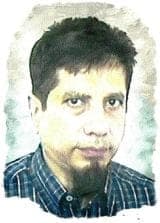 Khozem Vahaanwala
Saify Ind

Bengaluru, Karnataka, India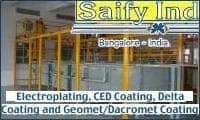 ---
---
April 27, 2015
Q. We fight the same kind of trouble right now. We put brass on strip steel. The colour after the bath if yellow but it turns green after 2-3 months.

Did you solve your problem and how? Is the ratio copper/zinc important or the level of carbonates?

Thank you for your answer.
Nicolas BROCHU
- Saint Laurent du pont, FRANCE
---
May 6, 2015
A. Nicolas,
You might focus on the anti-tarnish treatment, lacquer and drying/curing temperatures. Yellow brass does turn green due to the copper component's reaction with the environment unless adequate protection is applied.
kneedler