World's #1 on-line resource since 1989
-----
316 Stainless Steel Rust/Pitting
A discussion started in 2002 but continuing through 2018
2002
Q. I have fitted stainless steel (316) railing in a swimming pool but within a few months it has started to show what appears to be rust and pitting.We are at a loss to find the problem yet but suspect it may be contamination from iron in the air or from the wrong cleaning agent used when the railing was first cleaned.(it showed brown stains shortly after cleaning)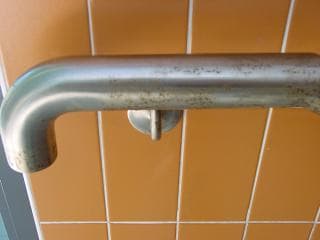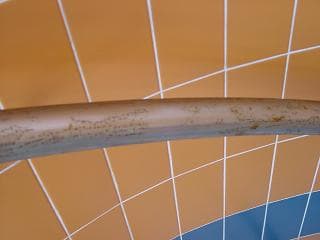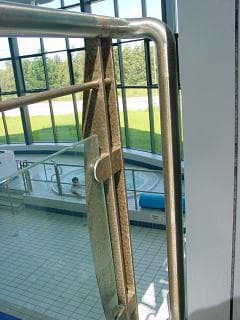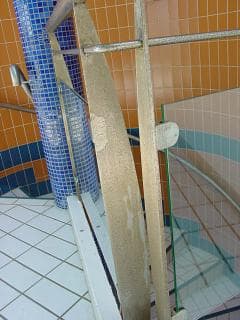 If it's any of the above will polishing permanently eliminate the problem or have you any ideas what may have caused it.
Regards,
Thomas M
[last name deleted for privacy by Editor]
- Westmeath, Ireland
---
2002
A. My bet is somebody tried to clean it with steel wool. This transfers iron to the stainless steel. I hate to say it, because it's a big job, but I think you need to have it all passivated.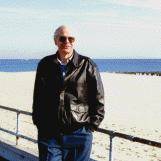 Ted Mooney
, P.E.
Striving to live Aloha
finishing.com - Pine Beach, New Jersey
---
2002
Q. What's the best way to passivate this stainless as it can't be removed to do so? Is pickling the same thing as passivation?
Thomas M
[returning]
- Westmeath, Ireland
---
2002

A. No, pickling is not the same thing. Passivation is a chemical process to remove iron and/or enrich the surface with chrome. It probably calls for a professional though, as you don't want to mess with jelled nitric acid.




Ted Mooney

, P.E.




Striving to live Aloha




finishing.com - Pine Beach, New Jersey





---

2002

A. You may want to try a rubberized sanding block which can conform to the roundness. These are available at some suppliers of polishing/sanding equipment. They can give the brushed finish on stainless, then wash thoroughly with a citric acid based cleaner to remove any rust residue. The root cause of the corrosion may be chlorine from hand prints.

Wayne McKee




- Mississauga, On, Canada





---

2002

A. We have had the same problem on stainless steel handrails in indoor swimming pools in Australia. We have have tried a number of ways of cleaning the stainless. The only method that has been successful is the removal of the handrail and then the cleaning of the stainless with a specially designed cleaner and then coated it with a nylon biased protective coating. If the rail is left in situ it will recontaminated before you place the coating on.

Regards,

Stephen Scarpin




- Melborne, Victoria, Australia




---
---
Adv.
Rust on stainless can have many origins, acid rain from coastal salt air to sulphuric acid as acid rain or using wrong cleaners containing chlorides. The results are all the same ... unsightly brown rust. Our Scratch-B-Gone kit quickly removes this unsightliness and leaves a protective coating to repel rusting from moisture. Some say our proprietary chemical Ultra Shine, in our kit, restores the chromium and adds to its protective quality. Whatever you believe, this stuff works!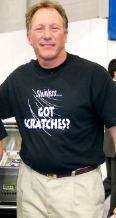 Barry Feinman
BarrysRestoreItAll

Carlsbad, California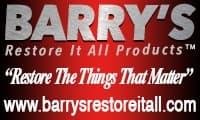 ---
2002

A. A consequence of specifying an "ordinary" corrosion-resistant material where the service environment demands something better than "ordinary"!

Back in the days of the big bands, there was a popular song "Wishing will make it so". Don't you believe it! You can't arbitrarily select a material then expect that the power of wishing will somehow improve its corrosion resistance (or any other, for that matter) characteristics to the level that you actually need.


Bill Reynolds [dec.]
consultant metallurgist - Ballarat, Victoria, Australia
We sadly relate the news that Bill passed away on Jan. 29, 2010.



---

2002

A. The rust can easily be removed by applying commercial citric acid formulations. This will also passivate the pipe so that it will not recur. This is done on an ongoing basis by many companies and in swimming pool areas. Contact us if you need help.




---
2002
A. Hello Thomas,
You just say that it's 316SS and you do not give the type (or alloy) of your 316. Many people thinks that 316 SS is the wonder drug against the corrosion and rust but "316 SS" doesn't mean universal remedy. I have encountered the same problem with our lighting fittings (tubes diam. 25 mm) used just in town ambiance (Brussel) and due to the presence of chloride and sulfur compounds. After analysis of the alloy, my 316SS was the "current and ordinary" SS (High carbon >= 0.08% and very low molybdenum <2%)Resistance to pitting (and crevice) corrosion of S.S. used in chloride environment increase with increasing the content in chromium, molybdenum and nitrogen AND decreasing the carbon content (below 0.03%). I have chosen a 316 SS type X2CrNiMo 18-14-3 / 1.4435 coming from Sweden + a passivation and all is OK now. More better is the 317L SS type X2CrNiMoN 18-15-4 / 1.4438 but the price .... is better too Hi!
Regards,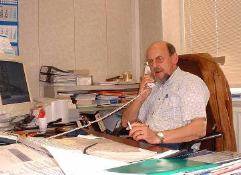 Paul Moreau
aluminum reflectors for lighting - Liège, Belgium
---
2002

Thanks for the information Paul, will keep it in mind for the next job. But I have to solve this problem first.
Thomas M
[returning]
- Ireland
---
2002
Q. Bill,
I'm just looking for a "bridge over troubled water" but "I still haven't found what I'm looking for". On a serious note Bill is 316 not adequate for a swimming pool environment and will passivation not improve its corrosion capabilities. Also there seems to be two schools of thought on which is best to passivate, nitric or citric acid .
Regards,
Thomas M
[returning]
- Ireland
---
2002
A. Thomas,
Your experience demonstrates clearly that 316 is not adequate for that particular environment --- if it was adequate you would not have submitted an enquiry. Many years ago, 316 was the greatest! but it has now been relegated to the "ordinary" category by dozens of newer corrosion-resistant alloys.
Paul,
316 cannot contain more than 0.08 percent carbon, or less than 2 percent molybdenum, or it is not 316. The other two corrosion resistant grades that you detailed (alloys 1.4435 and 1.4438) are far removed from the 316 family.
Thomas,
Perhaps you should look at 2205 tubing (nominal 22 chrome, 5 nickel, 0.2 nitrogen) which has resistance to pitting and the effects of chlorides that is far superior to 316. Any of the usual suppliers of corrosion-resistant tubing should be able to supply you with detailed data. Sandvik (and perhaps some other makers) call it ASM SS-487 / Sandvik SAF 2205 [affil. link to spec at Techstreet], some other makers call it 22/5 or 22/5N. The corresponding alloy for manufacture of castings is (USA standard) ASTM A890 [affil. link to spec at Techstreet] Grade 4A.
All of the above might help with the next job, but it certainly doesn't help you with the problem at hand, does it. If you can dismantle the affected components, they can be cleaned up properly. Difficult to imagine that a satisfactory "in situ" treatment could be done.
It seems that USA terminology lumps the separate processes of pickling and passivation, under the one term passivation. In fact, pickling is the removal, from the surface of the stainless steel, of contaminants --- sometimes traces of other steels from grinding or brushing operations, sometimes scale from heat treatments or welding. Various combinations of nitric and hydrofluoric acids, sometimes sulphuric acid also, are used. Once the surface is clean, it will passivate itself immediately, by forming a film of chromium oxide on the surface by reaction with oxygen in the air. This layer physically isolates the metal from the corrosive environment and prevents further attack. The layer is only a few atoms thick, not something you can see with an optical microscope. But some people like to thicken-up the layer by using a nitric acid treatment which acts as an oxidiser and gives stronger oxidation than would occur from the air. This thickening-up of the naturally-occurring protective film is called passivation.
Two separate processes --- acid or other solvent treatment to remove extraneous surface metal contaminants, then oxidation treatment to thicken the oxide film.
The 2205 alloy that I mentioned earlier uses the same processes, but because the alloy itself is different composition from 316 stainless, the properties of the oxide layer that form on its surface are also different from the layer that forms of 316. The layer on the 2205 is more resistant to attack and penetration by the chlorine and chlorides that are around the swimming pool.
It is the hazardous nature of the treatment chemicals used for pickling and passivation that makes me suggest you need to dismantle the components so that they can be treated in a plant set up to cope with those hazards.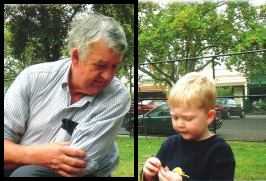 Bill Reynolds
[dec.]
consultant metallurgist - Ballarat, Victoria, Australia
We sadly relate the news that Bill passed away on Jan. 29, 2010.
---
2002
A. It is interesting that there are such great differences in the industry about what passivation is, and what it takes to get there. In the U.S. we go by what ASTM and AMS say in the specifications ( ASTM A967 / A967M [affil. link to spec at Techstreet] and AMS2700 [affil. link to spec at Techstreet]).
Passivation, in these organizations is the removal of free iron and exogenous materials and chromium enriching the surface so that it can be oxidized to form the passive layer. Pickling is the removal of scales and heavy oxide layers from the surface from processing, heat treating, etc.
Citric acid formulations have proven in independent tests to give the highest chromium and chrome oxide content and the deepest layer thickness, but either citric or nitric can be used. The big advantage to the citric formulations in the above application is that it can be done easily and safely in the field. There are companies in the U.S. that include citric acid formulations in their swimming pool kits for this very purpose.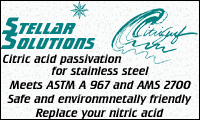 ---
2002
? Are we ever going to agree with each other on the bare definition of "passivation"?
1. OK, so it involves removing iron from the surface.
2. It also involves controlled oxidation of the nickel in the surface which prevents uncontrolled dis-uniform ugly oxidation.
The citric formulation does only Number One.
The Nitric Acid Formulations and the Nitric and dichromate formulation do both Numbers One and Two!
No matter, 316 will not work in a swimming pool.

Robert H Probert
Robert H Probert Technical Services

Garner, North Carolina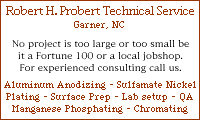 ---
2002
A. Robert, I do not wish to disagree with you but in my experience citric gives the best passivation. Should the parts have Iron on them (rust?) then nitric will pull in a clinch. ... But then really another spec kicks in. I think it is ASTM A-320. Either case passivation is a final cleaning and passivation spec and all foreign material must be first removed; Ie: weld scale, oil, soil, oxide layers. I must say that from my own experience in our rest rooms (at the plating plant) that to refinish the handicap railing the way we went is to electropolish and then citric passivate.
Jon Quirt
- Fridley, Minnesota
---
2002
A. Can't get there from here. Passivate or Electropolish, 316SS is never recommended for wet chloride service and will continue to rust & pit no matter what you do. If you can't order new rails of a higher Moly alloy, then you can coat these with something like powder coat, One of the coating experts on this site can advise.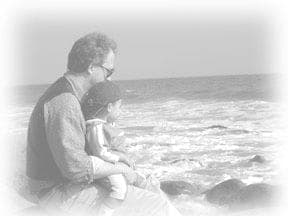 Dave Kinghorn
Chemical Engineer
SUNNYvale, California
---
2002
A. Robert:
I hesitate to respond to this online, but for the industry we all need to agree what passivation is, that is why we have standards and specifications in ASTM, SAE, ANSI, SEMI, etc. We each may disagree, and can contact these organizations to change the definitions, but when trying to educate the public we need to use the consensus definitions.
If nickel oxide is necessary how do you passivate the ferritic and martensitic grades, etc. when no nickel is present?
MUCH INDEPENDENT data by companies all over the world has proven that citric acid formulations, when made correctly are vastly superior to nitric acid passivation processes. The data does not say that nitric acid does not work, it just says that citric acid formulations are better.
Contact me if you want the data.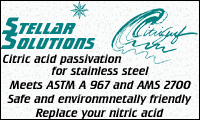 ---
2002

You have said it well, Lee; it doesn't matter so much what passivation 'really' means, what matters is that we have specifications to work to.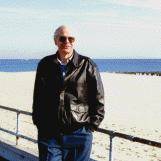 Ted Mooney
, P.E.
Striving to live Aloha
finishing.com - Pine Beach, New Jersey
---
2002
A. Thomas,
I want to stick my oar in these 'muddy' waters ... not that I can help you one iota re cleaning the stainless but on another tack. Let's assume that you have now cleaned your railings and they are bright and beautiful (like White Rock).
Why not COAT them with a u.v. (preferably) resistant clear paint so as to keep them looking glamourous for years to come? Maybe a good vinyl paint is best. I've heard of nylon paint but personally I'm biased against nylon as it is NOT one of the good acid/alkali resistant plastics like PVC. However, maybe Steven Scarpin's nylon will be OK but I'd sure like to know its life span!
Food for thought. I liked that idea of buffing/scouring with a contoured rubberized sanding block ... this would tend to give the 'paint' a better adhesion due to the increased surface area. High grab areas should have, perhaps, two coats.
Food for thought.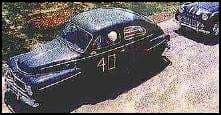 Freeman Newton
[dec]
(It is our sad duty to advise that Freeman passed away
April 21, 2012. R.I.P. old friend).

---
2004

Thomas and all respondents, Thanks for the informative discussion on stainless grades. As an owner of a bottled water Co. I now know what to avoid for my next move. As for your railings, I hope your lawyer can still contact the supplier.
Darren Footz
- Delta, BC, Canada
---
2005
A. I would recommend use of alloy UNS S030200 which is weldable, formable, and non-magnetic. It is the most corrosion resistant alloy for seawater and your swimming pool is probably not any more corrosive than the sea. UNS S031600 is an okay stainless but where it is in applications where corrosion is absolutely forbidden such as surgical pins used to repair broken bones in the body, a modification of 316 known as 316L is used. Passivation is just something to create a protective layer on stainless and layers can be worn off.
Ron Spencer
US Navy - Camarillo, California, USA
---
2005
A. I forgot to mention that all corrosion is due to movement of electrons. You can save your 316 railings with a sacrificial anode.
Ron Spencer
US Navy - Camarillo, California, USA
---
2006
Q. Dear Thomas,

I am interested in knowing if you found a solution to the rust on 316 railing and have resolved the situation.

Kindly share it with us.

Thanks,
Pranav Sethi
- Punjab, India
---
January 28, 2011
A. I know it sounds a bit off-the-wall, but about three years ago, a local chemical company bought a drum of CLR (Yes, that product you see advertised on television commercials to clean ugly household stains) and washed their outdoor stainless steel tanks with it. They still look good!
Neville Sachs
- Syracuse, New York USA
---
Washer Periphery on Stainless Steel Wedge Anchors rusting way too fast
February 21, 2017
Q. Good morning,

I work for a GC in Daytona Beach. We do concrete restoration/waterproofing on condominiums beach side. We on occasion install Aluminum railings. Without fail, we have an issue with the 316 Stainless Steel washers that come with the Wedge Anchors (as specified by every Engineer for each project) used to secure the Aluminum (Kynar powder-coated) Base Plates to the concrete walkways.

So we have in this order from bottom up:

Concrete pad
Kynar Coated base plate with pre-drilled holes
316 SS Wedge Anchors
Nylon washer
316 SS washer
316 SS nut
Plastic cover

The rust on each case seems to be only on the perimeter of the WASHERS ONLY. We are not the only contractors having this issue in the area. The manufacturer (ITW Red Head Trubolt) is supposedly doing tests but our customers are getting impatient. Any suggestions or ideas would be GREATLY appreciated! Thanks, will post pics if I can figure it out.
Fawn Chandler
GC assistant - Daytona Beach, Florida USA
---
February 2017
A. Hi Fawn: attach the pics to e-mail to please.
Although there is always the chance that the washers are out of spec as to material type, my guess is that the reason the perimeter is rusting is they are punched out of a sheet and the punches/dies are carbon steel which contacts them on this periphery. Stainless must not be contaminated with carbon steel tooling; if it is, it must be passivated.
My bet is that if you took a batch of those washers and passivated them, the problem would go away. Good luck.
Regards,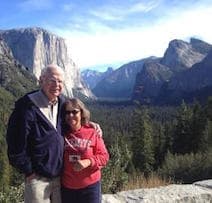 Ted Mooney
, P.E. RET
Aloha -- an idea worth spreading
finishing.com - Pine Beach, New Jersey
---
---
Prep & paint 316SST in the field
April 16, 2018
Q. We have recently delivered a number of 316SS enclosures for MV switchgear to a sewage treatment plant. These are structures approx. 12' x 6' x 5' WxDxH.
Those structures downwind of the sewage pond (likely a chlorine-rich environment) have developed corrosion marks. These have been cleaned & treated but my expectation is that they will reappear very soon.
I'm looking for advice on a suitable treatment (presumably a two-pack epoxy paint) that can be applied in the field - removing the units from site to take to a paint shop is not practical.
Many thanks,
Lindsay Lucas
Eaton Industries P/L - Sydney, NSW, Australia