World's #1 on-line resource since 1989
-----
Chemical engineering project
2002
I am a 4th year college, chemical engineering student here in the Philippines. We have been assigned to do some research about polymers and I chose polyaniline used for coatings. I am hoping that you could help me and give me some valuable info so that I could gather enough data for our project.
Thank you very much,
Lilanie Roxas
- Bacolod City, Philippines
---
2002
Hi Linalie,
GOOGLE or other search engines should give you a plethora of information on conductive plastics like Polyanilene.
No harm in asking but I think that you might get better info elsewhere.... but if I'm proved wrong, good, as learning is a constant curve.
Good luck with your studies.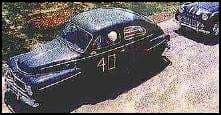 Freeman Newton
[dec]
(It is our sad duty to advise that Freeman passed away
April 21, 2012. R.I.P. old friend).