World's #1 on-line resource since 1989
-----
Corrosion resistance
2002
I am looking for a material that will do well with 98% Nitric acid. (zirconium is too expensive) - Is there another option? Will a Teflon coated material work? Currently we use SS 316L but it only lasts 3 - 4 yrs.
Kurt Leavitt
- Provo, UT, USA
---
2002
Hi Kurt,
'twould have been nice to know just WHAT shape your vessel/pipe/whatever was.
For super ultra, ultra pure nitric, tanks have been made from HALAR, one of the weldable fluorocarbons. Pure Teflon itself is not weldable. But if you coat something you have to damnably sure that a) you'd get no permeation and b) your coating was perfect. So if you go that route you MUST spark test every inch of it.
As for your stainless only lasting a few years, that sounds weird. Are you sure you have a PURE nitric?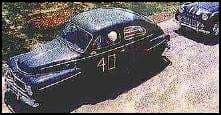 Freeman Newton
[dec]
(It is our sad duty to advise that Freeman passed away
April 21, 2012. R.I.P. old friend).