World's #1 on-line resource since 1989
-----
Copper Corrosion in Air Conditioning Units
2002
Hi,
I'm a HVAC Technician with a pulp & paper plant. Do you have any ideas on the following: I have observed surface oxidation on the copper tubing on 2 Air Conditioning Units within our plant but away from the Paper Machines. The colors observed were black & a watery substance indicate that the copper has been subjected to an air borne contaminant. What kind of air borne chemical would cause this reaction. The real problem seems to be that the corrosion occurs in the soldering parts on the joins & breaks down the solder causing leaks.
Perry Gullage
- Corner Brook, Newfoundland, Canada
---
2002
Hi Perry,
Every time I hear (or think!) about a Pulp & Paper plant my mind zooms to Cl02. Lovely stuff, of course!
I'd hazard a guess that some airborne contaminents of that ilk would eventually waft their way to your copper.
Re your statement about the solder breaking down. Ah! Interesting! This happens, too, to welded joints of stainlesses fairly often (due to weld heat being higher than some of the alloy components' melting temperature) ... but in your case why can't you use a pure lead solder? ... or if you REALLY want to fix it, go and use PVC !
Hope this helps you a bit.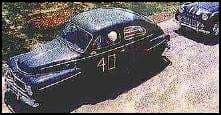 Freeman Newton
[dec]
(It is our sad duty to advise that Freeman passed away
April 21, 2012. R.I.P. old friend).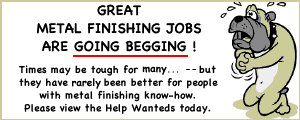 Plating Shop Manager [Salisbury, MD]
Junior Quality Engineer [Santa Clara, CA]
Plating Process Engineer [Wenatchee, WA]