World's #1 on-line resource since 1989
-----
Surface Tooling Finish
2002
My name is John Reed, a Manufacturing Engineer For New Holland. The company builds farm equipment, my role relates to metal forming. My question has to due with desired tooling metal forming finishes prior to a nitride coating or some other hard coating. The nature of the forming is a wiping action, where the material, P&O CRS 1015 or 1020, .250 thickness, often less, is placed between two opposing forming die sections to form a part that has two opposing 90 degree bends, a "U" form, and a single punch moving downward between the die sections. The clearance between the punch and die sections is generally close to stock thickness on each side and lubrcation is applied, a thick water soluble type. It is my understanding, that a micro finish would be less than desirable, additional input would be great!
Thanks,
John Reed
- New Holland, PA, United States
---
2002
This old issue has only to do with the ability to maintain a film of lubricant in as much area and for as much time as possible. Microroughness advocates argue that lubricants can be hold in the surface longer, and thats fine, but no matter how you lubricate, the objective is the same, to avoid contact between two moving solid surfaces. Here, geometry has the word. The better the finish of both mating surfaces, the least possibility to have this contact. To optimize both worlds is why you and thousands of people get paid for. I think.
Guillermo Marrufo
Monterrey, NL, Mexico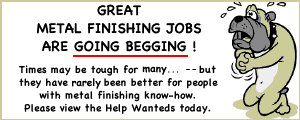 Plating Shop Manager [Salisbury, MD]
Junior Quality Engineer [Santa Clara, CA]
Plating Process Engineer [Wenatchee, WA]