World's #1 on-line resource since 1989
-----
Chromic Acid Anodising
2002
I am looking to install a treatments plant incorporating a chromic acid anodising line with a paint finishing facility and drying ovens. We have contracts in place for Airbus UK and I am initially looking to treat their components. The facility must be able to cope with components up to 10 feet in length. I have been searching for anodising tank manufacturers who can supply the rectifiers, cooling coils and other ancillaries but I seem to have hit a brick wall, any suggestions? I'm not sure of the concentrations of the chromic acid but the tank would need to be kept at a temperature of around 35-40 degrees c.
Andrew Jones
- Llantrisant, Mid Glamorgan, Wales
---
2002
Are you really sure? There may be a limited life on this plant given the environmental regulations surrounding chrome and the gradual trend away from this process. There are also several existing anodising plants in South Wales. Planning consent may be problematic. If you have long term contracts and planning consent then you will be looking for a process plant manufacturer.
Ciaron Murphy
- Wales
---
2002
In response to Ciaran's reply to my question I think he must be confusing chromic acid anodising with chrome plating.
Chromic acid anodising is the main form of surface treatment in the aerospace industry at present, the sway to boric sulphuric anodising which is in place in the U.S will as usual take effect in the U.K many months later. Our sister company in the North of England is currently installing a boric sulphuric line to support a contract we have with Boeing (777 ER) but our existing contracts with AIRBUS UK all call up chromic acid anodising. If we do install a treatments facility and in the future we have to switch modes of anodising then I do not forsee any problems as the existing plant should be ok, the soap, swill, etch and seal tanks will remain constant throughout. Any more comments will be gratefully received.
Thank you,
Andrew Jones
- Llantrisant, Mid Glamorgan, Wales
---
2003
Chrome anodising as you say is still a valid process and major steps forward have been achieved with Chromic acid regeneration.
Hamish McWillie
- Daventry U.K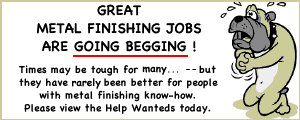 Plating Shop Manager [Salisbury, MD]
Junior Quality Engineer [Santa Clara, CA]
Plating Process Engineer [Wenatchee, WA]