World's #1 on-line resource since 1989
-----
ULTRASEAL INFORMATION REQUEST
2002
I am also looking for information regarding ULTRASEAL. So far I have found out that it is a "dip/spin" applied organic coating that is applied to zinc plating after the chromate conversion coating. It was developed for the automotive industry to protect the zinc plated parts from "white rust" during overseas shipments. Who makes this stuff? Can it be continuously applied to pre-galvanized wire in place of the wax or oil coating that is usually applied? Is the finish flexible so that it does not flake off during forming operations?
Any information regarding ULTRASEAL post-plating, post-chromate conversion coatings would be greatly appreciated.
Howard Berman
Clover Wire Forming Company - Yonkers, NY , USA
---
2002
Ultraseal is a trade name for a silicate type post chromate coating. It is applied when the chromate is fresh then dried with the part. There are a variety of similar proprietary products on the market. Contact a vendor.
Gene Packman
process supplier - Great Neck, New York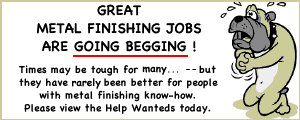 Plating Shop Manager [Salisbury, MD]
Junior Quality Engineer [Santa Clara, CA]
Plating Process Engineer [Wenatchee, WA]