World's #1 on-line resource since 1989
-----
Galvanize Metal Rusting
2002
I have a Metal Building called a Wonder Building. It was built about 1972 and is now starting to Rust.
It is built out of Galvanize Metal, and I would like to know what I can paint it with to protect it.
I have painted other galvanized Metal before like rain gutters and it peals off after a couple of years.
Please let me know what I can use.
Thank You,
Robin R. Werner
- Tomahawk, Wisconsin
---
2003
You can paint your Wonder Building with any of the paints suitable for Galvanized Steel that are on the market. The amount of rust on the building will determine the amount of preparation and cleaning that you will need to do in order to use these paints.
A company in Missouri called Superior Products (no affiliation with our company) makes a product called "Rust-Grip". Superior Products claims that you can paint the Rust-Grip directly on the rusted metal. We would suggest that you contact them directly.
Contact us if you need any panels replaced.
Andrea Lee-Harshbarger
Wonder Building- Plato Center IL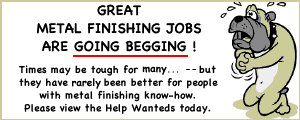 Plating Shop Manager [Salisbury, MD]
Junior Quality Engineer [Santa Clara, CA]
Plating Process Engineer [Wenatchee, WA]