World's #1 on-line resource since 1989
-----
Dating of 19th century kitchen knife
2002
Good day to you all,
I wonder if someone might be able to help us on a question related to 'marks' on a 19th century kitchen knife. One of the Honorary Associates of the Indigenous Cultures Department (Museum Victoria, Australia), Mr Alan West, is analyzing the grave goods from a burial bundle found in 1902 in a tree in Victoria, Australia. Following an inquest, that failed to identify its origin, the bundle was transferred to the Museum.
The bundle contained the remains of a young child - believed to be Aboriginal - and an extraordinary range of European and Aboriginal items. One of the European items is a kitchen knife marked in the following manner: V [Crown] R PBB & A The handle is missing, but the metal 'tang' that was enclosed by the handle is still present.
At this stage, Alan believes the burial took place in the 1800s: if the marks 'V [Crown] R' refer to the reign of Queen Victoria, then the burial must have occured between 1837 and 1901. From other evidence, Alan believes that the period might be further narrowed to between 1845 and 1860.
Are the initials 'PBB & A' familiar? If so, can they indicate a date of manufacture? The Dja Dja Wrung Aboriginal Community is naturally very interested in whatever information Alan is able to glean from the various items. We would be most grateful for any assistance that you may be able to provide.
With thanks,
Robert McWilliams
Museum Victoria - Melbourne, Victoria, Australia
---
2002
Robert,
That was a very interesting and well researched story. I enjoyed reading it.
Personally I haven't the slightest clue ... but might suggest that you try some Sheffield organization .... wasn't there a Sheffield Knife and Cutlery organization (possibly under the non-Oz wording of The Royal Knife and Cutlery Guild or words to that effect) ... Go search on the internet. One assumes that that knife was made in Sheffield or Birmingham.
Food fer thort, eh?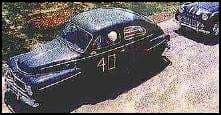 Freeman Newton
[dec]
(It is our sad duty to advise that Freeman passed away
April 21, 2012. R.I.P. old friend).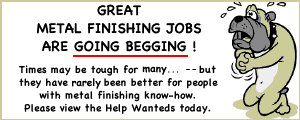 Plating Shop Manager [Salisbury, MD]
Junior Quality Engineer [Santa Clara, CA]
Plating Process Engineer [Wenatchee, WA]