World's #1 on-line resource since 1989
-----
In search of carbon contamination detection methods
2002
I am looking for a fast any easy method for the detection of carbon contamination on stainless steel (304/304L, 316/316L)without waiting for weeks for rust to bloom, are there such methods available.
Lee Bishman
Arrow Tank & Engineering - Cambridge, MN, USA
---
2002
I believe this could be done with Glow Discharge Spectroscopy quite nicely. It is a depth profiling technique where the sample is sputtered away layer by layer revealing what elements are present in each layer. The problem is that this equipment is expensive and fairly complex to use. I would recommend paying a contract lab for this type of analysis.
Terry Tomt
- Auburn, Washington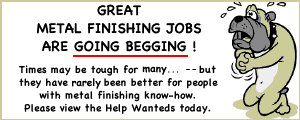 Plating Shop Manager [Salisbury, MD]
Junior Quality Engineer [Santa Clara, CA]
Plating Process Engineer [Wenatchee, WA]