World's #1 on-line resource since 1989
-----
Protecting brass from tarnishing
2002
I own a 1923 Model T Ford equipped with brass items that I do NOT enjoy polishing. I always protect it from foul weather but when the humidity is high or when someone touches it, it is quick to tarnish. Is there a preferred method of coating brass to prevent it from tarnishing?
Thomas C
- Colleyville, Texas
---
2005
I was wondering if the man got a response to his question #16176, regarding the polishing on his 23 Model T and how to keep it shiny and free from fingerprints.
If so where do I find the response,
Thanks
Tom
Tom Rayburn
- San Benito, Texas USA
Ed. note: Hello Tom. Answers get to an inquirer two ways. First, our supporting advertisers may contact them about their relevant product. Second, this is a public forum, and any replies are printed. The reason there is no public answer to this inquiry is probably because we've printed hundreds of inquiries about brass tarnish and cleaning, and the responders got tired of the repetition. Please search the site for brass tarnish and you'll find plenty of answers. Good luck!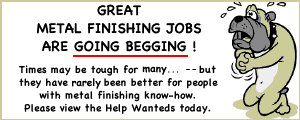 Plating Shop Manager [Salisbury, MD]
Junior Quality Engineer [Santa Clara, CA]
Plating Process Engineer [Wenatchee, WA]