World's #1 on-line resource since 1989
-----
PURITY TEST FOR STAINLESS STEEL- 304 GRADE
2002
HOW AM I SUPPOSE TO KNOW WHETHER A ROD GIVEN TO ME IS OF STAINLESS STEEL OF GRADE 304 i.e. HOW CAN I ASSURE MYSELF OF ITS PURITY SO THAT I AM NOT CHEATED BY THE FIRM FROM WHICH I SHALL BUY SS OF GRADE 304...
SACHIN DEVENDRA CHACHADA
- NAGPUR ,MAHARASHTRA , INDIA
---
2002
Either...
(1) buy from a supplier that you trust, or whose certificate of chemical analysis you trust; or
(2) have the material analysed by a commercial laboratory, so that you get an independent certificate of analysis.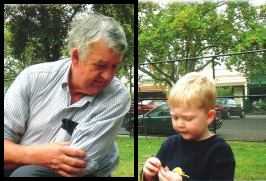 Bill Reynolds
[dec.]
consultant metallurgist - Ballarat, Victoria, Australia
We sadly relate the news that Bill passed away on Jan. 29, 2010.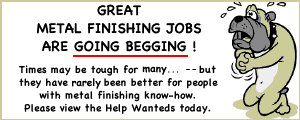 Plating Shop Manager [Salisbury, MD]
Junior Quality Engineer [Santa Clara, CA]
Plating Process Engineer [Wenatchee, WA]