World's #1 on-line resource since 1989
-----
Coating for "flexing" material
2002
I am looking for a corrosion resistant coating that will be used on 4140 steel that will be "flexing". This component, otherwise known as a flexure, is used on a thrust measurement system. The dimensions are roughly 12" X 24" X 1" thick. Grooves are machined into the surfaces at the top and bottom of the plate which allows the flexure to "flex" to a maximum of .1". We had originally planned for a zinc coating to be used but were afraid of it cracking off. We have tried black oxide along with rubbing oil on them consistently. We want a more hands-off coating. Are there any suggestions out there?
Dave McLeod
- Ottawa, Ontario, Canada
---
2002
If properly applied, zinc will not crack or spall. Millions of springs of all sizes and shapes are zinc plated every day, also numerous large steel structures are bending constantly for decades with no problem (bridges, cable poles, you name it). Just think of bending a piece of galvanized sheet to break the zinc. No way, the steel breaks first. The thing to consider is really hydrogen pickup during any electroplating.
Guillermo Marrufo
Monterrey, NL, Mexico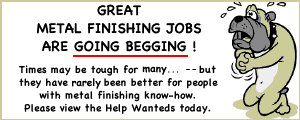 Plating Shop Manager [Salisbury, MD]
Junior Quality Engineer [Santa Clara, CA]
Plating Process Engineer [Wenatchee, WA]