World's #1 on-line resource since 1989
-----
Cleaning copper
2002
Looking for an easy way to clean industrial grade copper.
Dean Oslage
- Merrill, Wisconsin
---
2002
You don't say what you're cleaning off of the copper. Grease, oil, oxidation? And what do you mean by "industrial grade" copper? Give a little bit more info to work with so that a suitable answer can be given.
Dan Brewer
chemical process supplier - Gurnee, Illinois
---
2002
Not sure on the alloy of the copper more than likely the least expensive alloy 110. It is on a electrical plating machine that was made in Taiwan. Oxidation is the bigest problem with oil film a small problem. The first two tanks have caustic acid in them in the first ambdet F1-C and the other is E-38-PT the rest of the tanks are rinses and zinc bath.
Dean Oslage
- Merrill, Wisconsin, US.
---
2002
Hi Dean,
Dan Brewer sure hit it on the head with his queries ... but then this happens far too often that insufficient data is given and mind readers we ain't.
You say that you have tanks with caustic acid in them. Yucks. Impossible. Caustic and acid are, as far as I know, two entirely different animals. If caustic, heck, mild steel should be OK. If acid, ah, that depends on what acid at what temperature and at what concentration. Added to that is the query that it's sure nice to know what the tank sizes are. Why? Because up to 250 (maybe 500) imp. gall. sizes, you can buy (in Canada) rectangular tanks moulded from Polyethylene.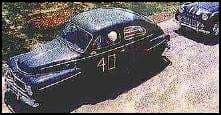 Freeman Newton
[dec]
(It is our sad duty to advise that Freeman passed away
April 21, 2012. R.I.P. old friend).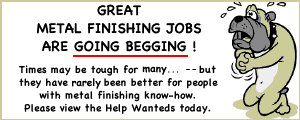 Plating Shop Manager [Salisbury, MD]
Junior Quality Engineer [Santa Clara, CA]
Plating Process Engineer [Wenatchee, WA]