World's #1 on-line resource since 1989
-----
Copper content detection in ferric chloride etchant during etching process
2002
I will be very grateful to the person who can give me an idea about how to detect the amount of copper content in a Ferric Chloride Solution used for an etching process. Any detection method will be fruitful to my investigation but if someone knows about a colorimetric way or a conductivity method then it will be the apogee. Thanks in advance for any help.
Heeranraj Mohabirsingh
- Mauritius
---
2002
I would suggest a titration where you titrate with a standard solution of something that will precipitate the copper out without precipitating out anything else (for example the iron). Then you can follow the titration using a Redox electrode and look for the inflection point. Obviously atomic absorption and ICP work very well but are quite expensive.
Terry Tomt
- Auburn, Washington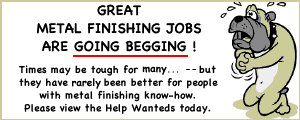 Plating Shop Manager [Salisbury, MD]
Junior Quality Engineer [Santa Clara, CA]
Plating Process Engineer [Wenatchee, WA]