World's #1 on-line resource since 1989
-----
How are pennies made?
2002
I was having to do a paper for school and I had to write a question about pennies and then somehow find the answer. Well, my question was "How are pennies made?" I searched in encyclopedias and the internet and was unable to find the answer! I'm sure it was on the internet somewhere but I couldn't believe that I wasn't able to find it easily. I ended up changing my question to "What are pennies made of?" and right away found the answer. So, how DO they make pennies?
Rebekah
---
2002
Hi Rebekah,
The answer to your question can be found at the US Mint's website.
George Gorecki
- Naperville, Illinois
---
2002
See http://www.usmint.gov/faqs/circulating_coins/index.cfm?action=coins
Kai Lorcharoensery
- Bethlehem, Pennsylvania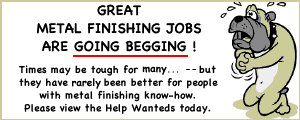 Plating Shop Manager [Salisbury, MD]
Junior Quality Engineer [Santa Clara, CA]
Plating Process Engineer [Wenatchee, WA]