World's #1 on-line resource since 1989
-----
Discolored Copper Hardware in Kitchen
2002
I recently stripped the cabinet hardware in my kitchen to reveal beautiful, solid copper handles and hinges. I am having a challenging time keeping them from turning black constantly... from oxididation, I assume. Can I get a recommendation about a protective or sealant coating (clear) which would be suitable for preserving the color of the copper and make it more user friendly in the kitchen environment?
Valerie Pugliese
- Wallingford, Pennsylvania
---
2002
A wax would be the easiest way to prevent the copper from oxidizing, but it won't last as long as a lacquer. I'd try for an air dried nitro-cellulose based clear lacquer. This type of sealant would be a flammable liquid, so you would need to take the hinges and handles off the cabinets, and away from any source of ignition (i.e. the pilot light on your stove).
Hope that helps,
Jake Koch
G. J. Nikolas &Co.,Inc.

Bellwood, Illinois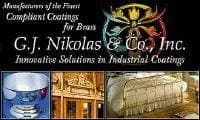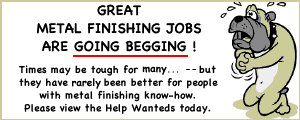 Plating Shop Manager [Salisbury, MD]
Junior Quality Engineer [Santa Clara, CA]
Plating Process Engineer [Wenatchee, WA]