World's #1 on-line resource since 1989
-----
Contact aluminum/ss rack: problem of corrosion
2002
I've got (another) problem with the contact of aluminum and stainless steel. I put a lot of aluminum samples on a rack made of stainless steel. I put the rack in a bath of a detergent solution (Crest 2000X). After that, in many cases, I found on the samples, precisely where there was a contact between the rack and the pure aluminum samples, a black dot. SEM/EDX analysis reveals presence of carbon and oxygen.
Can you explain what happens, what kind of corrosion it is (galvanic?) and how I could solve the problem (is the detergent dangerous? Should I use a particular stainless steel for the rack?)
Thanks for any answer!
DO Dang Liem
- China
---
2002
Sure sounds like galvanic corrosion to me. How about building the rack of anodized aluminum?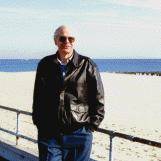 Ted Mooney
, P.E.
Striving to live Aloha
finishing.com - Pine Beach, New Jersey
---
2005
2002
Thanks for this answer!
I precise my question: in fact the racks are put in an ultrasonic bath (of Crest 2000X) to clean the aluminum components. The SS Steel used for the rack at this time is 303 SS kind. I completely see that this SS Steel is quickly corroded under this bath (clear discoloration).
Would anodized aluminum then be the best solution for the rack? Would there be any cheaper material? Do you think that any other SS Steel would not resist in the bath and induce galvanic corrosion?
Thanks for any other help!
DO Dang Liem
- China
---
2002
Mr. Do,
The most popular material to use is Titanium rack for aluminum in order to prevent corrosion attack.
Good Luck,
S. Y. Yuen
- Hong Kong, China
---
2002
Dear sir,
In normal case, Al-alloys will be corroded if they get into contact with SS. I think you have pitting /crevice corrosion at your SS-racks, Have you also observed corrosion at Al-samples?
Pitting/crevice corrosion at SS is normally induced by chlordes, please check the chloride and acide content (pH value)in your detergent solution. Depend on the composition and temperature of the solution, you can use higher grade SS (e.g. duplex SS)or coated CS or plastics for the racks.
Good luck,
Dr. Gan
- Munich, Germany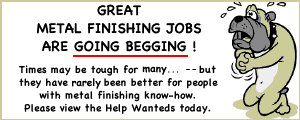 Plating Shop Manager [Salisbury, MD]
Junior Quality Engineer [Santa Clara, CA]
Plating Process Engineer [Wenatchee, WA]