World's #1 on-line resource since 1989
-----
Manganese Phosphating
2002
We are trying to do phosphating (Zn & Mn) but prefer to do with Mn , but the erosion is varying & there is no consistent pattern in the material erosion so that we can keep stock accordingly. Material is SAE 52100 bearing steel, component to be phosphated is a bearing race. pl suggest solution. Also, is Hydrogen Embrittlement is required to avoid cracks.?
Regards,
S MEENAKSHI SUNDARAM
- CHENNAI, TAMILNADU, INDIA
---
2002
Mr. Sundaram,
Hydrogen relief (not embritlement) would certainly be advisable if your parts are prehardened above 45-48 Rockwell C (which is obvious according to the use and type of steel). That's unless you don't treat them in acids (and I bet you will have to).
Guillermo Marrufo
Monterrey, NL, Mexico
---
2002
Dear Mr. SUNDARAM,
Our MnPO4 shop has no baking at the end of the plating process. The H2 embrittlement issue has been a concern for our MnPO4 plated harden products. We decided to skip the acid pickling (the bath is acidic though), it more or less, helps to reduce the total H2 that 'diffused' into the base.
By doing this, products cleanliness and surface activeness would be the constraints. I'd like to hear your comment too
The best way, as suggested by Mr. Marrufo, is to install baking system for H2 relief.
Regards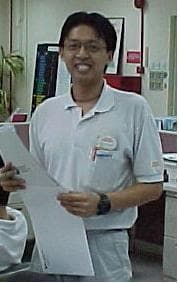 Chee Hong, Lee
- Singapore
---
2002
You didn't list any type of surface preparation that you are using. The surface preparation has a lot to do with the uniform surface finish. A grit blast using appropriate media, with immersion directly into your bath works nicely. We are also involved with processing using grain refiners/conditions as an alternate to blasting and have had excellent results. Either method will produce a uniform coating, if your not already doing it. Good luck
Tim Martin
plating shop - Springfield, Massachusetts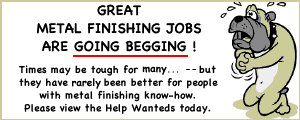 Plating Shop Manager [Salisbury, MD]
Junior Quality Engineer [Santa Clara, CA]
Plating Process Engineer [Wenatchee, WA]