World's #1 on-line resource since 1989
-----
Micro Porous Chromium
2002
We are testing pore density of microporous bright Chromium deposit by using Dubpernal test. Which involves plating of copper coat from acid copper bath over chromium deposit. The pores are visible as fine copper spots. Activation of chromium by immersing in warm dilute nitric acid is also recommended. We experience difficulties when chromium thickness is higher i.e. in excess of 0.5 microns. The pores are not visible even after activation. My question is whether we can expect same corrosion resistance from the systems showing negative / improper results of above Dubpernal test. What is the maximum permissible pore density for Micro Porous chromium deposit, minimum being 10000 pores per sq. cm. Guidance for above will be highly appreciated.
D.T.THAKUR
- Colaba, Mumbai, India
---
2002
Mr Thakur,
The MP chrome system functions to increase corrosion resistance as follows .
Creating 20000 potential sites for corrosion on 1 sq inch, the corrosion potential is reduced to that extent. Hence it follows that corrosion resistance is increased in comparison to a non MP chromium system.
If the holes are closed the resistance will equal that of a non MP system. The holes need to remain open.for the MP system to function.
Ideally, most plating standards call for 0.2 to 0.3 chrome thickness over Nickel when MP chrome is used.
0.5 microns chrome over Nickel is prescribed in some DIN stds. for non MP chrome.
Regards,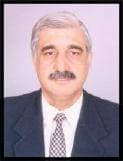 Asif Nurie
[dec.]
- New Delhi, India
With deep regret we sadly advise that Asif passed away on Jan 24, 2016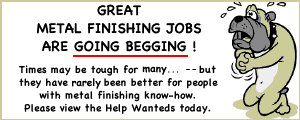 Plating Shop Manager [Salisbury, MD]
Junior Quality Engineer [Santa Clara, CA]
Plating Process Engineer [Wenatchee, WA]