World's #1 on-line resource since 1989
-----
Water Requirements
2002
Hi All,
We are doing some work that goes into a nuclear reactor. The water that we use must meet some pretty strict standards. There is a requirement for a maximum of 50 micro-grams/liter of Sodium and Chloride. I have talked to several labs and can not seem to find one that can detect that low. Does anyone know of a lab that can perform this testing and supply certifications? Thanks very much in advance for your help.
Rick Richardson, MSF
Dayton, Ohio
---
2002
Although these change from lab to lab, my EPA methods cd lists mdl's of .02 mg/L for Cl and .029 for Na.

James Totter, CEF
- Tallahassee, Florida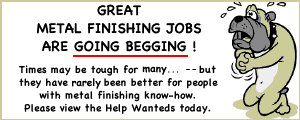 Plating Shop Manager [Salisbury, MD]
Junior Quality Engineer [Santa Clara, CA]
Plating Process Engineer [Wenatchee, WA]