World's #1 on-line resource since 1989
-----
Fabric for anode bags
2002
I am looking at making by own anode bags for a very small acid sulfate copper plating tank. I am wondering what particle retention fabric should be used. Can it be nothing more than a few layers of common household polyester fabric or do I need something a lot more dense like the felt used in filter bags? I can buy filter bags (rated anywhere from 1 to 100 um) and cut them up to make smaller bags using a sowing machine. What is difference between a anode bag and a filter bag ? Should I aim for lowest particle retention, i.e. "1 micron" ?
From what I can see the grey/brown coating formed on the anode surface is thin and delicate. If disturbed (e.g. anode is pulled out) then some of this film breaks away and mixes in with the solution. I found that without protecting the anode from the normal bath agitation then the film can be continuously generated thus building up sludge in solution. This sludge has a brown/copper color and will slowly dissolve over time. This suggests to me the sludge is primarily of copper metal and is to become oxidized by atmospheric oxygen. I hate to see what this is doing to the copper level ! So I understand the necessity of protecting this film with anode bags. But I don't know what type of fabric will protect the film yet still allow enough Cu(2+) to pass through and avoid saturation.
Adam Seychell
- Melbourne, Australia
---
2002
Adam,
Just go to your local yellow pages and look up "electroplating supplies" you will find companies listed who will be able to supply your needs made to measure. Much easier than mucking around yourself.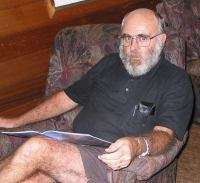 Bob Lynch
plating company - Sydney, Australia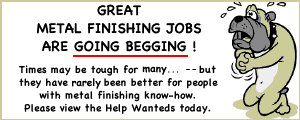 Plating Shop Manager [Salisbury, MD]
Junior Quality Engineer [Santa Clara, CA]
Plating Process Engineer [Wenatchee, WA]