World's #1 on-line resource since 1989
-----
CADMIUM PLATING SPEC 'MAC PS 13101'
2002
NEED TO FIND A SPEC FOR CAD PLATING. "MAC PS 13101" IT MAY BE OUTDATED BUT THE PRINT CALLS FOR IT.
JOE MAGPAYO
- ORANGE, CAL.
---
First of two simultaneous responses -- 2002
Joe, since MacDonnell Douglas became Boeing St. Louis, they've done some switchover to Boeing specifications: but I don't know what they've done on this one. At least you now know the source of the document, and perhaps your customer can get you a copy. Good luck!

Lee Gearhart
metallurgist - E. Aurora, New York
---
Second of two simultaneous responses -- 2002
It is a MacDonald Douglas spec. Needless to say you need Boeing approval to work to this, have a word with your Boeing rep about it - He can show you where to look.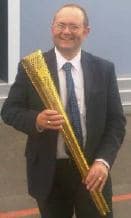 Martin Trigg-Hogarth
surface treatment shop - Stroud, Glos, England
---
2002
As far as the MAC PS 13101 specification? I think you actually want DPS 13101 and check with your local platers for this. Your plater will need to be certified to perform this, so knowing the exact specifications won't help you much if your plater is not certified.
Ron Graham
- Salt Lake City, Utah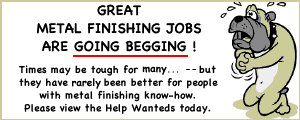 Plating Shop Manager [Salisbury, MD]
Junior Quality Engineer [Santa Clara, CA]
Plating Process Engineer [Wenatchee, WA]