World's #1 on-line resource since 1989
-----
What are application areas of nickel carbonate
2002
I am a supplier of zinc phosphate conversion coating chemicals. I used to purchase nickel carbonate from market now I managed to produce it myself. I produce more than I need. Where can I sell nickel carbonate? I mean what are the application areas of nickel carbonate?
Majid Subhani
- Lahore, Punjab, Pakistan
---
2002
Best of luck to you! I believe that in some countries nickel carbonate is now classified as a category 1 carcinogen. That means it is very carcinogenic to man and should be avoided unless there is no alternative. Nickel carbonate was used as a means of increasing the pH in nickel plating baths where the bath suffered metal depletion as well as pH decreases. The carbonate neutralised the acid and the nickel content boosted the metal ion levels.

Trevor Crichton
R&D practical scientist
Chesham, Bucks, UK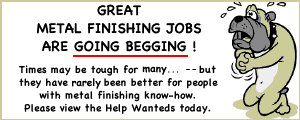 Plating Shop Manager [Salisbury, MD]
Junior Quality Engineer [Santa Clara, CA]
Plating Process Engineer [Wenatchee, WA]