World's #1 on-line resource since 1989
-----
Halar on fan blades
2002
I would like to know, How I can use the coating of HALAR on the Fan Blades and impellers made of Stainless Steel and Aluminum alloy. The Objective is to use the HALAR or any other suitable coating on the blades/ impellers that can prevent rust which may cause spark while operation in the hazardous area. Looking forward hearing from you
Mumtaz Anwar
Transerve Pte Ltd - Singapore
---
2002
Hi Mumtaz,
I guess that you could use any fluorocarbon on your fan blades ... my only reservation is that ANY fan should be protected against (abrasion & chemical) attack because any coating will be very thin, won't it? A heavy coating could be made by dipping the wheels/impellers in Plastisol BUT you'd sure have to rebalance the wheels after that ! In all cases may I suggest you use a spark tester to test for coating integrity.
Hope this helps.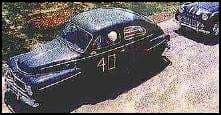 Freeman Newton
[dec]
(It is our sad duty to advise that Freeman passed away
April 21, 2012. R.I.P. old friend).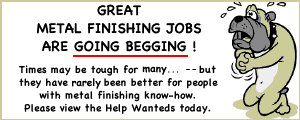 Plating Shop Manager [Salisbury, MD]
Junior Quality Engineer [Santa Clara, CA]
Plating Process Engineer [Wenatchee, WA]