Where the world has
gathered for finishing Q&As since 1989
Cleaning/restoring vintage tin humpback trunk
(
-----
)
Q. I bought an old hump back tin trunk. I would like to clean it up a bit, BUT keep the antique look without refinishing the whole thing and making the metal all shiny. I've washed it with vinegar and steel wool, and used 220 sandpaper (wet) on it. I like the look of leaving it distressed with some discolor of the old tin, to make it more vintage looking, not shiny. I plan on sanding the wood strips on it and putting some darker stain on them. Has anyone done a tin trunk this way? Any suggestions on what to put on the tin without making it shiny looking? Wax? Boiled linseed oil? What do you suggest?
Lynne Meinke
hobbyist, retired - Northern California
March 4, 2022
---
A. Actually, I am working on my 1st trunk now. And have tried everything that you did. However, the best thing that has worked for me is using my drill with nylon drill brush 80 grit or better. And it worked like a charm on the tin and the steal on all of the corners too!
Melanie Chiappone
- Manchester, New Jersey
July 8, 2022
---
Try Renaissance Wax ... Hope it helps and good luck!
Goran Budija
- Cerovski Vrh Croatia
---

Here are the photos of the before & after.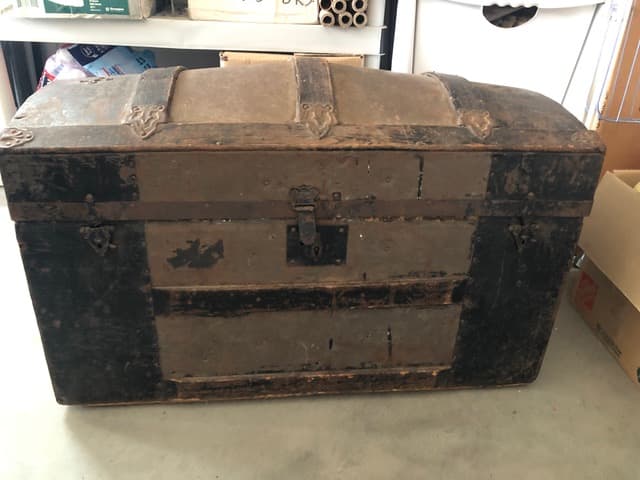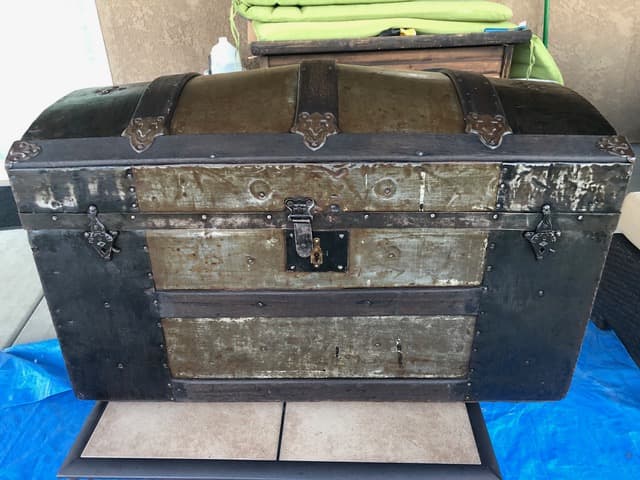 I researched for hours what to do with my tin humpback trunk that needed refinishing. Finally, I decided I didn't want it to be all shiny like a new trunk. So, I enhanced the already vintage look by sanding it with fine sandpaper and steel wool. I put an oil base stain on the wood ribbing, and good furniture wax on the tin. I think it turned out great and I was very happy with the results.
Lynne Meinke
[returning]
- Redding, California
July 18, 2022
---
Q. Here is my trunk I was gifted. My dad said to clean and restore. I clarified with him and he doesn't want me to sand the wood, repaint or stain anything, so I am working on cleaning without being able to do anything after. I am making progress, but I am trying to find the best way to get the rust off the embossed copper tin without removing the copper paint/coating that is on it.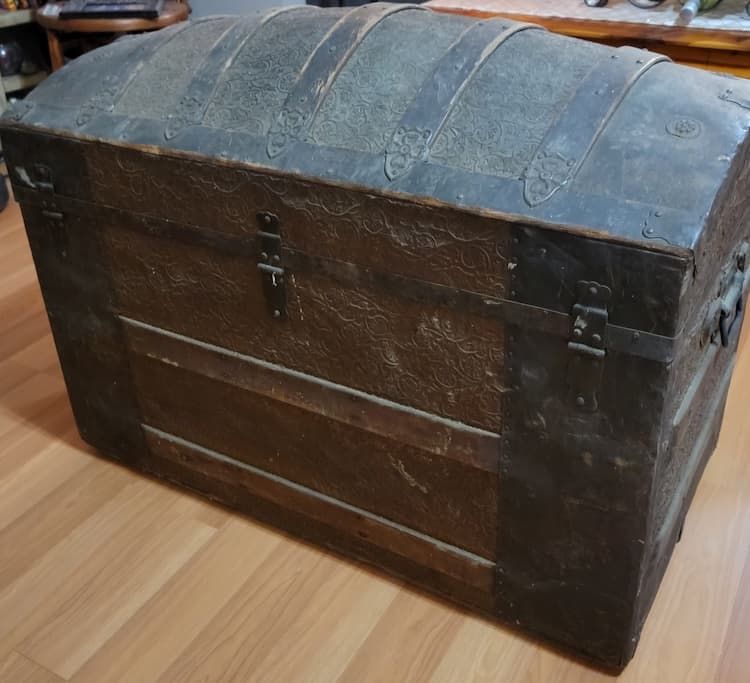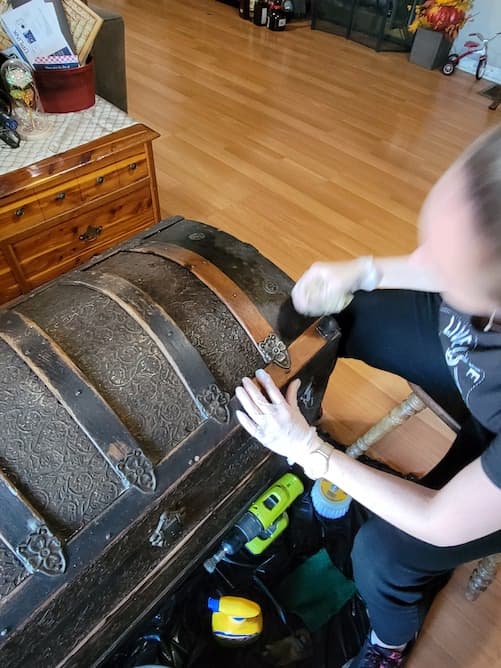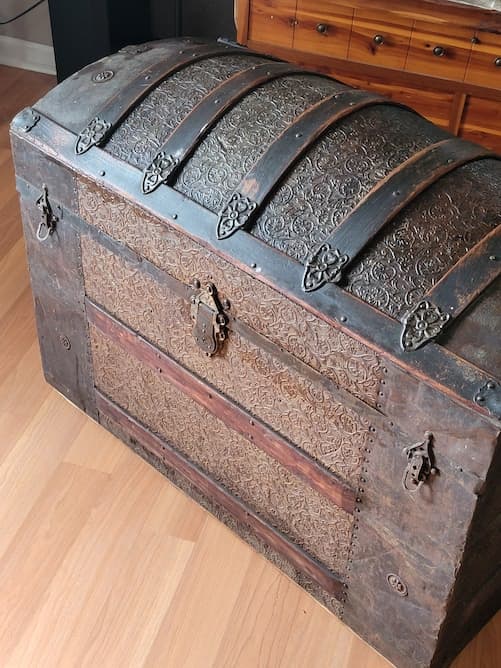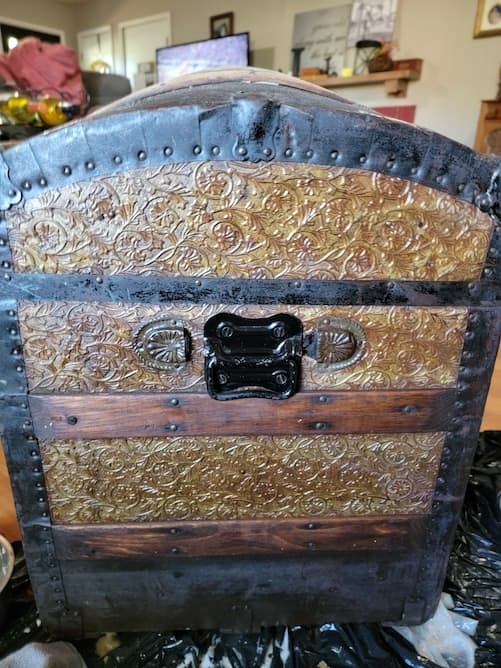 I DO want the tin to shine there, but where it is painted black, I just need it to be clean. Any thoughts would be appreciated as well.
Trisha Loudermilk
- Kansas
September 9, 2022
---
---
---
Closely related Q&A's, oldest first:
Q. I am looking to remove rust that is very thin but consistent over the entire area of embossed tin on my 100 year old Humpback Trunk. Using steel wool is removing also the black paint that's on the higher part of the embossing. How can I do this without hurting the paint or the trunks wood?
Thanks Much!
John Reycraft
- Northridge, California
2002
---
Q. I have the exact same question as this person.
I really want to refinish this trunk myself, but don't want to mess it up. My trunk is covered in tin, and wooden slats which also need cleaning. The hinges are lovely/unique, but need cleaning also. I just don't want to mess this up..and then there are thick leather handles on the sides which are mostly dried out..The truck is 120 years old...
Diane Hutchins
- Fairfax, Virginia
2002
---
Q. I too have a tin covered flat top trunk that needs to be cleaned of rust. It appears to have black paint but has a lot of white spots on it.
Any help would be greatly appreciated....
Brenda Johnson
- Odessa, Texas
2002
---
A. One of my co-workers was asking me this question as well. I suggested to use Naval Jelly [affil. link to info/product on Amazon] and super fine 0000 steel wool [affil. link to info/product at Rockler]. I will find out the results from my coworker and post another reply soon.
DAVID ANDERSON
- MADELIA, Minnesota
---
A. In response to the rust on the tin of the black trunk. I also have the same problem and I really think it depends on the amount of rust which is on the trunk. I am in the stages of restoring an old trunk myself and have taken some ideas off the net. One idea was to use steel wool; however, if the rust is really bad, then use a wire wheel on an electric drill. I decided to use a wire wheel and it would seem that the rust went all the way through the tin. Now I have to either patch or replace the tin. I think that I'm going to replace the tin as most of the entire top is rusted.
Kevin Brown
- Chatham, Ontario, Canada
---
A. In response to the question of finishing the metal trunk, I am also refinishing a humpback metal trunk and have found that the best way so far to remove rust is to use vinegar and steel wool. I first used a wire brush to remove the thick rust, then used the vinegar and steel wool. It leaves a nice smooth surface to the metal, even cleans in the embossed grooves. I plan on painting or glazing over the metal once it's cleaned, but would like to hear any other options on refinishing. The wood slats need work and I read on the internet that when the slats are cleaned to use a golden oak Wood Stain [affil. link to info/product at Rockler] and then Tung Oil [affil. link to info/product on Amazon] for protection. I have removed all the old paper from the inside of the trunk (from a 1878 catalog, I think) and would like ideas on how to finish the inside.
Beth Moffitt
- Terrace Bay, Ontario
---
A. Hey Folks,
I have found a few things (some the hard way) that may help:
Only use brass wheel brushes -- they are soft and you stand a better chance of removing surface rust without eating all the way through the tin. Steel brushes will rip through rusty tin like nobody's business.
The first poster had noted they didn't want to hurt the paint - I would try the lightest possible grade of Scotchbrite pads which are designed for that kind of work and are available at hardware stores - expect a lot of rubbing though.
Try to leave the inside of the trunk unfinished (no polyurethane) - allows the wood to breathe which will mean a longer life for your trunk - less warping. There's a few different products that will turn rust into a hard metal - I have not yet tried it on tin but have tried it on steel and it works great - turns the rust black and stops the oxidation from going any further - if anyone tries it on tin please let me know how it works out (lightly brush heavily rusted area with brass brush and then apply the rust killer) should leave a black surface which retains the stamped design on the tin which can be painted. I forget the name but all hardware stores carry it.
Q. I currently am trying to figure out how to match paint - I would like to do an exact restoration on a tin covered trunk - anyone know what kind of paint would be appropriate for a 1880 - 1890s era trunk for the tin parts? (oil based?)
Good Luck!
Chris Hall
- Newton, New Hampshire
---
A. Hi, Chris. The chemical you are referring to is Rust Converter [affil. link to info/product on Amazon]. Although tin is indeed a metal that is different than steel in every way, many people call steel sheet metal "tin", and my bet is that most if not all of the references to "tin", especially "rusty tin" (tin doesn't rust), are actually references to (possibly tin plated) steel sheet metal.
Lead based paint would have been used in those days, and that part you don't want to replicate. Good luck.
Regards,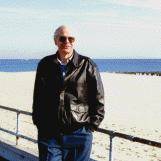 Ted Mooney
, P.E.
Striving to live Aloha
finishing.com - Pine Beach, New Jersey
---
A. I also am refinishing several trunks. Regarding tin, the best way is to remove it from the trunk and use a good stripper on paint or a rust remover type chemical on the rust. New pieces can be had from shops that do this for a living, several are on the internet. There you will find other parts like the leather handles one person needed. Most trunks tin had a bright metal finish, very big with the Victorians of the age. Short of replating, I have tested several metal, silver, chrome paints and most come up lacking. I have found that Alclad II [affil. link to info/product on Amazon] works great. It requires a base coat of gloss black. Then the Alclad II must be sprayed on in two light coats, I use an air brush and lots of masking. The finish is hard to tell it's not plated.
I have a fancy trunk that has heavy cast metal fittings like most trunks have tin. I am trying to figure out what the soft metal is, likely lead, tin or zinc. I tend to think it is zinc. It is quite shiny when scratched or are able to remove the oxidation. I have yet to find a suitable chemical for removing this oxidation and have tried, Formby's, lacquer thinner [affil. link to info/product on Amazon] , paint thinner (mineral spirits), rust remover, paint stripper and most metal polishers. As it is soft I do not wish to use any form of mechanical method as it would be too ablative. If anyone has any idea what I might use the info would be very helpful.
Many trunk slate's may still have old varnish on it. To save the patina of the oak use a Formby's refinisher on it which emulsifies the old varnish removing old dirt etc. and saves the patina and you don't have to sand, stain and put plastic coatings on that in a couple of years will yellow like varnish but will need to be completely removed in order to refinish it again, and one would need to use Acetone [affil. link to info/product on Amazon] to melt it and its tough on the wood and painted surface's. Remember in restoring, less is more and some of the old ways are still the best.
I'm sure most have noted these trunks are put together completely with nails. Restoring trunks should be a screw free zone and if you have one with pressed tin in good condition it would be a shame to cover it with some goofy colored paint. God the paint I have stripped off of truly wonderful orig. finish's that now I could not save.
Hope that gives all some tips and if anyone can help me with my problem it would be greatly appreciated.
Trunk On!
Greg Matson
- Milpitas, California
---
A. I have refinished many trunks and the best chemical to apply on the rust is a product called Extend [affil. link to info/product on Amazon] rust converter. It chemically bonds to the rust and prevents further rust formation. It causes the surface you are coating to become (somewhat) black. You can paint right over this product. Pour off only what you need because you can react the whole container of Extend by just placing the excess back into the container.
JoAnn Domanski
- Kennett Square, Pennsylvania
---
A. In refinishing mine, I used a wire wheel with electric drill. It was pretty badly rusted. I put a piece of aluminum flashing bent in an L shape to put up against the wood when I needed to clean next to it. There are several different grades of wire wheels, I am not sure which one I used, but is was a finer variety (no heavy scratches on the metal). Use it with an electric drill not battery powered one (not enough speed).
I went back, taped and put rustoleum black on the metal. Then I waited a few minutes and took a cloth with thinner on it to remove the highlighted embossing (alligator print). I was very happy with the results. The trunk went from something we couldn't even sell at a garage sale to one of our most prized antiques. I lined it with cedar and it now holds blankets in our family room.
Rob Wagner
- Kansas City, Missouri
2005
---
A. I have a humpback trunk and the best results for me is to use a high speed Dremel [affil. link to info/product on Amazon] type tool with a wire brush. First of all clean the surface with 3M type brillo pads, then apply paint remover [affil. link to info/product on Amazon] onto surface and allow to work into old painted surface, then use a small stainless steel hand brush (toothbrush shape )and brush in circular and crisscross pattern and wipe brushed surface with an old towel cloth. Take your electric rotary tool, insert wire bristle cone shape brush into rotary tool and brush surface to remove stubborn paint surfaces. When you go out and purchase your cone brushes and hand brush, the wire bristle has to be a fine grade and not your typical coarse wire brush. You will also need to purchase at least 3-4 rotary brushes. Please be sure to wear safety glasses,gloves and respirator when doing this job. Also you may have to use more than one application process to do the job right. GOOD LUCK
Ron Petter
- Austin, Texas
2006
---
A. Lime-A-Way [affil. link to info/product on Amazon]. I know, I laughed when I heard it too. But it works! On a thin layer of rust, limeaway loosens the rust and you can just wipe it off with a rag. If the surface is pitted, try a tooth brush with limeaway on it.
John Patrick
- Cheney, Washington
2007
---
Q. Where can I find a cone shaped wire brush to fit on my drill to clean wheels where the big one won't fit ?
Cara Grimes
consumer - Prattville, Alabama
2007
---
---
Q. I was wondering if any of you have any suggestions on how to preserve the inside of the trunk. I recently just purchased on and the inside is in really good condition. It has a little bit of a smell to it, but the original picture is still there with only a few little cracks from drying out. I think it would be a shame to get rid of this. Any suggestions?
Shanna Firnekas
- Wright, Wyoming
2007
---
A. Responding to the smell in old trunks. I put a good bit of Febreze [affil. link to info/product on Amazon] on a rag (don't spray directly in trunk) and left inside for a while. It helped a lot.
Diane Lueck
- Friendship, Wisconsin
---
---
Q. I have a metal trunk that is in relatively good condition-- I will only clean the outside of my trunk and maintain the rustic look. The original tray that is in the trunk is fiberboard and needs to be refinished somehow. It has a paper covering that is wearing out. Would welcome suggestions.
Bonnie Palmer
home owner - Le Mars, Iowa
July 6, 2008
---
A. I was told to remove the old paper inside, most have glued on paper, with vinegar and water in a spray bottle spray and then let sit until it softens and then pull it off, sand wood, sprinkle baby powder and put wadded up newspapers in it and close the lid, after a few days clean powder out, spray with a varnish inside....if you want to repaper then you can..with wallpaper or whatever you have..
Mary Beth Burge
- Kennewick, Washington
---
Q. I am terribly confused! I was given an old humpback trunk by a relative a few months ago, and it was clearly in some need of TLC. I believe that it is tin, and the middle section appears to have been spray painted with gray (not even silver-just a dull gray) while the outer sections have been painted black (I am pretty sure that neither of the paints were original, because they both can be found on the wood slat things). The initial internet search I did brought me to the conclusion that both paints should be removed... and I have already started doing so with a fine grade of steel wool...
Have I completely ruined my antique trunk, or am I on the right track?! I am trying to restore it -- I don't want to make it look modern or paint it some random, crazy, or unreasonable color to match the walls or drapes in a room in my house, or something!

PLEASE HELP! (THANK YOU!)
Nicole Roth
- Bloomington, Illinois
February 27, 2009
---
A. For very comprehensive advice on the restoration of old trunks go to: www.brettunsvillage.com/trunks/howto/howto.html
Gene McCarthy
- Palos Verdes Estates, California
---
Q. From all of my research indicates you're right about using Alclad II [affil. link to info/product on Amazon] for refinishing heavily rusted "tin" on old trunks. Can you tell me what I can expect for coverage per 1 oz of Alclad paint? I'm trying to determine how much base and how much paint I'm going to need.

Thanks -

Nick
Nick Kader
- Hampstead, North Carolina
January 23, 2010
---
Q. I have on old rectangular wooden trunk with metal strapping. How do I renew the metal without destroying the value of the trunk?
Don M.
- Oregon
August 10, 2013
---
A. To all of you attempting to remove finish from an old trunk, I have done a couple and if you want to completely remove the old finish as I did, have it "media" blasted. Like sandblasting but using a soft media, in my case the tech used corncob media. All the rust and old finish gone! No damage to the metal or wood parts. It cost me a whole $28.
Q. I am now working on an old flat top with an embossed "tin" (I don't think any of 'em are really tin, but thin pressed steel.) covering. Painting it is making me a little crazy!

The original was three colors, black background, green vines and red flowers. Anyone have an easy way to reapply the colors w/o hand painting the whole thing?
Larry Wages
- Appleton Wisconsin USA
March 23, 2015
---
Q. Hi
I found a Humpback trunk at a yard sale. The wood slats and tin are undisturbed (natural) but the edges and latches have been painted. What is the best way to tackle this project of removing the paint to get it back to its natural color? Also, one leather strap is missing, where do I find those? The inside is in awesome shape with the lithograph photo. I must add: I know nothing about refinishing things and when I bought it thought I would repaint it, but with research I think it should be brought back to her natural state! Please help!
Stacy Morin
- Auburn Maine
May 2, 2015
---
Q. I bought an old, large dome top truck. The embossed metal is rusty and some has eroded away. I would like to know what kind of company can match the old embossed metal or should I take it off and just leave it to be wood?
Tami Lanford
Retired - Greer, South Carolina
May 17, 2015
---
Q. Hi I read all the questions and answers about the Aluminum trunks. Very interesting, but my question is how do you keep it new and shiny? I just bought one and it has some scratches how do I take care of those if at all?

Thank You
cookie
Elsie Cortez
- newbedford Massachusetts
August 12, 2015
---
Hi Cookie. I don't think anyone mentioned aluminum trunks. But they can probably be clearcoated with Krylon, Everbrite [a finishing.com supporting advertiser], or 2-part automotive clearcoat.
Regards,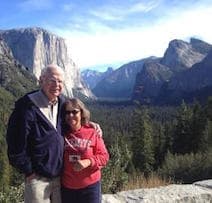 Ted Mooney
, P.E. RET
Striving to live Aloha
finishing.com - Pine Beach, New Jersey
---
A. I have two old canvas covered chests which have been used by my family since 1880 or longer. They're all beat-up and were looking rather nasty with blackened shellac on the oak and canvas plus plenty of surface rust on the metal. I washed off the blackened shellac with straight ammonia and used it to clean the black rusty metal. Since the black paint didn't wash off then it's Asphaltum, which is a mix of boiled linseed oil and asphalt that's baked on. If the ammonia did wash off the black paint then it would've been Black Japan, which is shellac mixed with carbon black. I want to repaint some metal so made my own Black Japan before by crumbling up an old 78 LP and dissolving it in a jar using denatured alcohol.

I worked over the rust using a wide brass brush and small narrow brass brush. Blew off the dust then treated all the metal with Ospho [affil. link to info/product on Amazon] Metal Prep. It contains phosphoric acid which converts iron oxide into iron phosphate which is inert (won't react to moisture). It will eat away light rust to expose bare metal and not harm the remaining paint. Heavier rust will turn black and develop a white haze that sometimes can be dusted off or refuses to budge. I had all three so got rid of most of the white by wetting it down with a strong baking soda and water solution then allowing that to sit until evaporated. Wiped the metal down with plain hot water and now the metal looks too cool to paint so will give it a coat of Flood's Penetrol [affil. link to info/product on Amazon] to seal it off. The canvas and oak will get a wash of amber shellac to seal then off. The oak will get waxed after I applied 3-4 coats of green tinted shellac to the canvas on one and one coat of amber shellac on the other. Once their shellac has dried for a few days then I'll dull it down with steel wool and wax it with the oak.

Their leather strap and loops are shot/missing so had to remove the liner paper to access the clench nails securing the loops, straps and handle brackets. One needs to pry up each nail tail so it can be tapped up to be pulled out. Most will snap off so feel free to use button head slotted screws or common nails if your trunk already has a few that past owners installed. I'll be reusing the old nails that broke off by knocking them sideways once in then filling the hole with Durham's Wood Putty. My leather will be old belts from Goodwill that have simple buckles. If they match-fine and if not then it's no big deal since many were repaired using whatever was on hand.

Their insides were lined with plain uncoated white paper that was pasted on using thin wheat paste then given a wash coat of amber shellac to make it abrasion resistant. When it was removed to access the clench nails, the repair shops would place a full sheet of liner paper with a border over the entire section. The trays were made with thin light-weight wood that were covered with the same liner paper then given a wash coat of amber shellac to make the paper stronger. The wash coat also allows the wood to breathe. Some folks would use uncoated wallpaper scraps to reline their trunks after repairs of just to gussie them up.


As for rust removers, one can use wood bleach [affil. link to info/product on Amazon] (oxalic acid) or Flood's Dekswood which also contains oxalic acid. The acid lifts the rust off so it can be washed or wiped off plus doesn't harm surrounding finishes. Oxalic acid will also remove black water and mineral stains from wood.
Bill Wilson
- Longview, Texas USA
August 28, 2016
---
---
Q. I have just bought a humpbacked steamer trunk from a family member. How do I clean the inside? Do you put a varnish stain on the inside to seal it? And how do you clean the wood, etc., on the outside?
Mary fast
- Moline Illinois
April 5, 2018
---
---
Q. I just got an antique trunk that at one time had been black metal. The metal along the bottom edge in the front and one side has rusted through. I cut the ragged edge off with tin snips. Now what do I do? Can the metal be replaced or I should I do something else?
Leigh Gappa
- Oklahoma City, Oklahoma USA
June 21, 2018
---
Hi Leigh. A picture is worth a thousand words :-)
I can't speak for others but I don't even have the vaguest mental image. Please send a pic to mooney@finishing.com for posting here.
Regards,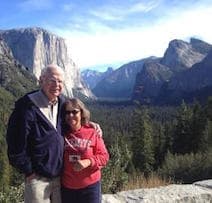 Ted Mooney
, P.E. RET
Striving to live Aloha
finishing.com - Pine Beach, New Jersey
---
---
Q. Hey All! I found this thread after starting in on a family hand-down. It's a humpback trunk, no idea the age/year, but it was ... gross. First, a HUGE thank you to all of the ideas for stripping/cleaning, etc. So far I have used Citrustrip to get off most of the outer "paint"? I don't actually know but I think someone tried to either stain or paint the entire outside of this thing! I can't even believe someone would do that but I'm happy to have restored it to what it is so far.

I've also discovered the power of steel wool [affil. link to Rockler]. So far I'm using 0 grade to get rid of the thick "stain/paint" after the stripper sets. It's working wonderfully. I've also figured out that all of the metal is either iron or steel as it's fully magnetic so anything that looks like brass or whatever is definitely plated. I'm going to have to take extra care of those areas.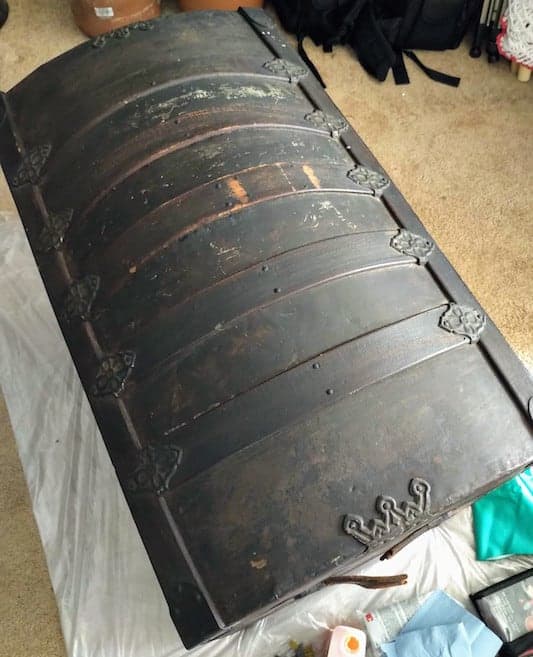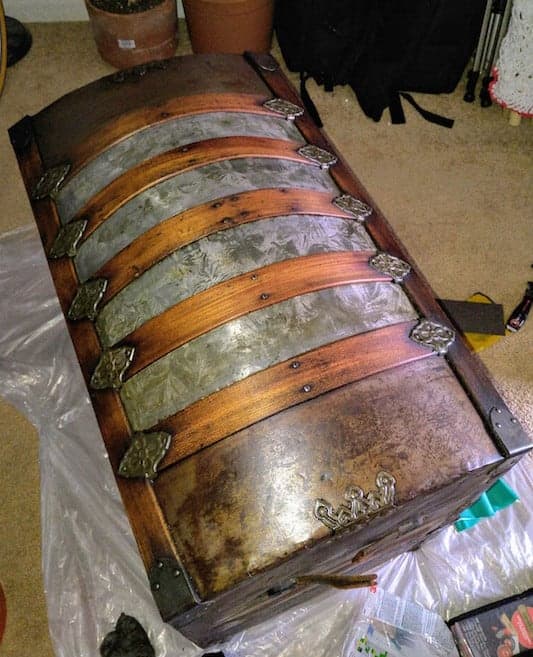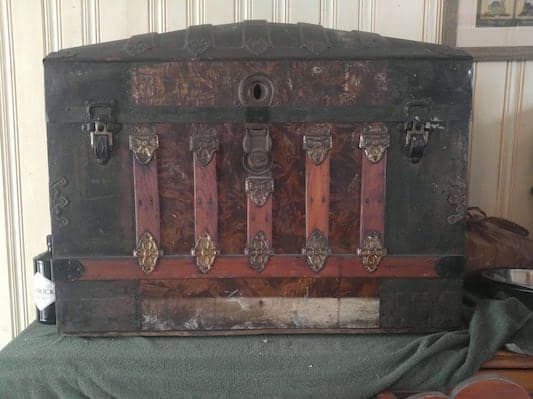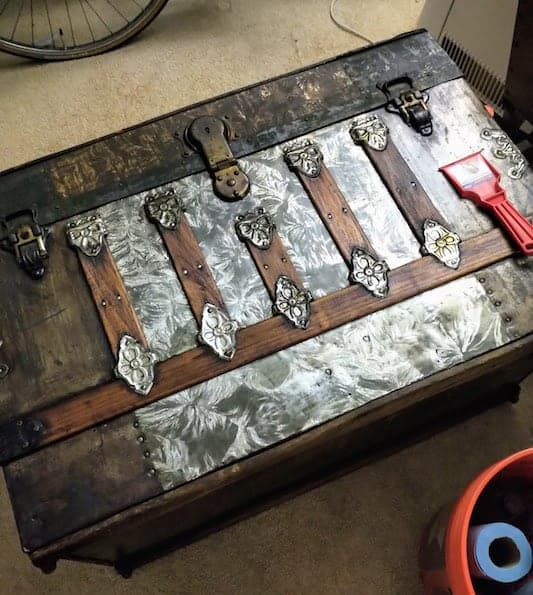 I'm currently trying to figure out how to restore the various metal areas around the whole trunk. For the plated brass I'm going to use ketchup or a vinegar solution. The others I have no idea. I welcome any thoughts!

Once again, thank you all for your helpful pointers to those in the past (FROM 2002!). You should see how it's coming out so far!!
Patrick Lyddy
Small business owner - Quincy, Massachusetts, USA
March 30, 2019