Where the world gathers for
plating, anodizing, & finishing Q&As since 1989
-----
Quality test for chromate conversion on aluminium
Q. Hi sirs,
We are doing the wet tape adhesion test compliance to FED-STD-141 [affil. link] rev d method 6301.3. In that specification it states 4-1/2 pound covered rubber roller shall be used. Hence I want support document (general tolerance spec if any) for that to know the tolerance for maintaining the rubber roller dimensions (like mass, width, thickness).
Chenbaga vel k
- Hosur India
April 8, 2021
A. Chenbaga,
The specification says "_approximately_ 3-1/2inches in diameter and 1-3/4 inches in width" so any reasonable tolerance that can be accurately measured (with a resolution of at least 10 times the tolerance) would be acceptable.
Bruce Hyatt
- Norwood, Massachusetts
January 30, 2023
A. We use a Gardco 5332
Darren Irving
IHC

Detroit, Michigan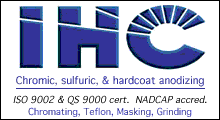 February 14, 2023
---
---
---
Closely related historical posts, oldest first ...
Q. If I'm using aluminium mounting plate with chromate conversion finish, what is the common/best methods to test the quality of coating? Thickness measurement? Humidity test? Temperature shock? What is the failure symptom or indication from those tests?
Lim, Chee Beng
Agilent Technologies - Rohnert Park, California, USA.
2002
A. The most common tests for validation of conversion coatings are destructive. If you have test coupons or spare parts from the same run then the tests should give you enough information to make a good call regarding the quality of the coating. However, the final decision is also dependent upon what your purpose for the coating is and what your standards are. If you only require paint adhesion then a failing salt spray is almost inconsequential.

The first test is salt spray per ASTM B117 [affil. link] for 168 hours, the coating should exhibit zero corrosion (~4 pits per 30 sq. inches is acceptable).

The second test is an adhesion scribed wet tape test per Fed Test Method Std. (FTMS) 141, part 6301 (FED-STD-141 [affil. link]). There should be zero paint removal.

The third test is a coating weight test, a good film will have a weight of about 40-50 mg/sq. ft. This can be checked by weighing to four decimal places, etching the coating off in a 50% HNO3 bath within 3 hours of when the part was coated, and reweighing. I know this test can be performed with a different chemical makeup if the three hour limit has been exceeded, but I do not know that makeup.

Other than those tests, inspection is mostly visual. There should be no cracks, voids, or bare areas. The coloration should be a light yellow through iridescent to golden brown (a dull brown is generally indicative of a thick coating and is undesirable) and very even. A water-break free test (after cleaning with a mild solvent) and a powder test should also be performed.

Hopefully this answers your question! Let me know if not.
Benjamin J. Curto
Cygnus, Inc. - Ponderay, Idaho, USA
Ed. note:
Ed. note: Thanks for the terrific answer, Benjamin!
---
---
Q. I am setting up a chromate conversion coating system for aluminum and FED-STD-141 [affil. link] D Method 6301.3 is called out as one of the tests to perform. The roller that is to be used is a 4.5 pound rubber covered roll. Does anybody know where to get that roller?

Thanks,
Dirk Aubram
- Patchogue, New York
2003
A. The roller for the Wet Tape Test may be obtained from the Gardener Co., Part number PA-1411, $185.
Anthony R Fragala
Radar Mfg - Andover, Massachusetts