World's #1 on-line resource since 1989
-----
Zinc/iron
2002
We have been asked to coat 3.2mm HR steel with (MFZnFT1-C) a 5um Zinc-Iron plating with a Yellow (gold) passivate. The second stage (MN 600 TB1.CO7) is black cathodic electro-deposition paint. The salt spray test is 72hrs for the zinc and 480hrs for the black. Will the black coat ok over the zinc. We are not a plating company, it's a spec we've been asked to provide. Alternatively is there a better combination of coatings which will achieve the spray results.
Thanks,
Karl Gerrard
West Riding Pressings - Halifax, West Yorks, UK
---
2002
I am leaving the main parts of your question to more paint knowledgable respondents. Just hear me on this. Be sure the yellow chromate is NOT heavy. For paint bonding you need a very thin chromate gel. The heavier chromate gels will shear and peel. Panel testing before you begin production will prove the above.

Robert H Probert
Robert H Probert Technical Services

Garner, North Carolina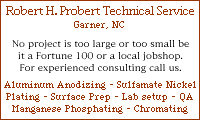 ---
2002
We run a black cathodic epoxy e-coat over a zinc phosphate and achieve over 1000 hours salt spray no problem (on iron, aluminum, or zinc plated steel). The e-coat directly on yellow chromate will be a problem, though most lines have an alkaline cleaner first that would remove most of it. But then you would need to phosphate it before paint. The spec seems overkill, unless there is something special about the zinc-iron alloy.
Hope this helps.
Mike Wells
- Jamestown, New York