Where the world gathers for
plating, anodizing, & finishing Q&As since 1989
-----
Necessity for primer with powder coatings?
April 19, 2022
Q. I'm having aluminum base shoe (large 'U' channel for glass to be set in) powder coated with Cardinal T012-WH260 paint. It is a polyester TGIC. The aluminum is a T6061 alloy extrusion. I have precut and fitted all seventeen pieces so that I do not have to penetrate the coating.
They say they will either sandblast or phosphate wash the material prior to coating. My question is should I pay 29% more to have the material primered before the powder coating?
The material will not be touched once installed unless something highly unexpected were to occur. It will be outdoors approximately a mile away and several hundreds of feet above the ocean. I appreciate the help!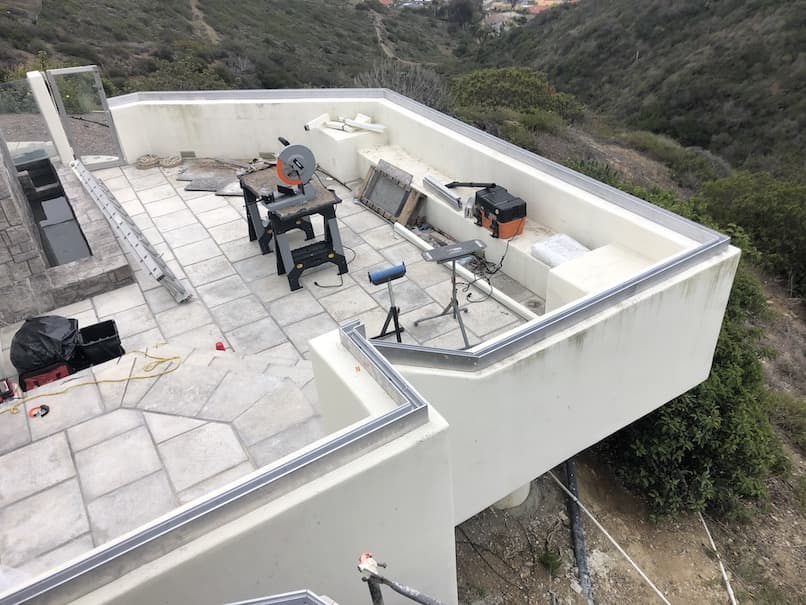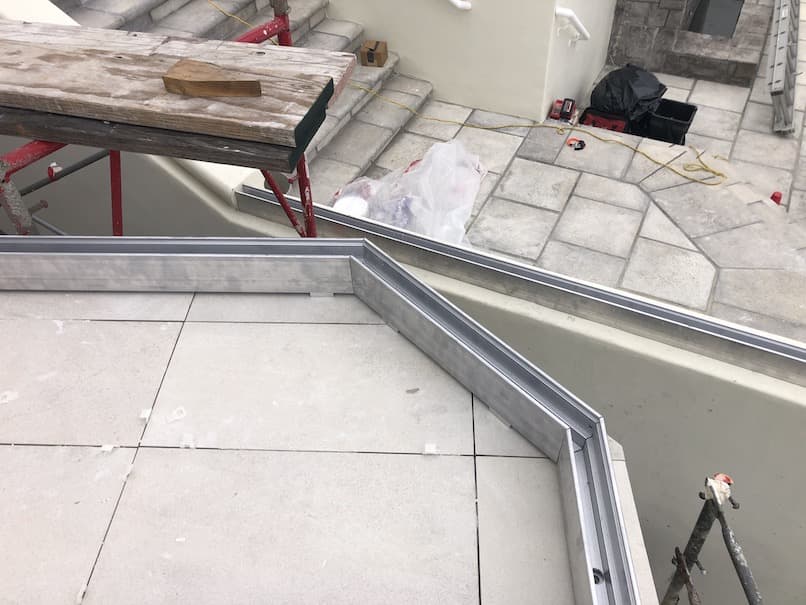 Jim Arno
- Capistrano Beach, California
April 2022
A. Hi Jim. If you hadn't sent the photos I'd have scratched my head a bit before trying to answer :-)

But considering the fact that sand blasting or phosphate washing are not really ideal pre-treatments for aluminum, and that chromate conversion coating may not be practical, and then looking at this stunning project, my opinion is most certainly prime the components first :-)
Luck & Regards,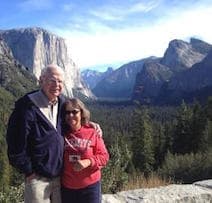 Ted Mooney
, P.E. RET
Striving to live Aloha
finishing.com - Pine Beach, New Jersey
---
April 19, 2022

Thank you so much for the response! Though I'm sure almost anyone who would have responded would have been well qualified, I had my fingers crossed that it would be Mr Mooney. I've been occasionally paying attention to his vast wealth of helpful comments on a variety of related topics. Much respect for him and the website in general.
Jim Arno
- Capistrano Beach, California
---
April 2022
Thanks for the kind thoughts, and best of luck with this beautiful construction.
Regards,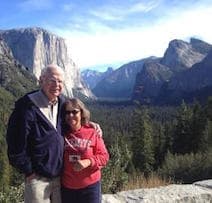 Ted Mooney
, P.E. RET
Striving to live Aloha
finishing.com - Pine Beach, New Jersey
---
---
↓ Closely related postings, oldest first ↓
---
---
1998
Q. The company is going to TGIC polyester powder coating due to the availability of quality wet coating applicators. The powder coating applicators indicate that no primer other than conversion coatings is required for good adhesion to the substrate. Our application is indoors and outdoors in all kinds of world environments. With the wet coat system we used an epoxy primer under polyester paint. The primer aided us in getting the proper dry film thickness. We need good adhesion and protection from pin hole induced corrosion. We need good adhesion and durability. (20 year useful life, usually with not much if any maintenance) What is the industries recommendation on the use of primer and if it is recommended what type of primer?
Jim Neal
- Shawnee, Kansas
---
1998
A. Hi Jim!, I think you will be happy changing over to TGIC powder. TGIC can build easily for your dry film thickness requirement. As you probably already know, TGIC is quite stable in UV situations (sun). You may want to inquire about a super durable powder from your powder representative. A super durable with usually give you more stability yet for weathering. There is a cost factor to deal with. Some powder companies have come out with primer type powders. I really don't think you need them for 20 years service life. The TGIC will sustain this period but will fade. The normal problems related to longevity is scratching to the substrate. If this occurs, only the raw substrate will be left. This is why zinc or aluminum is used for outdoor use. Also, whenever you put a topcoat over a previously applied powder, there could be an intercoat adhesion problem. Do some testing first. Ask your powder representative to run some physical testing along with QUV and salt fog testing to assist you in determining weathering longevity. You should always have proper pretreatment before topcoating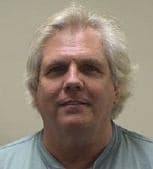 Bob Utech
Benson, Minnesota
1998
A. Dear Jim,
Basically your powder suppliers are right. Powder coatings usually do not require any primer, however there are some vital parts of information missing in order to determine exactly what kind of powder coating system you need for your application.
First is the substrate material of your parts(Aluminum or Steel), second would be what kind of chemical pretreatment you have setup at your plant (if any) to pretreat before powder coating. Last but not least, if you have any specific requirements (specs) as far as salt spray hours and color shifting after the 20 years exposure you are looking for.
There are numerous technologies as far as Polyester powder coatings are concerned, common TGIC's and Superdurables and also options as far as powder primers for heavy corrosion protection.
I think that you need to discuss more in detail the specific requirements you have, to make sure you get the performance out of your parts, without overkill.
Regards
Thomas F. Gratz
St. Charles, Illinois
1998
A. It's hard to say what pretreatment and coating will provide the performance you want, because you didn't mention what the substrate is... I would say that epoxy powder will perform better and last longer. Ref: the aluminum outdoor furniture industry and the appliance industry (washers & dryers, etc) all use epoxy. And generally, they don't use any primer.
You'll have to tell us a little more about the substrate and in what condition (i.e. pickled and oiled steel, 2024 aluminum extrusions, HRS, high carbon CRS, etc.) it's delivered to the coater. That will help with the pretreatment process necessary.
Remember that a pretreatment and coating system work as a team to provide the protection that you want, and the performance can be dictated by the weakest link and it's resistance to the exposure environment.


Craig Burkart
- Naperville, Illinois
1998
A. For this type of extended use and high film thickness outdoor application. I would suggest that perhaps a two coat powder system is appropriate.
First Coat - A zinc loaded epoxy powder primer to partial cure
Second Coat - A TGIC Polyester color/top coat
This will give you about 5-8 mils film thickness and more salt spray resistance then you need.
Jim Cummings
powder coating - Buffalo, New York
---
2000
Q. Dear Sir,
We have Aluminum alloy A380 die castings with a powder paint finish and we want to overcoat the existing paint with a different color.
The paint used is TIGER DRYLAC TGIC (polyester)
Our application is with outdoor radio casings and it will not be possible to empty the casings of their working electronic assemblies so a cold application of a solvent based paint is envisaged.
Can you recommend a compatible type of overcoat paint and a preparation and application method.
Regards,
Ken Lee.
Kenneth j. Lee
- Dublin, Ireland.
---
April 3, 2009
Q. Same question with specifics: For garden arbors which I make and sell should I pay the extra money for zinc primer? They are made of low carbon steel tube and bar and will be blasted first.
dan parker
- hortonville, Wisconsin
---
A. Hi, Dan. Absolutely.
A single layer of powder coating on sand blasted steel is not sufficient for outdoor exposure.
Regards,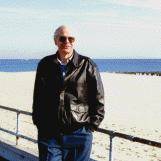 Ted Mooney
, P.E.
Striving to live Aloha
finishing.com - Pine Beach, New Jersey
---
April 11, 2012
Q. I am Working for a company that produces Aircon units.

They have recently expanded and will now be making outdoor units.
They want a powder coated finish on the units.

The sheet steel is already galvanized, and a powder coating is now needed.

Is a degreasing/ degassing process needed, and what type of primer should be used?

We are looking for a 20 year lifetime of the powder coating,

Thanks
Andrew
Andy B.
air con fabricators - Cork, Ireland
---
April 12, 2012
A. Hi Andy.
I don't think a primer will be necessary, but degreasing will not be enough. You must phosphatize the galvanized metal or the powder coating will not adhere properly.
Regards,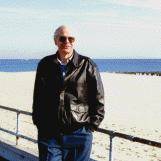 Ted Mooney
, P.E.
Striving to live Aloha
finishing.com - Pine Beach, New Jersey
---
---
November 7, 2012
Q. Hello ... I work for a powder coating company in Sarasota Florida. We work with u-channel blades, aluminum, for boats. We prime them first with matte primer from Spraylac and then we put it in the oven for 6 minutes just to get it gel looking. Then we paint it chrome. Then back to the oven for another 3 minutes (just to get it partially cured) so when we paint it with the top coat it can bond together with the candy red coat and let it cook for 30 minutes. After it's finished it doesn't really look like a candy red; it looks more darker like a burgundy color -- what are we doing wrong?Should we let it cure for more time like 20 minutes just for the primer so it can look smooth and not gel looking?
Carlos Perez
- Palmetto, Florida, USA
---
November 14, 2012
A. It seems that you are looking at oven time as a key parameter?
Really you should be looking at time at metal temperature.
These are quite disparate parameters.
It is quite possible that you are burning the final coat.
It really is pretty easy to determine time at metal temperature.
You just need the right sensing / transponding equipment.
Generally, with a Polyester a cure schedule is around 10 minutes at 190 °C metal temperature.
It will vary with differing consumables.
Hope this helps.
Regards,
Bill
William Doherty
Trainer - Salamander Bay, Australia
---
November 16, 2012
A. Reconsidering,
It is possible that your Candy Red coloration might be achieved on a nickel or Chrome plated substrate but not on a "chrome" powder substrate.
After all no-one to my knowledge has actually produced a true chrome substitute powdercoat.
Some have come close but never the real deal.
I suspect your Candy Red is actually a tinted clear.
Why do you not try it out on a true chrome substrate in the same bake as your current process and compare results?
Give it a go and report results.
Regards,
Bill
William Doherty
Trainer - Salamander Bay, Australia
A. If you do not fully cure your chrome powder, the top coat will blend with the chrome creating a dull finish. This is the only situation where you will want to fully cure a powder before applying a top coat. Do this and your finished product will have the candy look you require.
John Cox
- oklahoma city, Oklahoma USA
January 11, 2018
---
---
How do you powder coat over a powder coat primer?
August 21, 2018
Q. I have some porous lamp bases that I am doing for my sister. I have baked them at 450 several times and cleaned with Eastwoods Pre until nothing comes off on the lint free rag. I wanted to cover them with powder primer first then top coat. I tried without a primer and had terrible gassing in the finish. Do I need to bake the primer the full term? At what point do I apply the top coat? Do I need to sand the primer coat for the top coat to adhere? Thanks for the help. Earl
Earl Seas
- Stockton, Illinois USA
August 23, 2018
A. The question of multiple coating using powder applied polymers isn't easily answered. If the two coats layers are of different chemistry, it's possible that no cross-linking of polymers will occur between coats, but a weak ionic bon might be created.
To get adhesion is one aspect and intercoat adhesion by crosslinking would be best, but a mechanical adhesion is possible (you mentioned sanding). With this though, getting electrostatic attraction can be a problem. The first coat weaken the electrostatic attraction of the subsequent coat.
In so called "gassing", this is mostly a case of moisture escaping the coating just as the coating starts to gel. Pre heating to a temperature above the curing temp can help, as can additives to slow down the gelling (waxes)of the powder. You mentioned a porous substrate but didn't say what it is. What metal? what finish?
If the primer is same chemistry (say both polyesters) as top coat then don't fully cure primer, then apply top coat then fully cure. If you fully cure primer in that case no cross linking. If different chemistries, full cure primer, sand and topcoat.

Geoff Crowley
Crithwood Ltd.
Westfield, Scotland, UK