topic 15804
Soldering flux for silver
A discussion started in 2002 but continuing through 2017
(2002)
Q. Please suggest if there is any soldering flux for silver, comprised of silver 75%, rest alloy, for the purpose of soldering pins of dia .5 mm in bores of .58 mm.
Prabhu
[last name deleted for privacy by Editor]
- Bangalore, Karnataka, India
---
(2003)
A. Dear Prabhu,
There are commercially available soldering fluxes from jewelers supply houses for silver soldering or you can make your own as follows;
Boric Acid - 50 grams
Borax - 34 grams
Sodium Phosphate - 32 grams
Water - 475 ml
Heat the water to boiling, and add the dry ingredients. Stir the mixture well to form a paste. Use this paste for your flux.
Best regards,
Jim Sivertsen
- Alden, New York, U.S.A.
---
---
Help on soldering seam on fine silver tube
June 19, 2017
Q. So, I am working on my second solid silver e-cig. My first attempt was a huge failure. I made it work, but it is far from perfect and is not soldered. The part I am having trouble with is the tube itself. I can get it formed, and I can get it to the point where it is holding itself pressed end to end, but the solder itself ... not so lucky.
My first one i tried so many things that I destroyed the edges. I tried using hard, medium, and easy solder pastes. I tried using homemade solder, mixed to be 65% silver, 20% copper, 15% zinc. I used boric acid, borax, and regular pipe fluxes. Pipe flux I know now can't take the heat. I thought I had the seam immaculate. But the solder would not go to the seam. It went everywhere else, but where I needed it to go. Out of frustration, I tried using WAY too much solder. Figured I'd just sand it down and that way I knew it would be in the seam. Nope. It stuck fine to each side of the silver, but not the seam. Like I said, I ended up destroying the edges. I had to hammer out a piece of sheet to fill the void, and all I did was shape it and the end caps hold it in place.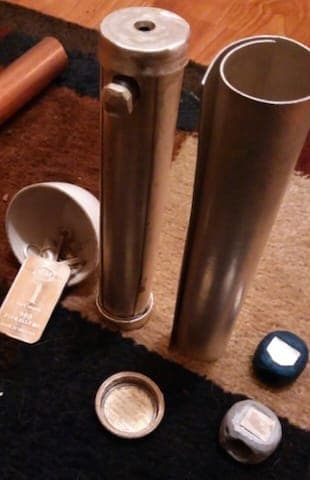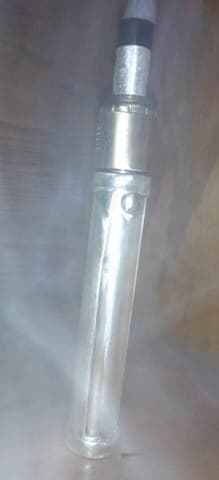 The tube i am trying to make is approximately 6" long and a little over an inch in diameter. This time I am using 18 or 20 awg sheet silver (hoping thicker will be easier to solder). I include a picture of the first one. It is fully functional and it is my main all-day device. It is 100% mechanical, there is no electronics to it. I designed and made the button assemblies myself. The white are Styrofoam that I dissolved in acetone and added cornstarch to, to make my own plastic clay. The blue is a polymer I made from scratch based out of polyvinyl acetate. The spring is magnets. One embedded in the plastic behind the contacts, and there are a few more embedded in the plastic that keep the button from flying out as well. The button is a piece of glass tube, and two pieces of silver, one per end. The silver pieces have magnets glued to them. One functions as the spring, and the other holds the ends on the tube. There are smaller magnets attached to them magnets inside the glass tube to balance the magnetic fields perfectly so the button springs and doesn't fly out. I am using LiFePo4 chemistry 26650 stacked batteries in it. These are safe batteries. You find this exact type inside car jump starters. I have had them get shorted out in copper mods I made, and they melted every bit of plastic on the ecig, and were amazingly hot, but never did they fail or blow up. Them batteries still work great too. I have 72 of these batteries. So any help or advise on this solder would be great. I am using a propane torch mostly. I have an oxy-mapp torch, but it is just too hot. And the piece is so big, my butane torches don't cut it. Trying to keep the whole piece hot, propane has felt like the best option, in my opinion.
Chris crotty
Hobbyist - roberts, Wisconsin
---
June 23, 2017
A. Chris!

Your solder is OK. Borax as flux too. Propane torch is ok too, most jewellers and silversmiths use them too. Simplest silver solder can be made of 2 parts silver and one part yellow brass. There are many soldering and silversmithing handbooks at Internet Archive web page -- all legally downloadable free. Hope it helps and good luck!
Goran Budija
- Zagreb,Croatia


This public forum has 60,000 threads. If you have a question in mind which seems off topic to this thread, you might prefer to Search the Site