Live! From Pine Beach NJ: The world's most popular metal finishing website, and the internet's friendliest corner
topic 15391
Stainless steel cooktop stain removal
A discussion started in 2002 but continuing through 2018
2002
Q. I recently purchased a new Dacor stainless steel cooktop. I have some stains that came from simply having boiled some corn and the water in the pot bubbled over. The next morning, brown spots that don't come out with stainless cleaner or use of SoftScrub. How do I get the stains out and get my nice clean stainless look back?
Thanks!
Brigitta Strand
- Danville, California
---
Q. I just purchased a Dacor cooktop and wondered if you have found any cleanser that works well.

Charles Licastri

- Holmdel, New Jersey

---

Q. Hey, I also Have a Stainless steel cooktop with brown marks I can't get off. Anyone know of how to get rid of them without scratching the surface? Would be greatly appreciated.

Thanks!

Mac Karnecki

- South Africa

---

Q. I am having the same problem with the brown spots on my Dacor cooktop. Anyone found a solution yet?

Komis Psaros

- Ormond Beach, Florida

---

Q. Help, I have the same problem. Brown stains on a new Dacor cooktop that won't come out. Please give us an answer! Much appreciated.

Nancy Robert

- New York, New York
---
2006
A. After trying at least 10 commercial cleaners of various types, my girlfriend's mother gave me the simple solution. Mama Dao said to use oven cleaner. I used Easy-Off heavy duty oven cleaner [linked by editor to product info at Amazon] and, after only 10-15 minutes, 99% of the spots came up with just the wipe of a damp sponge. The rest required a second application and some light scrubbing.
Mark Lonergan
- Lafayette, California
---
November 2, 2011

!! Dudes... the Hot Link to the Easy-Off goes to Amazon for a $66 16 oz can. If you search Amazon for the same item it can be bought for $5.99. THIS IS RIPPING PEOPLE OFF!

Chris Fox




- Acworth, Georgia USA





---

November 2, 2011




Hi, Chris. That link is to a * 12-pack * of 16-oz cans with free shipping. In offering links to further info we sometimes assume that people might pick up one of an item at the local store to try it, and then be interested in mail-order pricing for purchase of a whole case. Sorry for the confusion :-)

But Amazon is a highly reputable place and, although their prices might not always be the absolute lowest on everything, virtually all are very competitive, and I've never once seen an outright "rip off" on Amazon. Readers might possibly also find cases of Easy-Off at some of the big-box stores.


Thanks, Mark!

Readers: Please consider Mark's solution only if certain that you are working with stainless steel. Oven cleaner is a caustic material that rather quickly dissolves and permanently ruins aluminum :-(

Regards,




Ted Mooney, P.E.




finishing.com




Pine Beach, New Jersey




We need "Aloha" now more than ever




---
2007

The oven cleaner worked like a charm! (Although it took about 2 hours of stand-time...)

This has been bothering me since we got this cooktop about 2 years ago and the brown spots started to accumulate. I had scrubbed and scrubbed and thought that the stainless steel had actually discolored from the heat!

Thanks for the great tip!
Rhonda Hughes
- Pleasant Hill, California
---
2007

I followed the oven cleaner advice to clean our Dacor stainless cook top. It worked beautifully!
Lynn O'Neill
- Dallas, Texas
---
2007

We installed a Dacor cooktop about 9 months ago and the brown stains have been driving me crazy too. I am glad to see that some of you found a solution that sounds like it works. I will have to try it. THANKS!
Lynne Cheney
- Walnut Creek, California
---
---
2007
-- this entry appended to this thread by editor in lieu of spawning a duplicative thread
Q. Hi. My name is Jai Newkirk and I live in Lakewood Ohio right on Lake Erie. About 10 years ago I bought this beautiful Tapan range. the top is stainless, and over the years I have noticed that the top has developed a ugly brown stain. we own a bar and grill in the downtown area and on the stainless back splash in the grill area we use a product called superior high shine stainless steel cleaner & polisher. Now that has made the stainless look all cloudy. I am truly at my wits end. Can anybody please help me?
Jai Newkirk
home owner - Lakewood, Ohio
---
April 7, 2008
-- this entry appended to this thread by editor in lieu of spawning a duplicative thread
Q. Hi,
I was just given a beautiful Thermador cooktop (Model SGT 36G) that had been stored in a humid basement. It has been discontinued and so I can't find info from the manufacturer, but I love it! It works great but it is kind of pitted a bit. I tried to clean with soapy water, but there are a few "bubbles" from where rust is coming through. What can I do?
Pat O'Brien
hobbyist - Califon, New Jersey
---
November 8, 2008
A. I've had a cleaning business for 9 years. The best you can do for the stainless is use the oven cleaner. Also to make it shine use WD-40 [linked by editor to product info at Amazon]. I use it on all stainless. It's much cheaper that all the other stuff, and it doesn't take much. It doesn't smell good though. I always get me a towel, go outside and spray it, then come back and start wiping. Works like a charm.
Tracy McCall
cleaning - Six Mile, South Carolina
---
---
June 3, 2009
Q. I was cooking with a wok, had removed the burner to put the wok ring directly over the flame, and when I was done found, to my horror, that the cooktop was burned black where the ring had directed the flame close to the top of the stove. Cleaning instructions tell you not to use anything abrasive - how do I get this off? Any suggestions? Will the Easy Off work without ruining the finish?
Judy Blue
- St. Louis, Missouri
---
November 19, 2009

I have a Dacor stainless steel cooktop with brown cooking stains around each burner. I had tried many products before finding advice on the Internet. Then I used Easy-off oven cleaner and it worked! It truly was "easy off". Amazing!
Joan Smith
- South Bend, Indiana
---
---
February 14, 2011
-- this entry appended to this thread by editor in lieu of spawning a duplicative thread
Q. Oh silly me was cleaning my stainless steel cook top but didn't realise I was using the wrong spray, which I left over night, completely forgot to wipe it clean and now there are all big black smears all over it, 'ruined'. Please if anyone has a suggestion please let me know. Many thanks.
karla bristow
home owner - england
---
August 30, 2011

Thank you! Those brown marks on my St George oven cooktop, caused by my husband "trying" to help, have been driving me nuts! Now, they're gone, thanks to the recommendation on this site.
Katherine Bradley
- Adelaide, South Australia, Australia
---
October 7, 2015
A. I used to work for a maid service. We cleaned stainless appliances all the time. Best thing to use is lemon oil! The mild acid in it removes cloudiness and water spots and leaves it so shiny you can see your reflection in it! Also, it smells really good. So the procedure was if it is heavily soiled we'd use oven cleaner. Then we'd use a white cotton wash rag to apply about a table spoon of lemon oil and lightly scrub in circular motions. Then to polish and remove lint we'd go over it again with a microfiber cloth. This would get rid of any excess oil and polish it up really nice. Best results guaranteed!
Jack Mejoff
- Albuquerque, New Mexico usa
---
May 6, 2017

Thank you Mark for suggesting Easy Off oven cleaner to remove brown stains on my stainless steel Dacor range. I had to leave it on for a couple of hours before removing with a damp rag and it worked like a charm! I can't believe after trying so many products a $5 can of Easy Off has my range looking brand new! Thank you!


Meg Brannen
- Vancouver Washington USA
---
Looking for Stainless steel stain remover composition
July 22, 2018
-- this entry appended to this thread by editor in lieu of spawning a duplicative thread
Q. My situation: We require suggestion for stainless steel stain remover dominant chemical.
akshata ghadi
student - mumbai
---
July 2018
A. Hi Akshata. We have more than a dozen threads about removing stains from stainless steel. It's going to depend on what kind of stains. Please tell us what kind of stains on what kind of component and why you want to the know the dominant chemical for that kind of stain (general info for science class, actually trying to formulate a product for personal use, trying to commercialize a cleaning product, etc). Hydrofluoric acid is one of the dominant chemicals for some types of stains, but students are advised to steer far clear of it. Good luck.
Regards,
Ted Mooney, P.E. RET
finishing.com
Pine Beach, New Jersey
We need "Aloha" now more than ever
---
---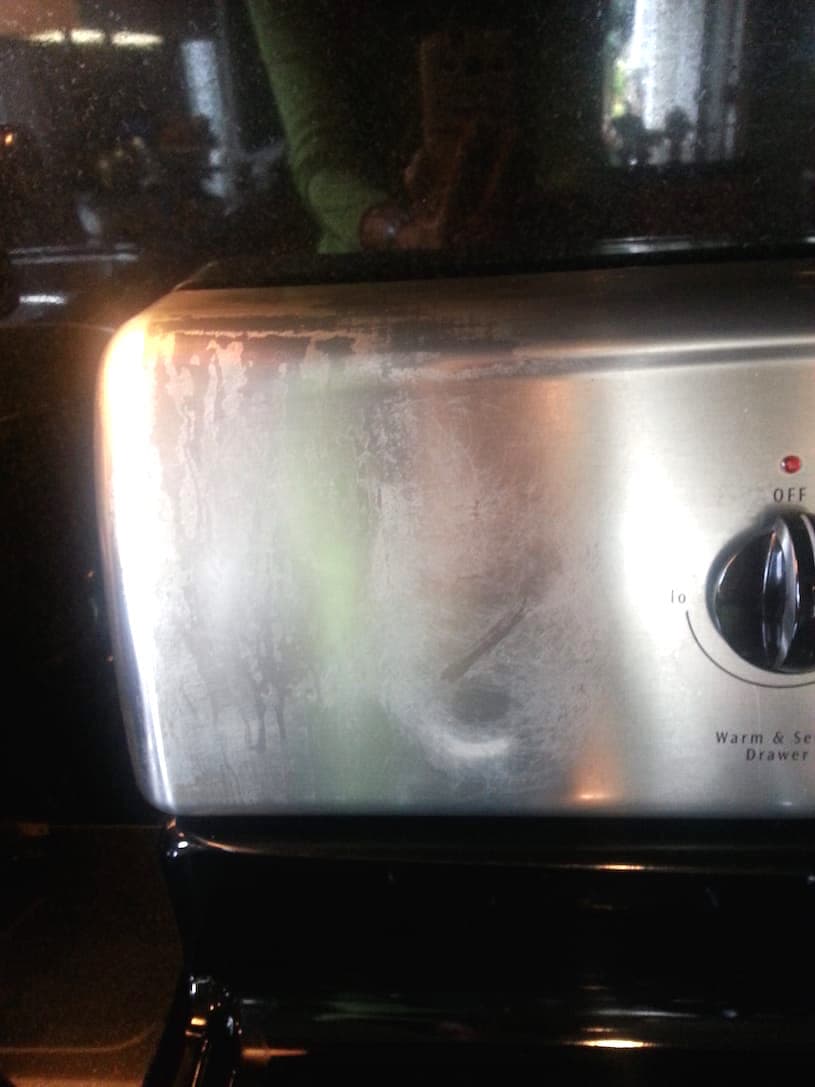 October 14, 2018
Q. The stainless steel on my stove "face" was ruined by steam from the tea kettle. I have found no images that are similar online. I very much hope I can get some help here. It probably doesn't matter, but the oven is made by Frigidaire.
C Duvall
- Torrance, California USA
---
October 22, 2018
A. For a home user, probably the best thing to remove some light heat discoloration from stainless would be one of those stainless scratch removal kits, like Scratch-B-Gone from that Barry fellow, or similar kits you can find elsewhere online.

Ray Kremer
Stellar Solutions, Inc.
McHenry, Illinois
---
October 23, 2018
A. Hello, I have been a commercial janitor, hospital housekeeper, etc., for over 40 years. No one seems to know this very safe, effective way to clean difficult stains on stainless steel, including hard water marks on chrome fixtures and burnt-on or built-up grease and food.

I use Stainless Steel Wool (link is to info at Amazon)

DO NOT USE REGULAR STEEL WOOL; the carbon in the steel will scratch your surface and probably ruin it. Stainless steel is a softer metal and will clean chrome and stainless steel without scratching (My husband studied metals in school). It is the same hardness as your stainless steel pots and pans, sinks, chrome bumpers, faucets, etc. so it can't scratch it. I have used this successfully for many years.

The only warning, don't apply too much pressure on the stainless steel pad. After all, it is a metal and possibly may dig in to the surface. You will need to experiment how hard to press.

Some grocery stores carry this product.

Another advantage, it is a lot cleaner because it doesn't rust. I have used it cautiously and successfully on glass baking pans and in ovens. I have never used this on SS appliances.

I hope this helps your readers. Hope
Hope Slogowski
- Sterling, Kansas, USA
---
November 9, 2018
A. Hello, as the inventor and maker of Scratch-B-Gone, I feel particularly qualified to comment on your issue as we've seen it before. What you have here is heat and moisture damage to the Clear Coating manufacturers often put on this particular panel piece on the ranges. Often times the control panel will be coated while the stove deck may not.

Remedy: use a fine abrasive pad like that found in Scratch-B-Gone (gray pad) or a 3M burgundy Scotchbrite pad and some water. Keep in mind that any topical lettering, numbers and logos will be removed by this process if you work over these areas. Always work in grain direction, therefore Left-to-Right and back till coating is removed fully. Next, apply a clear lacquer from an aerosol can to protect. You can always reach out to us at Barrysrestoreitall.com for advise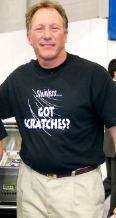 Barry Feinman
BarrysRestoreItAll
Carlsbad, California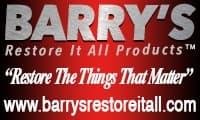 If you have a question in mind which seems off topic, please Search the Site