Where the world gathers for
plating, anodizing, & finishing Q&As since 1989
Problems and solutions about aluminum chain-mail
(
-----
)
---
September 12, 2022
Hello out there.
Well, chemicals aren't needed on your aluminum chainmail just use lemon juice and a little hot water and let it soak overnight.
douglas w merrill
- Kingsport, Tennessee
---
---
---
Closely related historical posts, oldest first ...
2002
Q. Hello, all. This may be an odd question, but I've had no luck anywhere else. I'm making a chain mail shirt out of rings made from an aluminum alloy. The place I bought them from doesn't know their content, just that it's a grade of aluminum.
The problem I'm having is the aluminum quickly oxidizes and covers everything it even looks sideways at with a greyish-black coating. I can clean the shirt, but after a very short time it turns everything black again.
Is there anything I can do to prevent this oxidation, short of anodizing? That just wouldn't be practical for this. I've heard of people "acid-etching" their aluminum to prevent this, but can't find a product to do it.
Thanks for any advice!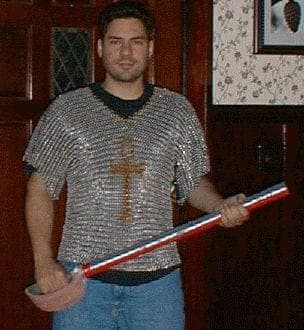 Joe Fisher
Wharton, New Jersey USA


---
2007
A. Aluminum rapidly oxidizes to form a protective film to protect it from further oxidation. Clear anodizing is used commercially to treat mill finish raw aluminum to stop this, but anodizing isn't practical for the do-it-yourselfer, or for small jobs.

I have had some success stopping the Black Aluminium Oxide Rub-off by cleaning degreasing the aluminum with a general purpose no-rinse automotive cleaner like ArmorAll Multi-Purpose Cleaner and then sealing the surface with an automotive protectant like ArmorAll Low gloss protectant for a matte finish or the traditional Protectant for a glossier finish. Other similar cleaners and protectants would also likely work but I haven't actually tried them. I have tried the ArmorAll Products.

The only caution is that these protectants tend to make the surfaces they are applied to very slippery, but with your shirt this shouldn't be a problem.

Hope this helps.
Brian Grant
- Saskatoon, SK, Canada
---
---
How to "weather" aluminum chain-mail
2003
Q. I recently have been making chain mail out of rings of 17g farm fence aluminum wire. I have created a hood out of chain mail and I would like to give it a weathered or used look, as if its been through many many years of use. Its mainly a display piece but I do intend to wear it a bit.
I was wondering if anyone knows of any techniques or methods that I could use to accomplish this weathered look. Are there some chemicals I could try?
Thanks for your time.
Josiah
[last name deleted for privacy by Editor]
- Edmonton, Alberta, Canada
---
2003
A. Letter number 17327 [regarding blackening aluminum with bleach] might be able to help you; I've never personally tried it.
Good Luck,
Jim Gorsich
Accurate Anodizing Inc.

Compton, California, USA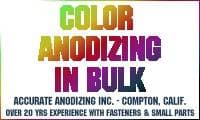 ---
2003
A. Any acidic solution should work, a cheap way would be buy battery acid from a auto parts store, mix it like 50-50 with water and soak it...of course acid is dangerous so use it responsibly and all that(always add acid to water...not water to acid...and use ventilation).
Some alloys of aluminum will achieve the dull grey look you are going for better then others..I'm not sure what alloy your using but 4041 Al. You can get from your local welding shop for about $6/pound it matches a aged galvanized steel (what most mail is made of nowadays) really well.
Good luck,
Jason Aube
- Flint, Michigan
---
---
Reliably coloring aluminum for chain-mail
2004
Q. Is there any way to reliably and relatively easily give aluminum a color stain (red, green or some such) without resorting to paint? I make suits of aluminum chain-mail for costuming and a few of my friends have recently asked if they could get theirs colored. Thanks in advance for any and all assistance.
Neal McClellan
hobbyist - Waynesboro, Georgia, USA
---
2004
A. I think what you are looking for is "anodized" aluminum. For your application it's fairly easy to do, but uses dangerous chemicals and you're supposed to have it approved/monitored by the government (for environmental reasons) -- its probably a bit too in depth for the hobbyist.

I have seen some sites selling anodized coils and precut rings online. The prices were reasonable for doing smaller designs like jewelry or a steel shirt with a colored design in part of it, but to do a full shirt with a tight pattern would be pretty expensive. The anodizing is a thin ceramic layer so when working this material try not to bend it much or else the ceramic will crack and discolor. Just do a search for "anodized aluminum chain-mail rings" and variables there of, I'm sure you will find a supplier.
There is also a company selling anodized products for hobbyist, I believe their name is East West DyeCom Inc. They may have what you need.
Jason Aube
- Flint, Michigan
----
Ed. note: East West DyeCom became Global Metal Finishing [a finishing.com supporting advertiser]
---
---
Need aluminum wire for chain-mail
2004
Q. I'm looking for 18 gauge anodized aluminum in red, black, blue, and green wire for chain mail.
Jenny Suggs
chain mail - Topeka, Kansas, USA
---
January 2, 2011
A. Hi, Jenny. If you need only pre-colored aluminum wire, it is available on-line from Amazon. Good luck! .


Regards,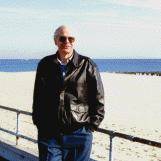 Ted Mooney
, P.E.
Striving to live Aloha
finishing.com - Pine Beach, New Jersey
---
September 14, 2014
!! I have a suit of aluminum Chain. If you looked at it you were covered in black. spraying a coating of a number of different things and washing it did help but not much and not for long. It got to where I hated it and would not get involved in some things just to avoid the black.

I now have ZERO problem with black!!

I was looking through the auto section at Walmart and I came across a concentrated cleaner that said do not keep in prolonged contact with aluminum. I found a number of grease cleaners in a concentrated form that said the same thing. I called the manufacturer and asked what it would do. they said dull the surface.

I knew I could not make matters worse and did not care if I ruined the chain, the black was so bad. I got a big bucket put the chain in filled it with water and the cleaner at about 4 time max suggested strength.

In about 2 hours I pulled it out and rinsed it off.

It is a dull grey now, I think it looks better. I have used it many time as costume and as armor in competition.

I have had ZERO black, and ZERO sign of ever having black. it cost less than 10 dollars.
Bryan Douglas
- San Antonio, Texas, USA