60,000 Q&A topics -- Education, Aloha, & Fun
topic 15155
Create patina on pewter
A discussion started in 2002 but continuing through 2020
2002
Q. I am a collector of antique beer steins. Most steins have pewter lids and thumb lifts. Occasionally, I'll find an antique where someone has cleaned the natural patina from the pewter. Antique stein collectors prefer the age-showing dull look. A shiny lid just doesn't look right on an old antique. Is there a simple method for a hobbyist to get natural patina back onto pewter (without waiting another 100 years)?
I've seen some other posts here and a book was recommended. If a book has this solution, I wouldn't mind purchasing it. Can anyone direct me further?
Thanks,
Jody Wyse
- Inman, South Carolina
---
---
---
September 28, 2008
Q. I read the recent posts on creating a black patina on Pewter with interest. I am looking to create other colors as can be done on copper with livers of sulphur and other chemicals. Does anyone have experience with other patination processes on Pewter?

I am a wood turner who is beginning to incorporate metals in my turnings. So far I have been using leaf; both copper and silver and patinizing them with quite nice results. I am hoping to get a dark and lustrous effect with some coloration using pewter.

Thank you in advance for your help.
Bradford Chaucer
wood turner, metal worker artisan - Sneads Ferry, North Carolina, United States
---
---
June 29, 2010
Is the "Novacan Black Patina for Zinc" suitable for jewelry? In other words, is there any health risk that would make it unsuitable for use on jewelry?
Tony Kopari
- Mapleton, Minnesota, USA
---
---
March 1, 2012

-- this entry appended to this thread by editor in lieu of spawning a duplicative thread
Q. Can anyone tell me how to chemically produce a bronze patina on white metals including pewter and can one darken them with liver of salts or other chemicals?
Mic Weiss
sculpter - London, UK
---
---
May 6, 2013
Q. I tried to clean a Pewter bowl with a smooth rubbing compound. The satin silver finish has turned a gold colour and the more I try the more the silver surface is replaced by a gold colour.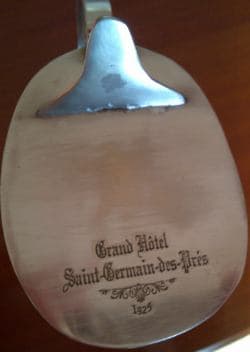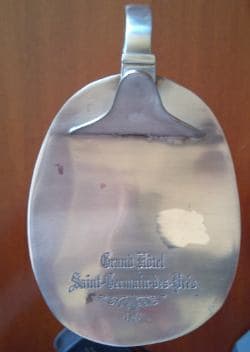 I understood that Pewter was mainly tin. How is it possible that it turns a gold colour.

Why the sensitivity about using special preparations to maintain the surface. You would do this with aluminum and it is close to being as soft.
Steve Mileman
- South Africa
---
May 7, 2013
Q. Dear Ted, thank you for your prompt response. This is how it happened:

The "Pewter" piece was delivered with some finger prints on the surface. The instructions were to clean the satin finish with soap and water.

After the first attempt at cleaning the fingerprint off was unsuccessful, I examined it and was reminded of a fingerprint in wet varnish. Some rubbing with Brasso took the print off but exposed a shiny penny-sized area where the print had been. Rubbing the spot made it shinier still. (The first photo)

A light water paper took the silver surface off and exposed a bronze colour beneath. Other than Brasso at first, no other chemicals were used. Of course you shouldn't use Brasso and water paper except in forensic instances.

On closer examination now, there is certainly a clear varnish sprayed on top which is now exposed in places. It must be a cheaper option. But I could find nothing about this problem on the web.
Steve Mileman
- South Africa
---
---
November 20, 2017
Q. I used to be able to get a fluid for darkening pewter, now they don't have pewter -- it is now tin, antimony, and a little lead. Where can I get this fluid?
john hart
- LONDON united Kingdom
---
---
March 14, 2018
Q. Hey there!
For a number of years I have had a pewter make of
Tin - 93%
Lead - 4%
Antimony - 1%

Our patina make up was a mix of
70 ml nitric acid
1 l Water
5 ml copper sulphate

Recently I have been playing with the mixes of the alloy. This is one I have been given -

Tin 93%
Antimony 5%
Bismuth 0.6%
Nickel 0.2%

So we have removed the lead completely.
However, the above patina chemical will not react with the new pewter.

Can anyone shed some light on why this may be? I wouldn't think such a small make up of nickel/bismuth would make a difference.

Thanks for your time in advance :)
Travis Hayto
- Perth, WA, Australia
---
---
February 13, 2020
-- this entry appended to this thread by editor in lieu of spawning a duplicative thread
Q. I tried a search for answers to this question but found only advertisements for beer steins for sale. I have a couple of contemporary beer steins with pewter lids that I would like to darken a bit so that they are not so shiny. I'm not trying to fool anyone about their age: I just want to tone down their appearance. These steins are not worth a lot of money, so I'm looking for a recommendation on how to do this. I do not want to "blacken" the pewter; I just want a nice dull grey appearance. Where can I find information and a source of whatever chemical(s) are needed to do this?
Dennis Brunnenmeyer
hobbyist - Nevada City, California USA
finishing.com is possible thanks to our supporting advertisers, including this one: