60,000 Q&A topics -- Education, Aloha, & Fun
topic 15018
Hard Coat Anodize is Chipping and Flaking
A discussion started in 2002 but continuing through 2019
2002
Q. We are using a hard coat anodize to protect an automotive part made from 6262 extruded. Should the anodizing chip or flake off during normal handling within the production process? Can you provide me a technical reference to support the conclusion?
Ken Tharp
- St. Louis, Missouri
---
affil. link

Aluminum How-To
"The Chromating - Anodizing - Hardcoating Handbook"
by Robert Probert
$89


affil. link
"Surface Treatment & Finishing of Aluminium and Its Alloys"
by Wernick, Pinner & Sheasby
from Abe Books
or
info on Amazon

2002

A. I don't think you really need a technical reference that says hard coating should not flake off, Ken :-)

It's a given. If the hard coating flaked off my Calphalon pans I'd be at the store demanding my money back.

But you need to check that the part is specified to have generous radiuses on edges and corners because it is well known that hard coat will chip off of sharp corners. Good luck.




Ted Mooney, P.E.




finishing.com - Pine Beach, New Jersey




Striving to live Aloha





---

2002

A. The mil spec that most hardcoat is done to, AMS A8625 [withdrawn / link is to spec at TechStreet] or Mil-A-8625 [link is to free spec spec at Defense Logistics Agency, dla.mil] tells you that any sharp edges or corners should be radiused or the coating may flake.

David A. Kraft




- Long Island City, New York




---
2002
A. Ken,
It is not normal for the hardcoat to be chipping/flaking off, unless you are bending these parts after coating. When I have seen this problem, it normally is caused by the part getting too hot in the anodizing tank. Sorry I can't quote any technical reference, all I have is my experience (15 yrs). But if you are looking for anodizing reference books, they are available on this site.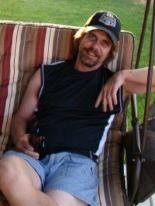 Marc Green
anodizer - Boise, Idaho
---
2002
A. This is unlikely, but this happened to parts we processed long ago. It seems that an employee "discovered" that a dip in the nitric deoxidizer promoted better black dying. Naturally, the same guy figured out the if some was good more was better. Our customers were discovering that the finish cracked and compressed when they assembled the parts, and, somewhat later, that they were not retaining their color. By the time we got wind of the problem several customers had experienced problems. There may be short times during a production day when the dye needs an add or the pH is off that a short dip in nitric is a temporary fix. But that is not good practice, and we now test the lightfastness of the dye every day. Again, it is unlikely, but maybe worth looking at.
Peter Faxon
- Oxnard, California
---
2007
-- this entry appended to this thread by editor in lieu of spawning a duplicative thread
Q. We currently received some parts back from our anodizer where the anodize is chipping and flaking off. The areas where the it's most apparent are on and around the edges of the parts. We have not seen this before. Is this normal? The material is 6061 and the anodize is black type III.
Dave Moskal
- Loveland, Colorado
---
---
September 27, 2019
Q. Can pitting in Type 2 hard anodizing on 6061T6 lead to flaking or delamination? I have a picture to share if someone could evaluate if what I am looking at is pitting.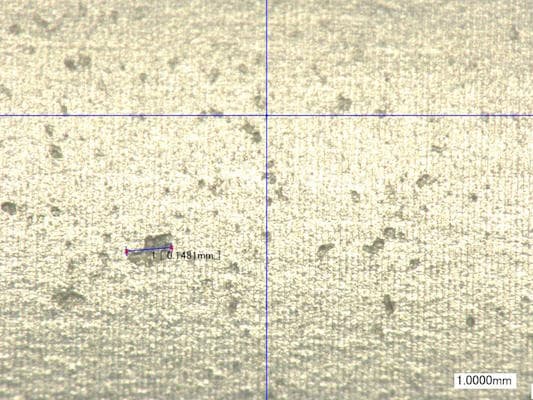 Scott Vincent
Automotive - Findlay, Ohio, USA
---
September 27, 2019
A. I would like to have more info, but for now (1) it looks like the anodic film has only partially formed over thin oxide which was not removed in the deox , and/or (2) if it is heat treated beyond the alloy call out the mag and man has risen to the top and those two metals do not anodize in the molecular state but may be covered with a loosely adherent aluminum oxide.. Come on back with the specifics of the prep cycle, especially the deox.

Robert H Probert
Robert H Probert Technical Services

Garner, North Carolina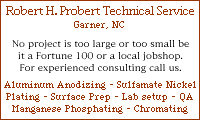 ---
October 2, 2019
A. IT LOOKS AS STRESS CHIPPING; MAYBE A HEAT TREATMENT OR A SHOT PEENING WOULD HELP. GOOD LUCK.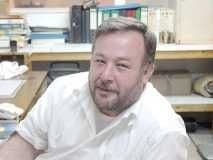 Khair Shishani
aircraft maintenance - Al Ain, UAE
---
October 3, 2019
Q. Gentlemen, thank you very much for educating me on some of the possible causes or possible solutions to my concern. This aluminum piston is machined out of 6060T6 material so no post machining heat treatment is required. These parts are being supplied to me and I am trying to better understand the anodizing process and possible defects. What term should I used when addressing this condition with my supplier? Thank you
Scott Vincent
[returning]
Automotive - Findlay, Ohio, United States
adv.