60,000 Q&A topics -- Education, Aloha, & Fun
topic 15006
Why does gold tarnish?
A discussion started in 2002 but continuing through 2019
2002
Q. I have observed that the gold plating has some darkening areas over the nickel plated copper base material.
What causes this effect? We all know that gold is a very inert metal & does not corrode or rust. In this case, it should not tarnish. Under what circumstances or condition does this problem arises?
Your advice is greatly appreciated.
Thank you
Maung San Zaw
- Singapore
---
affil. link
"Gold Plating Technology"
by Reid & Goldie
from Abe Books
or

2002
A. Hi,
Gold as such will not tarnish. It is inert. The tarnish-like appearance is due to underlying surface getting corroded or oxidized. If the thickness of gold is not adequate and if the coating is porous, the corrosion taking place in the underlying surface may seem like tarnish. Ensure that you have adequate thickness build up of gold, to put an end to your problem.
Good luck ...
Karthik
- Singapore
---
2003
Q. I need to know how to clean tarnished gold plated bracelets.
Thanks,
Desiree Rubinstein
- New York
---
2003
A. Gold does NOT tarnish. if you wish, post a detailed picture and we'll advise further.
Fred Luhn
- S. Ozone Park, New York
---
2002
A. Hi,
If you have nickel plating as a finish to plate gold onto it will normally not tarnish even if you only deposit 0,1 micron of gold. This could mean that the gold plating solution has contamination, which tarnished. If you have nickel-free plating and plate gold onto copper or bronze the tarnish would come from the base if the gold plating is too thin to form a uniform layer without pores.
Good luck and all the best,

Trudy Kastner
electroplating service - Durban, KZN, South Africa
---
July 1, 2009
Q. Can anyone tell me if pure gold (such as a necklace) tarnishes in a swimming pool water that has chlorine?
Minou Sadeghi
- San Diego, California
---
July 6, 2009
A. Hi, Minou. My understanding is that 24 karat gold will not tarnish; but jewelry is usually made of a lower karat which contains copper or nickel or silver or other metals, and a lot of gold jewelry will tarnish in chlorine. However, the tarnish layer is probably thin and a jeweler can probably restore the shine with some polishing. But don't wear gold jewelry into a swimming pool or hot tub.
Regards,
Ted Mooney, P.E.
finishing.com - Pine Beach, New Jersey
Striving to live Aloha
---
January 14, 2011
A. Gold plating has only little effect on nickel materials, but it's best on gold, silver, and copper. Heavy plating can be used.
Janice O.
- Philippines
---
March 10, 2013
Q. I dropped my 24-Kt. Gold bracelet into a "Tarn-X" solution by mistake. When I finally took it out, it was still gold; however, it had a dull layer (that looked tarnished). I want to know what household items I can use to restore the bracelet without having to take it to a jeweler. What about jewelry cleaner; will that help?

Thanks!
Roz- Johnson
- Richmond, Virginia, USA
---
March 11, 2013
A. Hi Roz. I'm surprised that 24 kt gold would tarnish as 24 kt gold is extremely chemical resistant. Are you sure it's 24 kt rather than a lower karat, or only plated with 24 kt?
Don't mess with further chemical treatments. Try buffing off the discoloration with a jewelry cloth and a very mild abrasive like light duty rubbing compound.
Regards,
Ted Mooney, P.E.
finishing.com - Pine Beach, New Jersey
Striving to live Aloha
---
---
May 1, 2015
Q. I have 18 KT gold earrings that have tarnished. Please help me. I do not know to clean them. Tried gold jewelry cleaner and it did not work.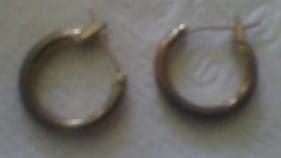 Stacy King
- DeSoto, Missouri USA
---
May 6, 2015
A. Stacy,
Buffing might work in terms of restoring the original luster. Best wishes!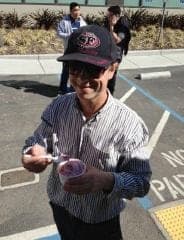 Blake Kneedler
Feather Hollow Eng. - Stockton, California
---
May 10, 2015
A. Hi Stacy,

If the photo of your earrings is representative of the real thing, then you have a serious problem. 18 KT gold should not tarnish like that in normal domestic or workplace environments. You can see examples all around you. Are you quite sure that the earrings are solid gold and not electroplated? I strongly suspect that the latter is the case. Thin gold electrodeposits will migrate into the underling metal giving serious tarnishing!

Trying Blake's suggestion should resolve the matter.

Harry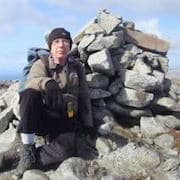 Harry Parkes
- Birmingham, UK
---
---
October 26, 2016
Q. Hello I will like to know does 18 karat gold tarnish, chip or fade? I have never purchased gold plated before and I am interested in knowing as I seen a bracelet I like and will want to purchase. Thank you in advance for your help.
Darlene Henriquez
- Brooklyn, New York
---
October 2016
A. Hi Darlene. "18kt gold plated" is actually an oxymoron. 18kt means the jewelry is solid gold through-&-through of 75% (18/24) purity (the remaining 25% is copper, silver, nickel, palladium, or other metal to make the gold less soft). 18kt gold will not fade or chip; tarnish probably would not be a problem unless you wear it into a hot tub or work with chemicals.
"Gold plated" means there is a thin veneer of gold plating on the surface of the jewelry, which is made of something else (possibly brass or zinc). Some gold plated jewelry is very good quality and will last for years, but a lot isn't. Unfortunately, it's not easy to know the quality of a plated item from its description. You'll have to rely on the brand name of the jewelry or the jewelry shop.
Regards,
Ted Mooney, P.E. RET
finishing.com - Pine Beach, New Jersey
Aloha -- an idea worth spreading
---
---
September 27, 2019
-- this entry appended to this thread by editor in lieu of spawning a duplicative thread
Q. Hello, I purchased a 10 kt gold wedding set from a large retail department store. My fiance wore the ring 3 days in a row, taking it off nightly. The 3rd night we noticed brownish/black stains (tarnish I'm assuming) on several areas on the ring.
It is my understanding that real gold usually does not tarnish, but if/when it does it takes years for it to happen. Are these rings fake gold, or very poor quality?

Thank you for your time, and expertise.
Reginald Ross
- Houston, Texas USA
---
September 2019
A. Hi Reginald. 24 kt gold, i.e., 100% pure, does not tarnish. 10 kt gold, i.e. 42% gold, 58% other metals certainly can tarnish from chemical exposure, but probably won't tarnish much unless exposed to tarnishing agents like cleaning solutions, bleach/chlorine, bromine, etc.
If you're sure your fiance did not wear the rings while doing laundry, cleaning, or swimming in a pool with chlorine there might be a problem. Otherwise, try cleaning with toothpaste or taking to a jeweler for re-polishing and simply avoid those things with the rings on in the future. Good luck.
Regards,
Ted Mooney, P.E. RET
finishing.com - Pine Beach, New Jersey
Aloha -- an idea worth spreading
---
September 29, 2019
A. Hi Reginald
My wedding ring is 9kt. It has been on my finger for 50+years and never removed. It has been exposed to all manner of nasty chemicals and only ever cleaned in the process of normal hand washing. It has less sign of wear than the finger it is on.
If your ring is truly certified 10kt, tarnish is unlikely to be the cause of discolouraton.
Hair spray, fake tan, furniture polish, etc., are worth considering as a possible cause.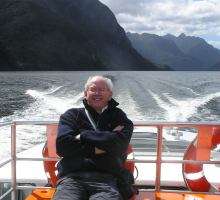 Geoff Smith
Hampshire, England
---
---
October 13, 2019
Q. I recently started etching on jewelry blanks. I noticed that one of them has changed color. I used gold plated brass. Here you can see what I mean. The hand hasn't been worn yet the footprints have and have changed color.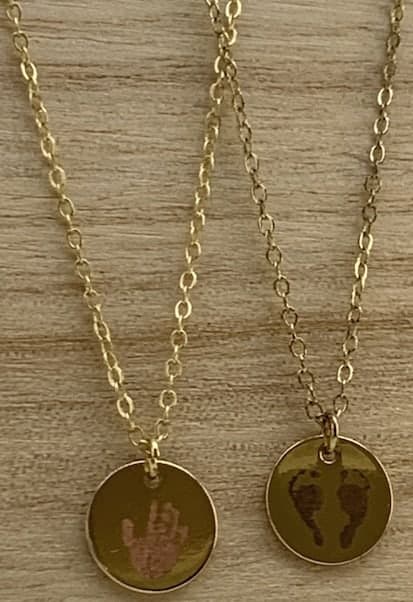 Rachel Nishikawa
- Houston, Texas
---
October 2019
A. Hi Rachel. I'm not a jeweler and know nothing of the subject, but gold plating is generally very very thin. Attempting to etch a discernible pattern into it but not go through it, doesn't sound practical ... and brass will certainly discolor. You probably need to lacquer it if you want it to not change.
Regards,
Ted Mooney, P.E. RET
finishing.com - Pine Beach, New Jersey
Aloha -- an idea worth spreading