Where the world gathers for
plating, anodizing, & finishing Q&As since 1989
-----
Best type of clearcoat for wheel application

Q. Dear all, I made a restoration process of my unique aluminum wheels for my old-timer. It was a few years ago and I hadn't that much knowledge as a nowadays. I let them sandblast and then they have been painted in a factory, which is a manufacturer of alloy wheels here in Europe. They painted them with a liquid paint by the robot. They are looking very good. My question is: can I provide any better additional coating protection on them? Especially to protect them against a hot dust particles from a brake pads? Thank you in advance. I really appreciate it. Best regards Jan
Jan Bzan
- Czech Republic
March 4, 2023
A. Hi Jan. I didn't realize that brake dust was hot, but I did know it's very corrosive to aluminum and should be washed off frequently. A traditional 2k automotive clearcoat should further protect your wheels. "Ceramic" clearcoats are becoming popular too, and are quite thin, one-half to one mil, but these are an alternative to paint and powder coating, they don't go on top of paint.

I put "ceramic" in quotes to avoid confusion because true conventional ceramic coating is actually done by flame spraying ceramic grit at a temperature of thousands of degrees to melt on a coating more similar to glass than to paint. But the more accessible "ceramic" coatings use a solvent/catalyst (possibly epoxy?) approach and oven baking.

There are also simple single-component clear coatings like Everbrite [a finishing.com supporting advertiser] and Protectaclear from Everbrite [a finishing.com supporting advertiser]. Send a pic of those unique wheels to mooney@finishing.com to decorate the page :-)
Luck & Regards,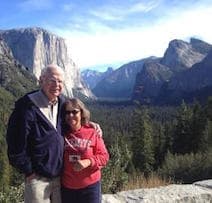 Ted Mooney, P.E. RET
Striving to live Aloha
finishing.com - Pine Beach, New Jersey



---
---
↓ Closely related postings, oldest first ↓
---
---
Q. I'm wondering about the pro and cons between the liquid and powder clearcoat finishes for an automotive wheel application. What is the most durable to abrasive road dirt and what offers the best chemical resistance?
Is there a best clearcoat for highly polished aluminum billet wheels?
Thanks.
Matthew O
[last name deleted for privacy by Editor]
wheel supplier - Ontario, California
1998
A. Dear Matthew,
I believe that the current status of technology is that powder coatings are the finishing system of choice for automotive wheels and rims. Two reasons: One is powder usually have a better abrasion resistance, chip resistance and surface hardness then liquid paints. Second powder coatings generally apply around two mils in a one coat application without dripping and sagging, so you are building a heavier barrier coat than you would with liquid coatings.
Not to mention the environmental factor.
Regards,
Thomas F. Gratz
St. Charles, Illinois
A. Dear Matthew,
We have done some work coating auto aluminum wheels with plasma deposited SiOx including filiform corrosion studies and APG and found excellent corrosion protection as well as ease of brake dust removal.
Regards,
Robert J. Dykhouse
- Corona, California
A. You may want to explore catalyzed waterborne polyurethane-acrylate. It's VOC compliant, applies at 1.5 DFT and I have had excellent results on a west coast aluminum clad passenger railcar exposed to environmental extremes on the rail line (iron oxides, brake dust, water, washing solutions, etc.
Pete Bagley
- Reno, Nevada
A. Matthew,
We use a liquid clear coating application for preservation purposes. This coating has withstood the elements of weather and saltwater. In many cases, these objects have been used for its original function (i.e. boat propellers).
Todd
Todd Miller
Oceanside, California
---
---
Q. HELP!, I own a VOLVO S90 (1998) and have scraped the clearcoat on the expensive stock wheels. What's the best liquid that I can apply to the part of the wheel that is now unprotected?
Thanks
Walt Posluszny
1998
---
---
Q. I own a 1988 Oldsmobile Cutlass Supreme Classic and I put new wheels and tires on it. I am looking for a method of cleaning that isn't harsh on the clearcoat. I am also looking for something to protect the clearcoat and the shine with.
Justin Burress
1999
A. We used a clear ceramic surface treatment that won't yellow, goes on very thin, can be applied in the field and will leave the surface slick and easy to clean. We coated the wheels, tires, chrome bumper, review mirrors on our 1996 GMC Yukon last summer, the bugs literally fall off when we drive through a rain storm.
Paul Yedinak
- Ennis, Montana
A. Hi, we find that for road trucks we get the best results by polishing the aluminum to the max. This maintains a good quality finish for about 100,000 miles with no protection whatsoever. We have no yellowing clearcoat, suffer little with pitting, suffer no cracking or floating that we often see with clearcoats & lacquers when subject to some of the extreme temperature changes that the wheels of a road truck endure. Maintenance is normally no more than regular washes. I have yet to find a clearcoat or lacquer that will outlast this time on o.t.r. trucks without yellowing or encouraging pitting and oxidization between the coating and the wheel. However, I have not encountered all of the clearcoats marketed and I am open to suggestions, and I am looking for a clearcoat for marine applications.
Steve Clark
polishing shop - Belfast, Maine, U.S.A
2000
---
---
Q. I have an 83 Porsche 944. The clear coat on the stock "cookie cutter" wheels had deteriorated badly. So I stripped the bare aluminum with MEK / methyl ethyl ketone (not the anodized black paint), wet sanded a bit to clean up some of the factory roughness and buffed them out. Not to a mirror finish, but far better than unstripped. I didn't clearcoat the wheels after finishing and have to periodically clean and buff. Is there an "over-the-counter brand" of clear coat that will give me good, lasting results? And if so, how do I prepare the wheels for spraying?
Thanks,
Jeff Gee
- Simpsonville, South Carolina
2001
---
---
Q. I have bare aluminum wheels on my v-rod. They are a bear to keep clean. I would like to clear coat them, but not sure what would be the best process. Is there a tie coat primer you recommend?
James A. Neil
Auto Painter - Bossier City, Louisiana
2003
---
---
Q. I recently purchased a 2005 Infiniti G35 6MT that came with 19 in. forged aluminum wheels that appear to have a clear coat of some sort on them. My question is, I want the wheels to match the paint on the car. Would I be better off Painting and clearcoating the wheels, or should I go the route of a high gloss powdercoat? Thank you for your time.
David Stinnett
Student - Waco, Texas
2005
---
---
Q. What products are recommended to remove damaged clear coating applied to high quality (Borbet/Germany) automotive alloy wheels? Additionally, what clear coating products can be spray-applied to the bare alloy metal to assure a good bond and durability? I note that part of the alloy wheel is painted while a portion is bare metal. Thank you, in advance, for your help!
Fred Joel
Hobbyist - Reading, Pennsylvania, USA
2005
---
---
Q. One of my customers has a set of billet aluminum wheels (bare metal) that he is tired of polishing on. He wants to put a clear powder coat on the wheels but I'm not sure how it will look. If he polished the wheels and sprayed them will they keep their polished billet appearance? will the powder stick well considering they won't be sand blasted beforehand?
Stewart Smith
wheels - Humble, Texas
2006
Q. I too, would like information on this.
Morgan Baker
- Mason, Michigan, United States
2006
A. Have you considered powder coating?
Chris Goad
- Doyline, Louisiana, USA
2007
A. Hi,

Automotive clearcoat is "two component" or "two pack"; the body shop mixes the two components and quickly sprays before the coating catalyzes and hardens. "Single component" over the counter stuff dries rather than catalyzes, and isn't as hard. It can be okay though and is simpler. Good luck.
Regards,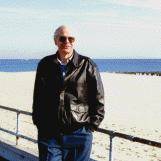 Ted Mooney
, P.E.
Striving to live Aloha
finishing.com - Pine Beach, New Jersey
February 18, 2011
A. A solution to clear coating wheels is a clear ceramic coating. These coatings are non-stick and easy to clean. Embed themselves into the substrate so no liquid contamination occurs even if the coating is scratched or broken. This coating also does not yellow, grey or blue over and is very thin, meaning a polished wheel stays nice and bright.
Jeff Goodhart
- Pennsylvania, USA
October 24, 2012
---
---
How best to finish CNC aluminum wheels for my early Bronco
Q. I am having my '76 Ford Bronco restored/updated. I've had a set of custom rims built for me (CNC, 2 piece aluminum) and they are beautiful works of art. I have a stunning set of hubcaps from a 1966 ford Galaxie that will look amazing. My initial plan was to have them powder coated, but having seen a very similar setup with a "natural" finish, I am now determined to let the aluminum shine. I am quite confused, however, at the array of finish techniques that appear to be common: clear coat (powder?) , anodized, polished). My goal is to avoid too much of a "chrome" look and more of a polished aluminum effect. I am also hoping to arrive at a finish that won't require me to baby them and constantly be cleaning, polishing, etc. Although this will be a show-quality build, I do not plan on treating it like a trailer queen, and I hope to find a robust finish solution.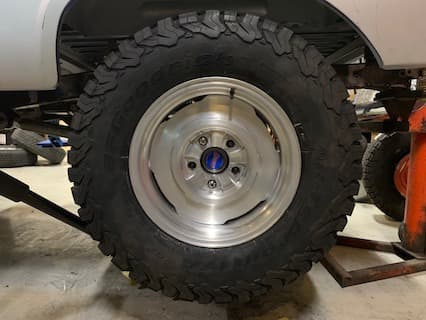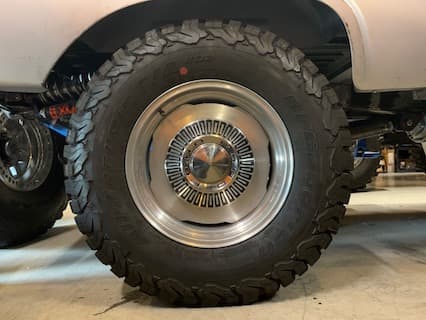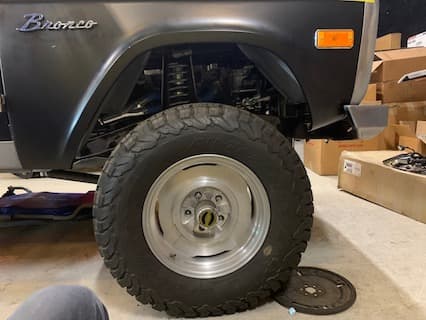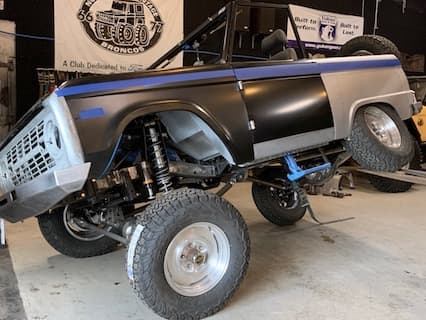 Any advice would be most welcomed. Many thanks in advance!
Doug Meyer
November 16, 2020
- Portland, Oregon
A. Hi Doug. Machined aluminum anodizes better than pressure cast aluminum alloy, but the results will still depend on what alloy the wheels are cut from. Aluminum alloys all have other materials in them (copper, magnesium, zinc, etc.) which does not anodize like the aluminum does and can discolor it.
I think you're best off mechanically polishing the wheels to whatever lustre you like, and then clearcoating them. If practical, two or more thin layers to prevent pinholes. Chandelier manufacturers face different problems than you, but have been known to apply 7 layers of very highly thinned lacquer. Lacquer is not as permanent as some other clear coats but is relatively easy to remove with thinner and then re-do, which might be ideal for a show car which, because it is used, could suffer curb rash or corrosion and the need for refinishing.
Luck & Regards,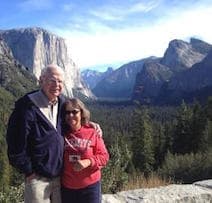 Ted Mooney
, P.E. RET
Striving to live Aloha
finishing.com - Pine Beach, New Jersey
Q. Ted,
I cannot thank you enough for the grace of your time and speed of your response. I really appreciate it!

I understand that anodizing an alloy of unknown origin is unpredictable. That answers that! I wonder if you could steer me to the best clear coat solution to apply after the right polish. I've seen a wheel or two that appear to be clear coated but have an almost plasticized quality to the finish which I'm not a fan of. Ideally I'd like it to disappear as much as possible.

And what might I expect in the way of longevity from a clear coat? Any applications more durable than others?

While not a complete neophyte when it comes to finishes, I'm close.

Do you have any advice for me?

Many thanks!!
Doug Meyer
[returning]
- Portland, Oregon
A. Hi Doug. We can't recommend brands or sources here, but there are a few different types of clearcoats. Two-part automotive clearcoats harden from a chemical reaction between the two parts rather than drying. Single part clearcoats dry when the solvent and/or water in them evaporates. Brass lacquers dry when the solvent evaporates. Radiation/UV cured clearcoats are generally not applicable for consumer applications like this, although the nail lacquer applied in some manicure salons these days is UV-hardened..
Two-part clearcoats tend to be harder than others for good scratch resistance, but more work and harder to remove, and some probably do look thick and plastic-y. I would probably go with a single part clearcoat (Everbrite [a finishing.com supporting advertiser] is an example). It is hard to estimate longevity because optimum longevity depends upon pretreatments like iron phosphating or chromating that aren't compatible with the desire for a clear bright finish. Looking at the discolored clearcoated aluminum wheels on Jeeps and other cars, I don't think you should count on maintaining show quality on an off-road vehicle for long, which is why something very easily re-doable can have an advantage.
I think a useful step that many people fail to think of is trying the finish on scrap. When your wheels were made for you does that company have a strip or two of the aluminum so you can try the automotive clearcoat and the brass lacquer on and see if you're happy with the appearance before proceeding on four wheels?
Luck & Regards,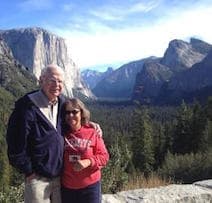 Ted Mooney
, P.E. RET
Striving to live Aloha
finishing.com - Pine Beach, New Jersey