60,000 Q&A topics -- Education, Aloha, & Fun
topic 14819
Test Panels of 2024 Aluminum Fail Salt Spray after Chromate Conversion Coating
A discussion started in 2002 but continuing through 2019
2002
Q. I work for a finishing shop. We currently plate for the aerospace industry with cyanide cad, nickel, copper, passivate, prime & paint, and penetrant inspection as our primary processes.
We have recently setup a new process line for aluminum finishing which will include anodize ( types I,II,&III ) and chromate conversion coating.
Have been able to certify the anodize process to mil spec but I'm having problems with the chromate conversion process. Cannot pass the 168 hr salt spray test on the 2024 aluminum alloy.
Aluminum process for chromate is, 1. aqueous degrease ( 5 min ), 2. alkaline clean ( 5 min ), 3. acid deoxidize ( 5 min ), and 4. chromate ( 3 to 6 min ). Rinsing between each step shows a water-break-free surface. Supplier of the chromate chemical has suggested higher concentrations and long times but nothing has worked.
Are there any additional pre- or post-treatment methods that will help the 2024 alloy pass the 168 hr salt spray test? Would appreciate any help on this problem.
Lee Blanton
- Denton, Texas
---
2002

Are you allowing 24 hrs. drying time?

Bill Grayson




- Santa Cruz, California, USA





---

2002

The single most frequent cause of failing salt spray is the quality of the panels. Look at your panels with a 10X magnifying glass and look for pits. Tiny pits in = corrosion failure out ! Now for the rest. The cleaner should be non-silicated, the deox should be an air agitated proprietary product (plain nitric acid will not do it). The chromate should be listed on the Mil Spec Qualified Products List, about 1.8 oz/gal, pH 1.8, time 1.8 minutes. After forming the film, do not try to completely rinse off all the chromate - leave a little yellow water to dry on, drip dry, do not heat., wait 24 hours before wrapping, wrap in sulfur free paper, Pray! Take two aspirin and call me in the morning,

Robert H Probert




Robert H Probert Technical Services





Garner, North Carolina






---

2002

Hi Lee,

Getting a passing result on Al 2024 is tough, even for chromated panels. The copper in this alloy is a big factor in its corrosion behavior.

Your pretreatment process looks sound. Maybe your chemical supplier could produce some test panels (using your substrate) in the lab, with all conditions "ideal." Run these panels in salt spray side-by-side with panels from your line and see if they corrode differently.

I would also check the corrosiveness of your salt spray chamber. (I assume that the chamber is in spec.) Have you sent test panels to an outside lab for verification of your results?

George Gorecki




- Naperville, Illinois




---
2002
Dear Lee,
There are several variables that may be potential causes of failure that may have been overlooked. First, I would look at the surface finish/condition of the test parts/coupons. Scratches or hidden occlusions will likely be a source of failure. Another place I would suggest looking is in the final rinse and drying steps. If your rinse is above 140F, you may be degrading your coating. If you are drying with heat, the same rule applies. Not over 140 °F. If compressed air is being used to dry, make sure the air is clean, dry, and oil-free. Lastly, do not place your panels in the salt spray cabinet directly after processing. Allow at least 24-48 hours to allow the conversion coating to "set."
Best of Luck.
Ira Donovan, M.S.F.
Kansas City, Missouri
---
---
December 28, 2011

-- this entry appended to this thread by editor in lieu of spawning a duplicative thread
Q. I have had no success with passing my monthly TCP trivalent chromate panels on 2024 alloy. I have tried a 5-7 minute immersion time and also no etching at all. I am passing my 6061 and my yellow 2024 ? Please help !! Thanks. Joe
Joe Aleci
- Methuen am
----
Ed. note: As you see, this is a common issue, and we've appended your inquiry to a similar thread which may answer it for you. Letter 13079 may also help you specify new test panels.
---
---
February 9, 2019
Q. I am an aluminum anodizer and am required to perform salt spray testing to demonstrate corrosion resistance. Is there a difference between using an AL clad test coupon instead of a Bare one? vc
Mary Angelicola
Industrial Compliance Solutions, LLC - Plymouth, Connecticut USA
---
February 2019
A. Hi Mary. Failure of aluminum test coupons has been a perennial topic of discussion here, and one of the beefs is that the salt spray test demonstrates the quality of the test coupons more surely than the quality of your processes.
Alclad panels have a coating of pure aluminum on them which is more corrosion resistant than the aluminum alloy, and which anodizes better as well. Using Alclad test panels would definitely be cheating :-)
Regards,
Ted Mooney, P.E. RET
finishing.com - Pine Beach, New Jersey
Aloha -- an idea worth spreading
---
February 20, 2019
A. Since the intent of the testing is to mimic the performance of your process on parts of the specified alloy- hence the requirement to process identically right down to running panels alongside parts on a 'live' load, which an auditor will check. And since Alclad will have different behavior during processing than bare, you might not be able to process them together at all, depending what the process is.
Ultimately, it tells you nothing about your process success on the given alloy. So it's even more of a waste of money than the testing is already; as Ted and others have noted for years, test coupon material is often inconsistent or poorly stored and handled and those failures are frustrating for all of us.
Luckily this site is here to help you troubleshoot and pass tests legitimately so if you have problems passing on 2xxx bare, come on back for some advice! :)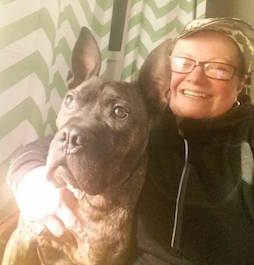 Rachel Mackintosh
Plating Solutions Control Specialist / Industrial Metals Waste Treatment - Brattleboro, Vermont