topic 14785
Stainless investment castings are "rusting"
A discussion started in 2002 & continuing through 2017
(2002)
Q. We currently buy a range of 316 investment cast components. We have the castings "leached" to remove the majority of the ceramic material left over from the casting process. We then "Vaccu Blast" the parts in a cabinet with a fine Stainless Steel Shot to remove all traces of the ceramic and the leaching process.
The problem is that after a few weeks/months in the field or even in our stores, the castings start to exhibit a form of "Corrosion" on the surface of the parts. We have tried all manner of methods to prevent this from happening. Please, Please can someone recommend a process or treatment that will prevent this corrosion whilst maintaining the high quality of surface finish and lastly, have negligible effect on the units cost.
Am I seeking the holy grail of metal surface finishing techniques or can this be achieved? Please help?
Kind Regards,
Andy B
[last name deleted for privacy by Editor]
- Wigan, Manchester, England
---
(2002)
A. 316 is the chemical spec for a wrought stainless steel, not a casting alloy. The corresponding casting alloy is (in USA specifications) CF8M. The casting alloy, when heat treated correctly, has strength and corrosion resistance superior to the wrought alloy. It sounds as though your investment castings might not have been heat treated by the foundry. What specification did you order them to? I don't know of any casting specs that do not make heat treatment mandatory, but if you used some informal way of describing what you want, you may have left the way open for supply of non-heat treated material. Incidentally, if wrought 316 is not heat treated correctly it, too, will have inferior corrosion resistance - but the manufacturers of bar/pipe/tube/whatever wrought products apply an appropriate heat treatment before the final user sees the material.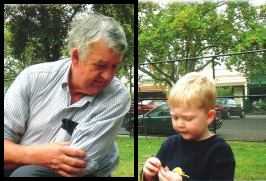 Bill Reynolds
consultant metallurgist
Ballarat, Victoria, Australia
We sadly relate the news that Bill passed away on Jan. 29, 2010.


---
A. You may need to have a metallurgist look over the process, because you didn't really provide enough details here. If your stainless parts are "rusting" it may have something to do with the " ceramic leaching" process you mentioned. If the leaching process involves a high pH/hydroxide solution, especially a hot solution with ultrasonics, the chromium component in the stainless may be inadvertently dissolved from the alloy leaving an iron-rich surface. Without a sufficient chromium oxide layer the surface will rust. Are the parts "spotted or mottled with tiny red or brown dots"?
If this is indeed the situation, a test dip in acid to remove some of the surface iron followed by a bake in a humid oven should restore the passivity to the steel. Keep in mind, both of these processes are damaging the surface of the item; if the etch is confirmed by a metallurgist you may want to modify the ceramic removal/cleaning procedures to save yourself some work.
Dale Woika
- Bellefonte, Pennsylvania
---
A. Andy:
I agree with the above statements.
Also, did you passivate the parts after the grit blasting? A lot of things can happen here that we do not have enough info to discuss. The grit can be iron contaminated, the heat buildup of the grit blast can cause ferrite formation under the wrong conditions (yes, even with 316), or the corrosion you are getting is not related to iron at all. Is the corrosion rust colored?
There is no reason why your process cannot work well if you are doing it correctly.
adv.
Give us a call if you want verbal assistance, or email us directly.
Lee Kremer
Stellar Solutions, Inc.
McHenry, Illinois
---
A. Andy,
Seems that you have a common problem. Most people think that stainless steel will not rust. It will under certain conditions such as heating and holding at or above about 800 °F. However I don't think that your problem is of a metallurgical nature. You say you blast with stainless media, that's good but I'm willing to bet that the blast cabinet or enclosure is made of ordinary carbon steel. I think that the stainless media is being contaminated with iron from the cabinet or nozzle components and is being transferred to the casting. The answer is to passivate the surface after cleaning with a pickling solution. I'm in the welding business and we do this all the time to insure rust free components. A product called Pickling Paste is what can be used. It should be followed with another product called Neutralizing Paste. Both products can be brushed on. The pickling paste is left on for about 20 minutes, then neutralizing paste is put on and left for a few minutes, then water rinsed. These products are available at welding supply houses.
Good luck.
Len Catillo
- Winnipeg, Manitoba, Canada
---
A. When I was in the metal finishing business I found that an immersion of cast iron items in a hot sodium nitrite solution dip 6 oounces per gallon prevented rust in in-house storage. We processed many tons of castings and steel stampings and nuts & bolts hardware by this means.
Stanley Scislowski
- Windsor, Ontario, Canada
---
A. Andy,
Let me summarize and put everything together from my experience from my own foundry:
Stainless steel castings have to be solution treated to be stainless. They will be less resistant to corrosion if not solutionised. This means holding the castings in a muffle furnace at 900-950 °C for 2 hours depending upon the size section thicknesses and quench them in a circulating cold water bath.
Corrosion may also come from the carbon steel cabinet of the shot blasting machine and it should hence be rubber lined. Corrosion may also come from the containers in which you handle the castings after leaching or wet blasting.If it is a carbon steel container it may rust the castings.
Lastly ask your manufacturer to give details of stainless steel shots recommended. Use high chrome ss shots.
Jatin Thakkar
- Sihor, Gujarat, India
---
A. The problem is definitely with the leaching. If you leach out the chromium, you have leached out your anti-corrosion component in the steel. Stainless is corrosion resistant because the chromium in it forms chromium oxide on the surface which is stable in most corrosive areas, assuming no abrasion.
If this is an abrasive environment, go with Hastelloy. You can get used Hastelloy equipment for a good price at various used process equipment vendors. Resale will always be good upon completion of your project.
Sanchez Alvaious
- Arkansas, USA
---
A. Andy,

I have had good luck with Electropolishing as the final treatment. It is said to be 10 times more passive than passivation.
Bruce Renslow
- Lancaster, California, USA
---
March 29, 2013
-- this entry appended to this thread by editor in lieu of spawning a duplicative thread
Q. What is the difference between SS316 and Hastelloy? Which one is better in the Oil & Gas system?

Thanks
Tan TM
Truong Minh Tan
- Ho CHi Minh, Vietnam
---
April 1, 2013
A. Hi Tan. I'm no expert on this, but until someone knowledgable happens along, 316SS is a stainless steel made from 18% chrome, 10% nickel, and a small amount of molybdenum and other materials, but mostly (more than 2/3) from steel. Hastelloy is a series of alloys, with variations between them, but there is not much steel in any of them. Hastelloys are therefore significantly more expensive, but usually more corrosion resistant, especially is there is an abrasion situation which tends to keep removing the chromium rich passivation layer on the stainless steel.
Regards,
Ted Mooney, P.E. RET
finishing.com
Pine Beach, New Jersey
---
---
July 11, 2013
Q. Hello!
We are supplying some globe valve castings in CF8 and CF8M grades to a valve manufacturer. We send it with acid pickled condition. But after some days the castings gets rusty spots on the surface. These are not concentrated at one place. They appear at various place on the castings as small dots and somewhere of cloud type. Why do these castings get rusting after acid pickling? Please answer anyone if knows about it.
RAKESH PATEL
- Rajkot, Gujarat, India
---
July 12, 2013
A. Many (but not all) castings have tiny to microscopic pores that can hold acid that is difficult to remove.

My thought would be to boil the casting in water with a pH of 8 or so after excellent air agitated rinses following the pickle. A DI water air agitated rinse should follow the boil step.

The heat tends to force some of the liquid acid out and the pH8 tends to neutralize without leaving acid salt residue.
James Watts
- Navarre, Florida
---
July 30, 2013
A. James is correct, castings almost always have microscopic (or larger) pores that are problematic for corrosion. Methods such as bead blasting, electropolishing, and vacuum impregnation are known to help eliminate the pores.

Dealing with the pores as they are and yet preventing them from forming rust spots is one of the current unsolved challenges in the industry.

Ray Kremer
Stellar Solutions, Inc.
McHenry, Illinois
---
---
February 23, 2017
Q. In our CF8 castings found rusted at different areas; is it because of following things?
1. During transit (around 50 days) in Sea atmosphere
2. Heat treatment not carried out to prevent such rusted things.
3. Chemistry variations : like Ni on lower side or Cr %
4. While machining, coolant used -- may not be correct.
5. or due to handling issues causing rusts on castings.

Please come back with your knowledge based suggestions.
HB Suresh
- Bangalore, Karnataka, India
---
February 28, 2017
A. HB Suresh,
You asked about the sea atmosphere, that certainly doesn't help any!

For the most part castings can be very troublesome. The alloy mix and structure at the surface is not going to be homogeneous like it ought to be due to the directional cooling. Also most castings have varying amounts of surface porosity which are corrosion trouble spots and very difficult to passivate. Some kind of surface preparation like bead blasting can help.

Ray Kremer
Stellar Solutions, Inc.
McHenry, Illinois


This public forum has 60,000 threads. If you have a question in mind which seems off topic to this thread, you might prefer to Search the Site