Where the world gathers for
plating, anodizing, & finishing Q&As since 1989
-----
Chemical removal/stripping of chrome or copper-nickel-chrome plating from aluminum
Q. Hello, Newbie here.

I am in the process of refurbishing a '50's era Monark bicycle. In this process, I am getting introduced to the world of serious metal finishing for the first time. Regarding the bicycle, I would like to replace the chrome plating on many of the parts with nickel plating. I like the look of nickel and do not much like the look of chrome.

I was hoping to plate with nickel straight over the chrome using the common (youtube) DIY method. The nickel did not adhere to the chrome at all. I have successfully nickel plated other non-chrome plated items. Is it not possible to adhere nickel to chrome?

Is that is so, then it seems like the chrome would need to be removed. I am not really keen on the sand blasting idea, so the chemical methods look like the best bet. However, I do not want to create a toxic waste site in my backyard or poison myself. The anodic (sp?) method or reverse electroplating is out of the question for safety reasons. I feel confident that I can handle the NaOH or hydrochloric acid safely. My question is how to dispose of the leftover material correctly? Are these chemicals especially hazardous with chromium dissolved in them? I am really looking for clarity on this. Some of the things folks on youtube are doing look really dangerous!

Hopefully I have adequately described what I am attempting to do, and thanks in advance for any advice.
Robert MacConnell
- Eugene, Oregon
January 11, 2023
A. Hi Robert. The good news is that decorative "chrome" plating is actually always heavy nickel plating followed by a thin flash of chrome plating. So, if the existing plating is in good shape, all you actually have to do is remove the chrome via a quick dip in about 20% HCl and rinsing well, and you'll be left with that slightly yellower nickel plating.

Although the acid is quite dangerous, and requires goggles [←affil. link] and gloves [←affil. link] as a minimum, once you slowly, slowly, neutralize it with baking soda (allowing for the almost endless foaming), the stuff you have left can be dried in the sun on newspaper then put in the garbage or even flushed down the toilet; this does not generate hexavalent chrome, only trivalent. (Note: this instruction is for an individual consumer; if you were running a business this stuff would probably be regulated).

The bad news is in two parts: first the chrome is there not just for the looks but for corrosion resistance, so you'll lose some corrosion resistance -- periodic waxing will help.

Secondly, if the existing nickel plating is not in good shape, you will find it nearly impossible to 'activate' that old nickel plating for good adhesion. A plating shop might attempt it with, among other things a well controlled Wood's Nickel Strike, but even they might be unsuccessful and have to chemically strip the existing nickel plating. Luck & Regards,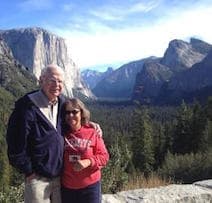 Ted Mooney, P.E. RET
Striving to live Aloha
finishing.com - Pine Beach, New Jersey



---
---
---
Closely related historical posts, oldest first ...
Q. I would like to have some help on a cost effective system of stripping chrome - nickel - copper from our aluminium products.
The aluminium product is first coated with copper then nickel and finally chrome.
My intention is to strip the product to it aluminium base.
N.Vijay Kumar
- Visakhapatnam,AP, India
2002
A. For Cr - 200 g/l HCl, for Cu and Ni - 300 g/l HNO3.
Andrej Abrosimov
- Kokkola, Finland
A. Vijay Kumar!
If you have to strip copper nickel and chrome on aluminum substrate:
1. First you have to strip chrome by using hydrochloric acid or reverse current in electrocleaner solution.
2. After stripping chrome, rinse the parts in water then transfer to nitric acid for stripping nickel and copper.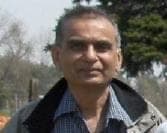 Popatbhai B. Patel
electroplating consultant - Roseville, Michigan
---
---
To minimize searching & thrashing, multiple threads were merged; please forgive repetition, chronology errors, or disrespect of other responses (they probably weren't there) :-)
---
---
Q. I'm trying to remove chrome plating from some sand cast aluminum engine covers (timing, primary, valve) and am having a very hard time of it on these pieces. Is there a chemical way of getting the chrome and copper to delaminate without attacking the substrate?
Thank you in advance,
Steven Ford
- Henryville, Pennsylvania
2002
A. Hi Steve,
You are fortunate to have that copper beneath the chrome, otherwise it would be even harder. The following advise is for short runs only. For ongoing operation consult a local supplier of plating chemicals ...
Put the part in Hydrochloric (muriatic) acid, this will readily strip the chrome and slightly etch the copper. Then rinse it and put it in nitric acid. This will dissolve the copper and not the aluminum. Use caution, safety equipment & ventilation. and dispose according to local rules.
Guillermo Marrufo
Monterrey, NL, Mexico
---
---
Q. De-chroming an aluminum horn casing from LAMBRETTA 1963 scooter -- what chemical solutions to use and for how long?
Gino Pontillo
hobbyist - UK
2007
A. Hi Gino. If you see a copper layer between the aluminum and chrome, or know there is one, Guillermo's advice sounds good (if you've had the appropriate safety training). If no copper, keep reading please.
Regards,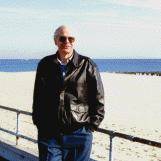 Ted Mooney
, P.E.
Striving to live Aloha
finishing.com - Pine Beach, New Jersey
---
---
To minimize searching & thrashing, multiple threads were merged; please forgive repetition, chronology errors, or disrespect of other responses (they probably weren't there) :-)
---
---
Q. My company is using 95% Nitric acid for stripping Nickel / Copper plated over aluminium base. Due to this heavy fumes are coming and it is very hazardous to health and difficult to strip also. Is there any other alternative to do the stripping?
Saravanan Sivakumar
- Chennai, Tamilnadu, India
2003
A. Preferably get a proprietary product from a metal finishing supplier. If you must use nitric acid, try at 70% by vol and float a 30 cm thick film of light parafin oil on the surface to minimize fumes.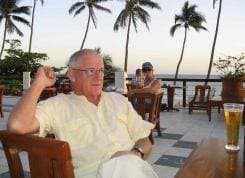 Geoffrey Whitelaw
- Port Melbourne, Australia
Add a little hydrogen peroxide H2O2 to your nitric acid to eliminate the noxious red NO2 fumes created by the nitric acid reaction with Ni & Cu. The peroxide converts the NO2 back into nitric acid before it can escape from the surface. For an illustration of the effects of nitric acid on Cu & Al, see:
http://www.pc.chemie.uni-siegen.de/pci/versuche/english/v44-24-2.html
Ken Vlach [deceased]

- Goleta, California

Finishing.com honored Ken for his countless carefully researched responses. He passed away May 14, 2015.
Rest in peace, Ken. Thank you for your hard work which the finishing world, and we at finishing.com, continue to benefit from.
A. Hydrogen Peroxide Stripping is a much safer process.
Tom Arvanitis
- Mississauga, Ontario, Canada
2004
---
---
Chrome stripping from die-cast aluminum
Q. Dear Sir,
Could you please advise me on a stripping method for a chrome finish on a die-cast aluminum component?
Lourentius van der Westhuizen
Plating shop - Cape Town, South Africa
2004
A. Hello...
You can use 50% Nitric acid (%Volume), 1-2 min. for stripping it. But you must observe it during stripping (lift it 20-30 seconds later).
Good Luck.
Emre Tuna
- Turkey
A. Dear,
You cannot strip the chrome plating from die-cast aluminum by any acid solution because by this method you will destroy the aluminum alloy. So let us knew if the finish is nickel chrome or not; if it is, you can strip chrome by anodic degreasing in mild alkaline.
Aly Gomaa
- Egypt
---
---
Q. How can I remove old chrome plating from motorcycle parts? They are made of aluminum, about 30 years old. Thanks
Ben Press
choppers - Doylestown, Pennsylvania
2004
A. Hi, Ben. Decorative chrome is always a heavy layer of nickel plating followed by a thin flash of chromium (please see our Introduction to Chrome Plating). The chrome is removed easily and almost instantly (but not necessarily safely) by a dip in Muriatic Acid [affil link] , but the nickel is harder to remove. Metalx (Ronatec.us) [a finishing.com supporting advertiser] offers their B-9 line of strippers for this purpose.
In general, though, this is a job you farm out to a plating shop rather than do yourself because of the fumes, the waste products and the hazardous materials that are involved. Good luck.
Regards,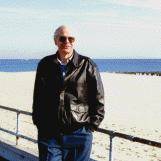 Ted Mooney
, P.E.
Striving to live Aloha
finishing.com - Pine Beach, New Jersey
---
---
Stripping Chrome plating from an aluminum I.C. Engine Cylinder
Q. Hoping someone might be able to help.
I have a chrome plated chainsaw cylinder (aluminum casting with chrome plated internal bore). The chrome has worn/cracked around the exhaust valve opening. I need to strip the chrome completely before re-plating.

Really my question is two-fold --
1) How to strip the chrome (hard chrome)
2) What is a suitable re-plate material - I understand the reasons behind not chrome plating at home
Any opinions/advice welcomed.
Brett Robertson
hobbyist/engineering student - Mollongghip, Victoria, AUSTRALIA
2005
A. Brett-
I think maybe your idea is not really a shortcut, compared with obtaining an all-new cylinder or saw.
I think it's pretty hard to wet-etch chromium without etching aluminum. I'm proud to note that up to a micrometer of Chrome can evaporate at 200-300 °C in an oxygen plasma vacuum machine, and aluminum wouldn't, but I suspect that won't solve your problem. Other than that I have no ideas.
Chrome is kind of special. Mechanically hard, high melting temperature, corrosion resistant. That's why they used it in that bore. The only thing that might be a poor substitute is nickel plating. Maybe you want to smooth out the exhaust port and nickel-plate the whole thing, not stripping the chrome. Nickel can be a lot softer than chrome, but some plating processes make it a little harder. Don't know, maybe that would be good. Electroless nickel comes to mind. Probably much thinner than the original chrome is, and might have to be re-done periodically. Amateurs can do electroless nickel.
I hope it covers the aluminum well. Some platings find it difficult to get started on aluminum, because the very surface is an oxide not a metal.
James Swenson
- Los Angeles, California, USA
A. Around the valve opening is a very tough place to plate and nearly impossible for most to re-plate as combustion products and oils will have literally soaked into the aluminum or formed organo-metallic compounds.
A new motor or a new saw would be a lot safer and probably less expensive in the long run.
James Watts
- Navarre, Florida
A. Hi, hard chrome stripping from aluminium is probably the most difficult -- depending on the thickness of chromium deposit. If it is only thin dense chrome, then only sulphuric etch (electrolytic) will remove it safely. The cheapest and safest option would be to have it machined off.
As for any suitable re-plating options, electroless nickel is the best bet ... but it is in no way as wear resistant as hard chrome.
malcolm preston
- harlow essex england
February 6, 2008
---
---
Q. Want to strip hard chrome plating from aluminum plate to re-hard-chrome it.
Jasubhai Patel
plating - Bulsar, Gujarat, India
2007
A. Immersion in hydrochloric acid or treatment in alkali on reverse voltage will strip chrome. Care must be taken as both treatments attack aluminum. Also, both produce regulated waste.
Guillermo Marrufo
Monterrey, NL, Mexico
A. Stripping aluminum in caustic has a high probability of destroying the part. Attack by 50% hydrochloric acid is much slower.
Stripping the part in 15% sulfuric acid at 15 volts will strip the chrome and anodize the aluminum as soon as the chrome in that area is stripped. Then use a weak caustic to strip the anodize. You should not get pits and will lose about 0.001 inch per side maximum if you are careful.
You could try stripping electrolytically in a phosphoric acid solution for a slower attack on the aluminum.
James Watts
- Navarre, Florida
---
---
Q. I have some chemical milled aluminum 6061 that has copper particles remaining from the etch solution (from previous customer, I'm told). I would like to strip or clean these particles from the parts. Is there a safe, effective way to do this?
Tim Boysen
- Windsor Locks, Connecticut
May 15, 2013
---
---
Strip layers of AlSi, TiW & Cu from Al substrate
Q. What is the best cleaning solution to strip off multi layers of AlSi, TiW & Cu from Al base material part. a few ideas are:

1. Ammonia + Peroxide -- can it dissolve copper?
2. 5% HNO3 + Peroxide -- will it generate any highly toxic gas?
3. 1% HF + Peroxide -- the expected etching rate is higher or lower than 5% HNO3?
Zuraidah Ibrahim
Process Engineer - Kuching, Sarawak, Malaysia
September 20, 2013